Six siblings join YBŞ/YJŞ ranks to avenge their people
Four sisters and two brothers joined YBŞ and YJŞ ranks in order to avenge their people. The siblings are fighting side by side against the enemies of humanity.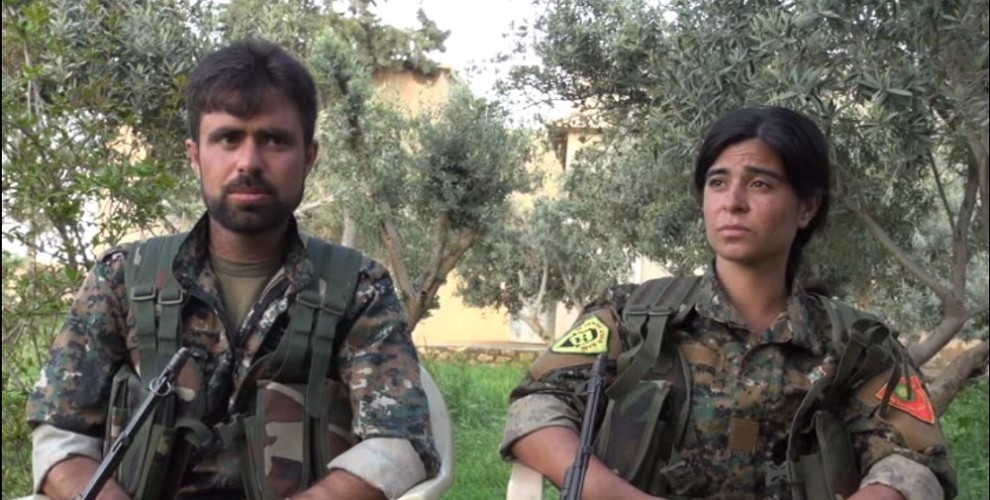 Axin Ezidxan and Agir Şoreş, who are now in the ranks of YBŞ (Shengal Resistance Units) and YJŞ (Shengal Women's Resistance Units) spoke to ANF about their feelings and reasons for their participation in the fight after the latest massacre against the Êzidîs, by ISIS in 2014's August.
Axin Ezidxan stated that she joined the YJŞ after the latest massacre of Êzidî people, and said "I joined the [YJŞ] ranks in 2014. The latest massacre and the mass murder of thousands of Êzidî women is the main reason why I joined. The targeting and mass murder of mainly women during the massacre was a leading factor in my participation. Young people and women were being massacred, our society was facing with an attempt of annihilation and our land was being taken away from us when I first joined."
"SO THAT OUR PEOPLE ARE NOT TAKEN CAPTIVE"
Ezidxan stated that she took up arms because she could not endure the captivity and pains suffered by her people, telling; "Young people from mainly North Kurdistan were coming here and falling martyr in order to protect us. At that point, we began to ask ourselves why we did not take up arms and defend ourselves. We have suffered massacres and failed to govern ourselves because we were defenseless. However, Êzidî youth has become a force now and we joined YJŞ/YBŞ ranks in order to avenge our people."
"WE WILL LIBERATE LEADER APO AND OUR PEOPLE"
Ezidxan stated that 4 sisters and 2 brothers from her family joined the YBŞ/YJŞ ranks, and continued; "This is an honor for us because we are struggling here for our people and our holy land. It is a nice and different feeling to have both a comrade and a sibling next to you. I am happy to fight in YBŞ ranks alongside my brothers and sister."
Ezidxan stated that their goal at Martyr Berxwedan Academy is to understand the philosophy of Kurdish People's Leader Abdullah Öcalan, telling the followings; "We want to learn it because a free struggle requires a free idea. We want to learn these and share them with Êzidî people so they can protect themselves against massacres and live free. It would be a great value for all the Êzidî youth to join the ranks because attainment of a strong organization means a better protection and liberation of the Êzidxan (Êzidî land) people. Therefore, I call upon all young Êzidî women and men to join the YBŞ/YJŞ ranks. Let us liberate Leader Apo and our people."
"ÊZİDÎS OPPOSING CRUELTY SHOULD JOIN THE YBŞ"
YBŞ fighter and Ezidxan's brother Agir Şoreş said the following regarding his participation in the fight: "I joined the [YBŞ] ranks in 2014. I joined because of the massacres against our people. Another reason is that I did not want to remain desperate in the face of the massacre, I thus sought a solution which I found in joining the YBŞ. All those who are after the truth and refuse to bow down to cruelty should join the YBŞ."
"A PLEASURE TO BE IN THE SAME RANKS WITH MY SIBLINGS"
Şoreş who is fighting at the same front with her sister, described the feelings of being in the same struggle with his siblings in the following way:
"We as 4 sisters and 2 brothers are in YBŞ/YJŞ ranks. It is a sacred thing for us to be in YBŞ/YJŞ ranks and stand against massacres and cruelty; we avenge our people in this way. Me and my sister are now receiving training at the Martyr Berxwedan Academy. We came to the academy in order to invigorate our ideas, make them more transparent, and struggle more effectively. It is pleasing to join this training and struggle together."
Şoreş called upon Êzidî youth to join YBŞ/YJŞ ranks in order to seek and find the truth and avenge their people.