SDF Commander General: We will not accept Erdoğan's threats
SDF Commander General Mazlum Abdi Kobanê stressed that they will take no steps outside of the agreement made.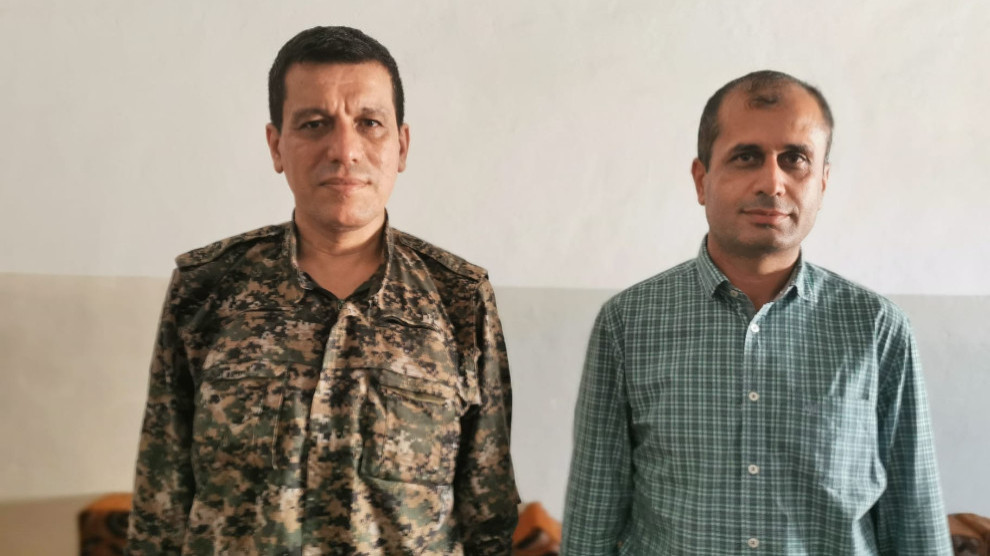 Syrian Democratic Forces (SDF) Commander General Mazlum Abdi Kobanê sopke to ANF about the Turkish Presient Recep Tayyip Erdoğan's threats against North and East Syria.
'WE ARE IN INDIRECT DİALOGUE WITH THE TURKISH STATE'
Kobanê said; "We are in indirect dialogue with the Turkish state. This process began at the beginning of the year and it continues. It did not develop during the past one month alone. The dialogue process accelerated following the threats of attack. We bear no threat against Turkey. There was no reason to attack. We favored an agreement and wanted the facts to be exposed."
'ERDOĞAN TALKS AS IF THERE WAS NO AGREEMENT'
Kobanê remarked that their indirect dialogue with the Turkish state has been ongoing for 8 months. He continued; "The US acts as intermediary. They talk first with them, and then with us. They also convey our opinions to them. Following this process, an agreement with three points was made. The declared agreement was reached after 8 months of talks. This agreement was approved by both our side and Ankara, and it is currently put into practice.
Practical steps of a three phased process are being taken at the moment. Patrols are taking place with the US participation from the air and land. We have also taken some practical steps. There is no trouble on our side. The US officials also stated that the process was improving faster than expected. If this agreement is put into practice properly, it will be for the benefit of everyone and relieve all parties' concerns, we believe. However, it is strange that Erdoğan's language has changed after the agreement was made. He speaks as if there was no agreement in question. Most recently, after the Astana 5 meeting, he declared that he would attack if unable to agree with the US. What we know is that an agreement has been made and put into practice already."
'ERDOĞAN IS DESPERATE, MIGHT RESORT TO WAR'
Kobanê pointed out that Erdoğan was in a desperate position and a deadlock because of the policies he has pursued in the region. He continued;
"He has made promises to the US on one hand and to Russia on the other, and this situation got to a point where it cannot be sustained anymore. He cannot fulfill his promises. Within the scope of Astana, some agreements have been made between Turkey, Russia and Iran. Russia announced their approval of the agreement we have made for border security but according to us, Erdoğan wants to please the Russia, Iran and the Syrian regime.
Erdoğan indeed wants to wage a war because he bases his rule on war. He is already waging a war in northern and southern Kurdistan and he wants to attack Rojava as well. His rule is on shaky ground, his party is falling apart and he sees war as the only solution. He would start a war against us very soon if he could. We are taking our measures against these threats."
SDF Commander said the US officials are of the same opinion that Erdoğan's discourses harm the process and stressed that; "As we made it clear to all parties, we will take no single step over threats and impositions. We don't have to take a step considering any party's threats. If there is an agreement in question, they, too, should take steps and change their language."
'THE BALL IS IN ANKARA'S COURT NOW'
Kobanê emphasised that the SDF act transparently: "The agreement that has been reached indirectly between us and Turkey is well known. The public should know that there are no further negotiations beyond the press reports. When the security zone was first talked about, we as SDF presented a roadmap to solve the problem through dialogue, which was eventually accepted. The agreement is being implemented in three phases: In a strip five kilometers into the interior of the country, we have withdrawn our forces as well as our heavy weapons and tanks. In some places it is 9 kilometers and 14 kilometers. There, in the place of our units, local forces, i.e. the military councils formed by local people will take over border security. Furthermore, joint patrols will take place. There is no other step we will take. We have taken these steps as a sign of good will. Now the ball is in Ankara's court and it is them that need to take a step and give confidence to the peoples of North and East Syria. Turkey demands a 32-kilometer-deep zone under its sole control in the border strip. We did not accept this request."
'ERDOĞAN'S REMARKS BEYOND COMMON SENSE'
Mazlum Abdi Kobanê noted that Erdoğan's remarks are difficult to understand and contradict common sense: "He wants to split Syria and change the demographic structure. I do not think anybody would accept this. We all want the refugees to return. In any case, our gate is open to people from our region. They are to return to the places from which they have fled. But there must be peace and a truce for this.
What Erdoğan says is different. He wants to get rid of the three million Syrian refugees in Turkey, of which only ten percent are from northern Syria, and to settle them in the border strip. He wants to seize the land of the ancestral population and build houses for the refugees. In other words, he wants them to stay there permanently. The cultivated areas are there already being managed by the local population. In our region there is no free field, all are cultivated anyway. The lands have their owners, who all farm. But as in Afrin, Erdoğan is concerned with occupying this region, subjecting the ancestral population to displacement and dividing the land among others. This would be a demographic change which cannot be accepted.
Erdoğan claims that 300,000 people have returned to Afrin. That's right. He has displaced 300,000 people from Afrin and replaced it with 300,000 other people. We will not accept this. People from our region who were not involved in crime and who did not join the ISIS or al-Nusra can return. Those involved in a crime will face trial anyway. We will not accept anything else.
Erdoğan's recent threats came under pressure from Russia and Iran. These forces want tensions on our borders, so that the Syrian regime settles here. It's the same game as in Afrin. They want to trigger a conflict at the border first, then to make sure that our forces withdraw from Raqqa and Deir ez-Zor, and then help the deployment of Russian, Iranian and Syrian regime forces in these areas. In this context, there is a corresponding agreement with Turkey."
"TALKS WITH MOSCOW AND DAMASCUS CONTINUE"
Finally, Mazlum Abdi Kobanê mentioned that talks between the SDF, Russia and Syria are ongoing and that there has been a response to the Syrian regime's recent hostile statements.
Damascus recently described the SDF as a "terrorist organization" in a letter to the United Nations and accused them of war crimes. In addition, the regime threatened to "recapture" all areas under SDF control.
The SDF Commander General added: "This aggressive rhetoric does not bring Syria any further. We want to solve our problems with Damascus through dialogue. From Russia, we expect a mediating role."