Roboski Massacre, a cry for justice
Nine years ago today, 34 people were killed in Roboski when Turkish air forces bombed a caravan of mostly under 18 border traders in the northern Kurdish province of Şırnak.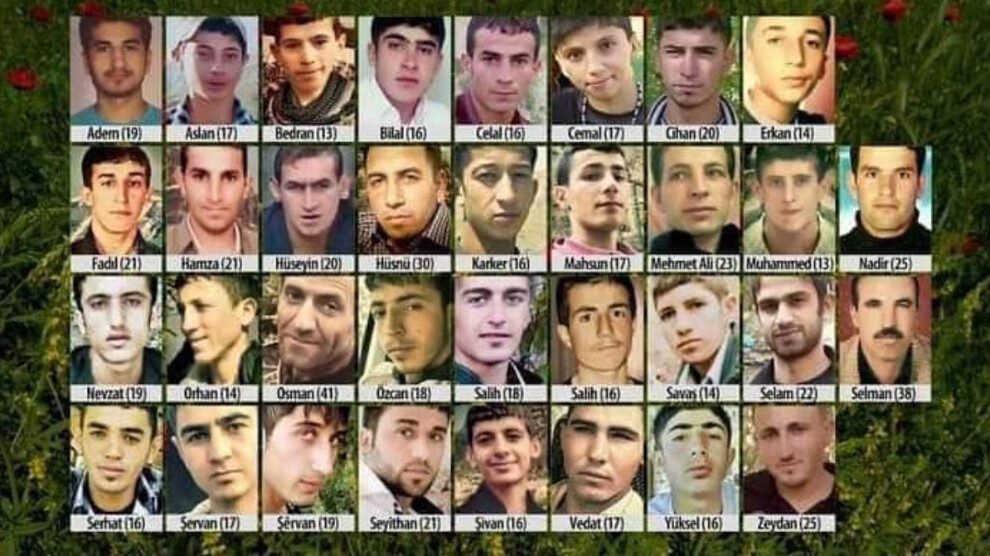 Nine years ago today, 34 young people were killed in what has been known since as the Roboski massacre. None of those responsible for the air strike that killed the civilians has been brought to justice. Two of the victims' relatives are in prison, and 34 others are on trial.
On 28 December 2011 Turkish air forces bombed a caravan of mostly under 18 border traders in the northern Kurdish province of Şırnak. The dead border traders had loaded their mules with two canisters of diesel fuel, one kilo of tea and one kilo of sugar each. They were cross border trading when a rain of bombs fell on them.
All civil and military tribunals have closed ranks around the military. After all domestic legal channels had been exhausted, an application was submitted to the European Court of Human Rights (ECHR). However, as the lawyers for the victims' families had submitted missing documents two days too late, the ECHR rejected the application in May 2018.
The legal process for the Roboski massacre is emblematic as to the judiciary in Turkey works. None of those responsible has been held accountable. Veli Encu, who lost his brother Serhat in the air strike, and Barış Encu, who lost his brother Nevzat died, are in prison for protesting the massacre. Proceedings are pending against 34 people because of the protest against the then District Administrator Naif Yavuz. They are accused of "propaganda for an illegal organisation, insulting the army and attempted murder". Another 16 relatives are under trial as they attended a memorial service. Dozens of family members have been fined.
Veli Encu has been sentenced to five years in prison. He has been in prison for two years and has been tried in five other cases. Barış Encu has also been imprisoned for almost two years; he was sentenced to over six years in prison for his posts on social networks.
Turkish Army: "An unfortunate mix-up"
19 of the 34 victims of the Roboski massacre were under 18. Only four people survived the attack, seriously injured. The young men between 13 and 38, whose families lived off the border trade, were returning from South Kurdistan when the bombing of Turkish fighter jets began at 9.37 pm. The bombing continued until 10.24 pm.
The Turkish General Staff later stated that since the group had taken a route also used by the PKK, the decision had been made to attack them. They were thought to be "terrorists". Hours before the first air strike, at around 6.39 pm however, drone images had already been watched and revealed clearly that the people were recognizable as border traders. The local military police (Jandarma) were also informed of every smuggler's activity, as they collected illegal customs duties.
In any case, it is known that the guerrillas do not use long routes like the border traders and do not move in such conspicuous groups and with mules. The responsible military in Ankara must have been aware of this too. The current head of state Recep Tayyip Erdoğan, who was prime minister at the time, promised to investigate the incident. However, it was Erdoğan himself who personally thanked the Chief of Staff for the bombing.