Remembering Lorenzo 'Orso' Tekoşer with his writings
On the occasion of the second anniversary (18 March 2019) of the death of Lorenzo 'Orso' Tekoşer the family will present a book of his writings from Northeast Syria.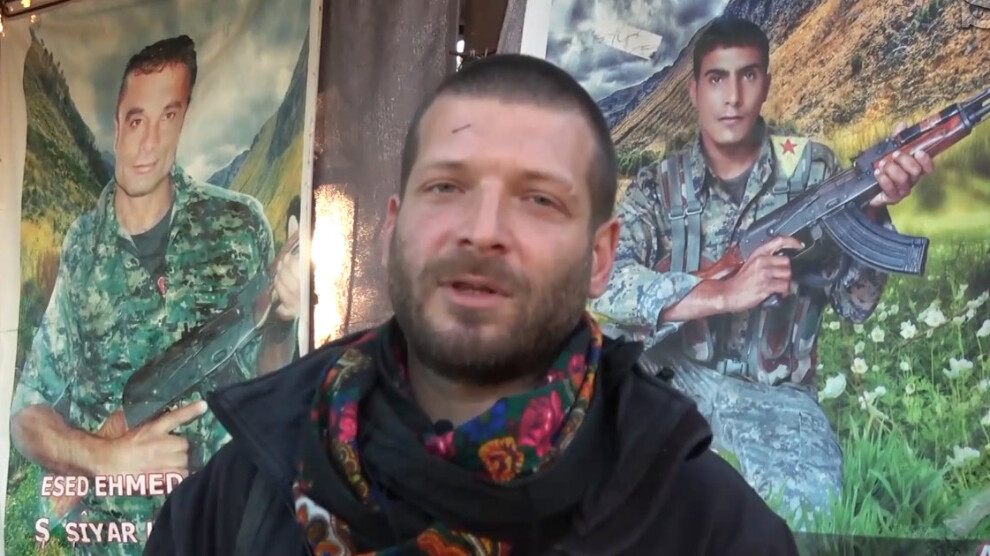 Lorenzo 'Orso' Orsetti (Tekoşer Piling) fought in the Rojava Revolution, side by side with the YPG and YPJ. He fell a martyr in Baghouz, Deir ez-Zor on 18 March, as a result of an ambush by Daesh.
The Italian internationalist will be remembered on Wednesday at 6 pm with the presentation of a book collecting his writings from North and East Syria. The book is called "Orso, Writings from Northeast Syria" and is published by Redstar Press. Alessandro Orsetti, father of Lorenzo is also the curator of the book and will be hosting the launch of the book live on Facebook Live together with the publisher Cristiano Armati and a number of other speakers.
His family said in a letter presenting the initiative: "For about a year and a half Orso, as his friends called him, had gone to the Kurdistan lands attracted by that beautiful social project that is the Democratic Confederalism, committing himself to defend it together with the Kurds from the aggression of the ISIS and Erdogan's army.
Many were struck by his choice, a risky, radical choice, in contrast with our society of well-being and individualism: a young man who leaves friends, work, his city... to go to distant lands, where one lives in a reality of war, committing himself to realize those values ​​he believed in such as freedom for all, justice, the dignity of everyone, real democracy that comes from below, equality of the sexes and for these values ​​he is also willing to give his life."
He was a partisan and had gone to Rojava because he believed in internationalism, the idea that he commits to fight without considering the limits of national borders and leads to supporting all peoples. Today we want to remember the story of him because we believe that it is right to remember him, reminding us that we must courageously take a stand with regard to the injustices of the world, without distracting our gaze, perhaps engaging in a political project to achieve a vision of a new world."