PKK's Karayilan: Efrîn will turn into Kobanê if Turkey attacks
PKK's Murat Karayilan warned of a Turkish attack against Efrîn and said that the Efrîn will turn into Kobanê and be a graveyard for the Turkish state if this happens to be the case.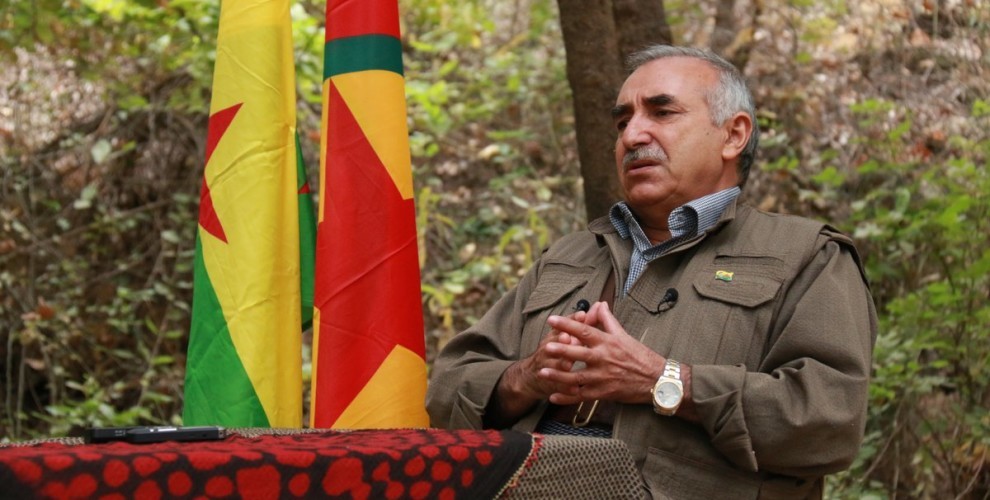 In an interview to Sterk TV, member of PKK's Executive Committee Murat Karayilan sent strong messages to Ankara and Moscow about a possible Turkish intervention on Rojava's Efrîn canton.
"Erdogan says that they will clear Efrîn of PYD. This translates to: 'we will destroy the people there.' PYD belongs to Rojava Kurdistan, it's a political party of the people there. Erdogan unabashedly tells this in front of the world, he thinks that he has the right to do so.
Our people in Efrîn knows that Turkish intervention against Efrîn is an attack against the honor of Kurdish people. Just as our people rose up in four parts of Kurdistan when AKP attacked Kobanê by using ISIS, Kurds will show the same attitude in case of an attack on Efrîn. They have to do this.
This war will become a conflict between Kurds and the AKP state. This conflict will not be limited to Efrîn, but will spread everywhere. They want to break Kurdish people's will through the people of Efrîn. They want to attack Efrîn because of this. The emergent situation will be a strategic war between the Kurdish people and the Turkish state. Just as their intervention against Southern Kurdistan, just as they threatened and insulted people of Southern Kurdistan, they want to do the same against Efrîn now."
Remarking that the Turkish state wants to destroy Kurds by using its allies or by its own means, Karayılan said the Kurds, together with democratic powers, will stand against Turkish aggression and give a challenging struggle.
"Our people in Efrîn should not be worried about this. They should believe in themselves, believe in what they can achieve and should know that we will be at their back. We will back them with democratic powers and the Turkish state will be defeated in Efrîn. Efrîn will be a graveyard for the Turkish state. Just as Kobanê became the beginning of the end for ISIS, Efrîn will be the beginning of the collapse of the AKP state's regime.
The Kurds, and especially people of Efrîn should prepare themselves. This state couldn't enter Şırnak even for one year, how will it enter Efrîn? Even though Şırnak is within their borders, the couldn't get it. They don't have such power. We are fighting against them every day, and they can't make progress. Our people should believe this."
Karayılan pointed out that the war in Syria is an international or a world war, adding; "This is not a zone in which Turkey can go wherever it wants. Turkey's intervention on Efrîn will mean that Russia approves this. I mean this attack won't be an attack of fascist Erdogan but also an attack of Putin. I hope that Putin won't fall into this trap. Our expectation from Russia is this."
PKK's Karayılan underlined that: "Erdogan's politics against the Kurds is a genocidal one. We saw how they used the referendum as an excuse and intervened against Southern Kurdistan. He is acting hostile against Kurds. Russia is trying to build friendship with Kurds. And if it really wants to do so, Russia should deny permission for Turkish intervention. Like I said before an attack by Turkish state, will mean a Russian attack against Efrîn. Kurdish people and the world will see the attack this way."
Regarding the increasingly ongoing aerial activities of the Turkish state over Rojava, Karayılan made the following comment: "Reconnaissance planes fly over Efrîn. That means they got permission. Permission was granted to them (Turkey) to provide a basis for intervention. This is not in accordance with friendly relations between Russia and Kurds. Efrîn is Syrian soil and Syrian people are living on it. SDF is fighting for all of Syria. On one hand you will talk about reconstructing Syria and assembling a peoples' congress and on the other hand you will give permission to a power, which pursues a policy of massacre and genocide over Kurdistan, to intervene. This means become a partner with Turkey. Everyone should act with responsibility on this matter. We hope that Putin and all officials won't fall into this dirty trap. "