People of Shengal protest against Turkish attack
Masses gathered in Shengal to protest Turkish aerial bombardment that targeted their land on Wednesday.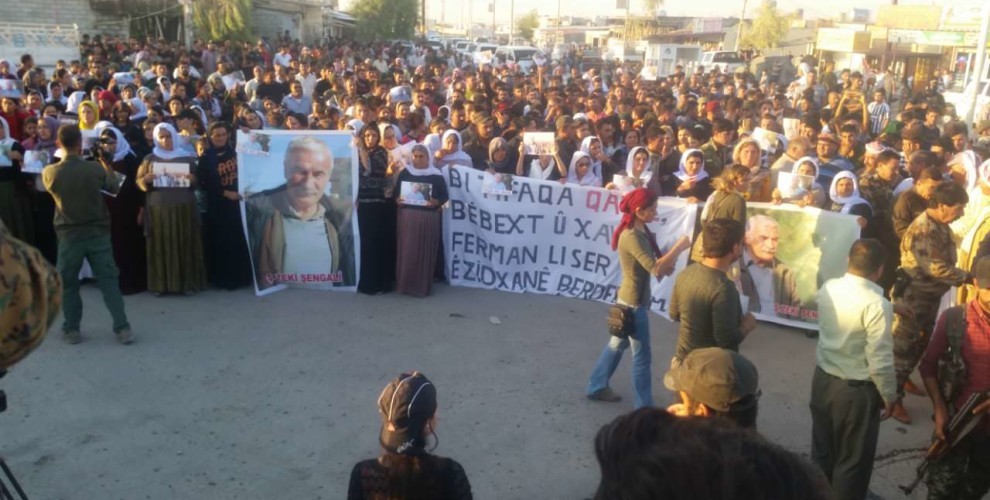 Thousands of residents of Shengal town in South Kurdistan staged a demonstration under the lead of Shengal Democratic Autonomous Assembly in protest at the genocidal attacks of the Turkish state.
Large number of civilians as well as representatives of the political parties, organizations and institutions in Shengal joined a march which started from Sinune People's Assembly and continued until the Sinune main road.
Photos of Shengal Yazidi Coordination and KCK Executive Council Member Zeki Şengali, who was martyred in Wednesday's attack, and a huge banner reading "Attack on Zeki Şengalî is the continuation of the genocide against Yazidi (Êzidî) society" was held by the people.
Following the march, Shengal Democratic Autonomous Assembly Co-chair Riham Hiço read a press release which said the following:
"As is known, the Yazidi society was subjected to a great massacre by ISIS gangs before the eyes of everyone in August of 2014. Today, that massacre has been repeated.
The attacks carried out Wednesday afternoon targeted Shengal Yazidi Coordination member Mam (Uncle) Zeki resulted in his martyrdom. We offer our condolences to Mam Zeki's family and all the Yazidi society.
Mam Zeki dedicated his whole life to serving the Yazidi society. He relentlessly worked in four parts of Kurdistan and in Êzidxan (Yazidi land) to make sure the Yazidi people gain their rights and develop autonomy.
We firstly call on the Iraqi state to shed light on these attacks which have been carried out in a territory under their control. For this reason, they must provide the Yazidi society with satisfactory information.
We also call on the United Nations, international institutions and establishments to not remain silent on the attacks against the Yazidi community and to uphold their own laws. We demand that Shengal airspace be closed for aircrafts.
We ask the Yazidi community and their friends to not remain silent in the face of these unjust and unlawful attacks, and to take to the streets uninterruptedly as this aggression is a continuation of the 73rd genocide against the Yazidi people and aims at destroying the Yazidi community."
Zeki Şengalî will be laid to rest following a ceremony to be held on August 18.