Otegi: Öcalan inspires all people working to improve the world
Basque politician, Arnaldo Otegi, said Abdullah Öcalan "is not only an example for the Kurdish people, he is a companion and friend who inspires all the people who work to improve the world.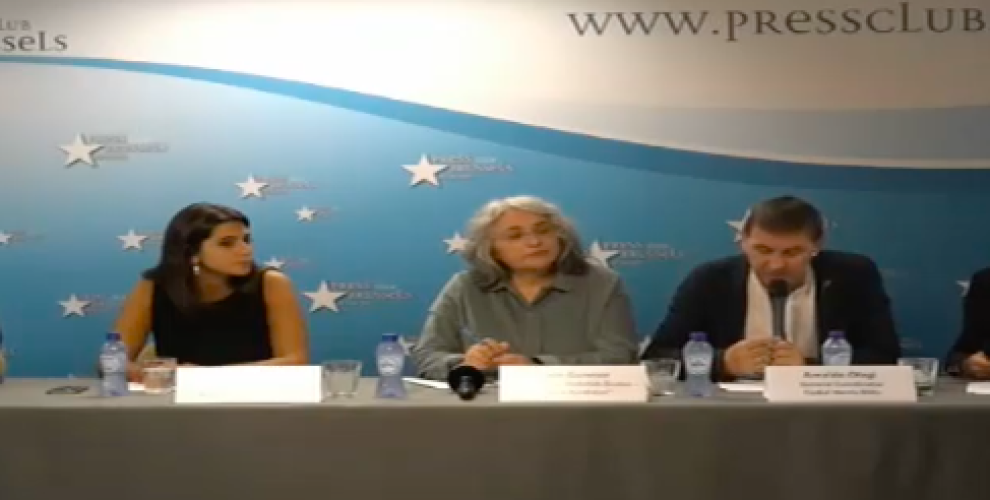 The Time Has Come! – Freedom for Öcalan World Campaign – held a press conference in Brussels today at the Press Club Brussels Europe.
Having Guneser, on behalf of the International Initiative "Freedom for Abdullah Öcalan – Peace in Kurdistan" recalled that "For more than seven years now Abdullah Öcalan has had no contact to a lawyer".
Guneser added that "more than 10 million signatures were collected for his freedom – the biggest ever campaign for a political prisoner".
After Guneser the general coordinator of the Basque coalition Euskal Herria Bildu, Arnaldo Otegi spoke. 
"I am here to show my support and that of the men and women of the Basque independence movement to Comrade Abdullah Öcalan. I also want to take this opportunity to renew our commitment to work for their release", said Otegi.
Otegi added: "I myself have spent more than 14 years of my life in prison, for leading the left and independence option in my country. From my own experience I want to show my solidarity and support to Abdullah Öcalan. We are well aware that the isolation to which Abdullah Öcalan is subjected is not only a punishment for him, it is a way of punishing the Kurdish people, it is a way of trying to silence his voice".
Arnaldo Otegi renewed "our call for negotiation and agreement and we call once again on the international community to get involved and promote a resolution to the Kurdish question". 
"The liberation of Abdulah Öcalan, a leader who has the confidence of his people, would be essential. - said Otegi - It would contribute to the detente in Kurdistan, laying the foundations to situate the conflict in a way of real solution, but it is also , would help in an important way to the stability of the whole of the region, of course Turkey, but also of Syria, Iraq or Iran".
Abdullah Öcalan, said Otegi, "is not only an example for the Kurdish people, he is a companion and friend who inspires all the people who work to improve the world. That is why his liberation is not only important for the Kurdish people, it is important for all of us who want to work for a fairer world".
Recalling that "I myself counted on the solidarity of many people who launched the Campaign "Free Otegi" in favor of my release, among them many people who had also known prison and repression as Leyla Zana, Gerry Adams or Angela Davis", Otegi ended his remarks by saying: "Today we want to convey to the international community, Abdullah Öcalan and the Kurdish people our firm commitment to continue working to secure Öcalan's freedom, to achieve peace and a just and better future for Kurdistan".