Internationalist martyrs of the Rojava Revolution – IV: Keith Broomfield
American internationalist Keith Broomfield came to Kobanê, saying, "I am here to be a part of the movement and to do my best to help." He lived, struggled, fought and became a martyr as if he had found the place to be.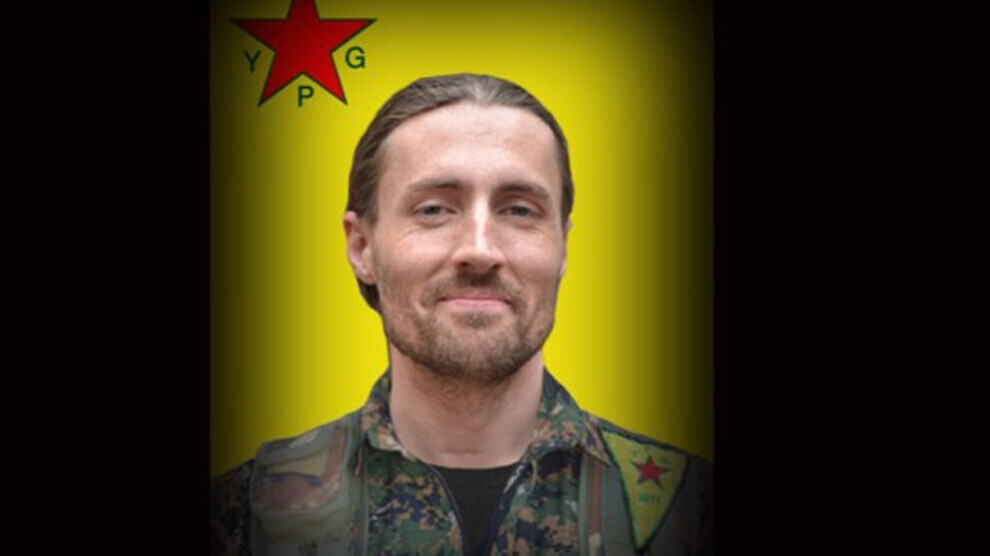 While clashes that erupted in Kobanê escalated after September 15, 2014, internationalists from all over the world arrived in the city to join this historical resistance of honour. One of these internationalists was an American, Keith Broomfield, who expressed the reason for his participation in struggle in the following words: "I'm here to be a part of the movement, to do my best to help. You know, after all this, it seems to be the most correct thing to do."
Keith Broomfield was born on March 8, 1978, in Massachusetts, United States, as the son of Tom and Donna Broomfield. Broomfield worked as the production manager at his family's manufacturing firm in Massachusetts. He stated that a new page was opened for him after a motorcycle accident, after which he wanted to continue his life with struggle. He heard about the resistance in Kobanê against ISIS that occupied Mosul and many regions in Iraq and Syria, and about internationalist fighters taking part in this historic resistance. He set off from America and arrived in Rojava and crossed into Kobanê on February 24. He joined the struggle and adopted his nom de guerre, Gelhat Rûmet.
"THIS MUST BE THE PLACE"
Since most of the fighters on the resistance fronts in Kobanê consisted of Kurds and Arabs, the participation of international fighters like Keith Broomfield in the freedom struggle impressed the people of the region and other resistance fighters. They all came from different parts of the world. They had different ethnicities and beliefs, but they learnt a common language, eating, struggling and fighting together… This spirit, created in Kobanê and glorified with the Rojava Revolution, cannot be expressed in simple words.
Choosing Kobane as the place of his struggle, and taking part in military training, Martyr Gelhat moved to the resistance fronts in a pretty short while. He felt like he had found the place he had been searching for many years. His most urgent goal was to learn Kurdish and to get a good grasp of the ideas and ideology of the People's Defence Units (YPG). He thus joined the YPG with great faith and determination. He was known for his great enthusiasm, high morale and comradeship on the streets of Kobanê.
'I AM HERE FOR A FREE LIFE FOR EVERYONE'
Martyr Gelhat, who had started life with strong ties to Christianity, was furious to see ISIS persecuting civilians over their religion and beliefs in Syria. He said: "There are people of all and no religions here. I am a Christian, but I have stayed with Sunni, Shiite, Yazidi and other peoples. I'm here to ensure that people can freely choose what they want to do. ISIS is the enemy of humanity. No matter who you are or what you believe in, you must stand up for unity, solidarity and freedom."
A BRAVE, QUALIFIED GUNNER
Although Martyr Gelhat did not have any prior military experience, he soon became a hardworking, competent fighter and a good gunner. He joined an assassination team based in Kobanê. He fought ISIS alongside German fighter Rustem Cudi and other internationalist fighters. He took part in the Martyr Rûbar Qamişlo liberation campaign launched on May 6, 2015, to cleanse Rojava's Cizîre Canton of ISIS. With his unit, he moved to the south-eastern front lines of Kobanê. His unit fought towards Girê Spî (the city also known as Tal Abyad, occupied by the Turkish state on October 9, 2019).
When asked about his motivation to be there, he replied: "Resistance and the opportunity to be a part of something greater than myself. There's too much individualism in America and the idea that you do nothing for others is promoted. This [individualism] is not an ideal of my religion or the group I am fighting with... It's time to put ourselves aside and go for the common good."
MARTYRED LIKE A HERO
Gelhat was martyred on June 3, 2015 in clashes that erupted during the operations against ISIS in the village of Qentere, west of Kobanê. The people of Kobanê and his comrades held a ceremony to honour his struggle and sacrifice and delivered his body to his family at the Mürşit Pınar Border Gate. He was laid to rest in his hometown of Massachusetts. An obituary during his funeral ceremony said: "There is only one thing that is most valuable to a person, and that is his life. He gave his life for my people and the land of Kurdistan. We will consider him a hero forever."
In a speech during the funeral ceremony, his fellow fighter, German internationalist Rûstem Cûdî, said: "Keith fell a martyr like a hero. He was a really good man. As far as I know, he had a hard life and was a motorbiker, but he changed his life and went to Kobanê to fight for freedom. The last time I saw him, he said to me, 'If I die, I want to die in a battle.' His dream came true. Maybe some Americans will question whether he died for something good, but I would say that he died for a noble cause."