French and Canadian fighters in the Tabqa operation
French Cilo Zagros and Canadian Gabar Tolhildan are participating in the Tabqa operation of the YPG-led Syrian Democratic Forces against ISIS.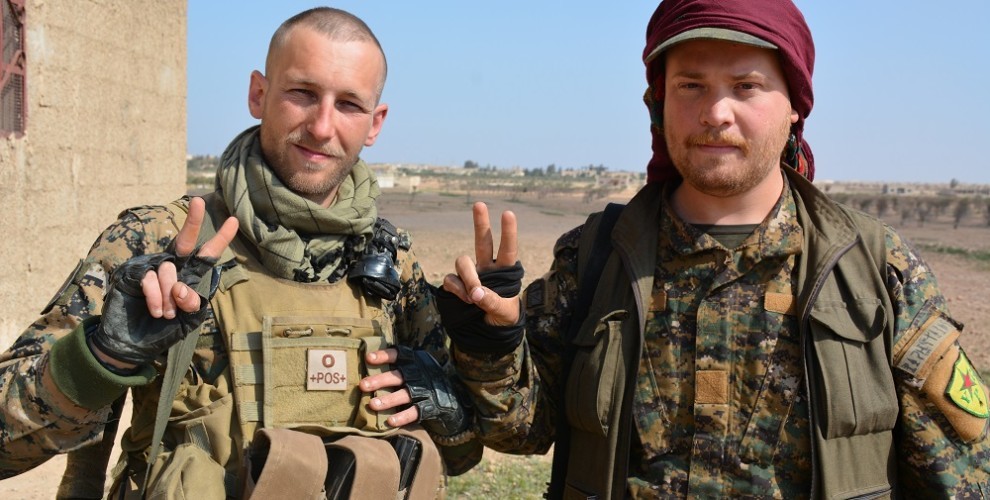 The fight against fascism was waged by revolutionaries from around the world against Franco in Spain and Mussolini in Italy in recent history. The center of today's revolutionary struggle is Rojava. Against ISIS gangs' fascism, people from many countries take their place in the frontlines.
Two of these revolutionaries are a French fighter code named Cilo Zagros and a Canadian fighter code named Gabar Tolhildan. Zagros and Tolhildan have taken their place in the frontlines in neighborhoods liberated from ISIS gangs in Tabqa.
The fighters spoke to ANF and and said they came to these lands for freedom and fraternity.
The operation launched to clear Tabqa of ISIS gangs continues with determination. Tabqa has been completely surrounded and now it is time to advance towards the city center.
There have been important advances towards the center from Tabqa's south and south west. A significant portion of the Alexandria and Ayid Saxira neighborhoods have been cleared of gangs as well.
Canadian Gabar Tolhildan in the Tabqa siege came to Rojava in 2015 and has participated in several operations against ISIS gangs in the two years since. Tolhildan said he is happy to be in the Tabqa front and added: "Right now we ware in neighborhoods we liberated in Tabqa. ISIS gangs have troubled not just the Middle East but the whole world. I've been in Rojava for two years. I participated in several operations against the ISIS gangs, and now I'm in Tabqa. I'm happy to be here. Tabqa had been under siege for some time, and now we are advancing towards the center. I am here in these lands for freedom and fraternity.
Another fighter in the same trenches with Canadian Tolhildan and Kurdish and Arab fighters is French Cilo Zagros. Zagros said he came to Rojava two months ago, that he gained important military knowledge in this time and added: "There is an important fight here in these lands for freedom and this fight was of interest to me. ISIS is the enemy of all of humanity, so I'm happy to be fighting against ISIS gangs and to see them defeated. Right now we are in the neighborhoods of the Tabqa town. We will advance further and liberate Tabqa from ISIS gangs."