Ferit Şenyaşar: One of my brothers' killers could walk free in a few months
Ferit Şenyaşar and his mother Emine are demanding justice for his brothers and his father who were killed in 2018. He warned that the court is under political pressure and that one of the killers could walk "free within a few months".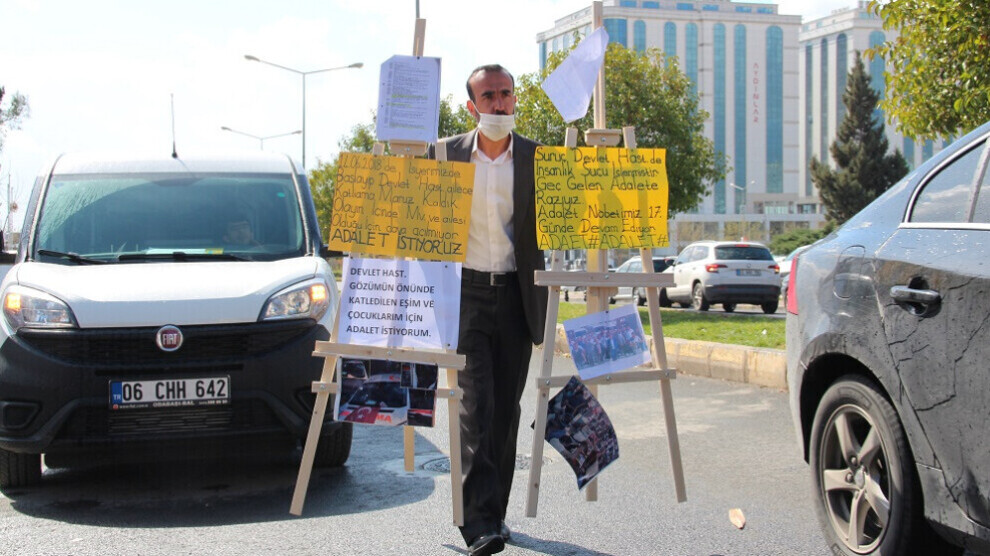 On 14 June 2018, during the election campaign for the Turkish parliamentary elections in Suruç (Urfa), bodyguards and family members of AKP deputy Halil Yıldız carried out a horrendous attack at a market shop. Ferit Şenyaşar lost his brothers. Subsequently, his father was beaten to death in the hospital by a mob made up of relatives of the MP. Ferit Şenyaşar and his mother Emine Şenyaşar have been holding a sit-in in front of the Urfa court for 28 days. They are demanding that the murderers be sentenced. They also stand up for justice for Fadıl Senyaşar, Ferit's brother, who has been sentenced to 37 years and nine months in prison.
Ferit Şenyaşar's brother was sentenced for allegedly shooting one of the attackers, Mehmet Şah Yıldız, brother of AKP politician Ibrahim Halil Yıldız, and for attempting to shoot five others. Video recordings clearly contradicted this accusation. The footage shows that Şenyaşar is being beaten by those five people, while Yıldız is being hit by a bullet coming from another direction.
"We acted exclusively in self-defense"
Ferit Şenyaşar said: "If there was a fair trial, my brother Fadıl would be released. There is camera footage from our shop. The recordings make it very clear that we five siblings are defending ourselves." Şenyaşar emphasized that the family acted in self-defense and that his brother's conviction is unacceptable. "What happened in our shop was recorded by surveillance cameras. The footage shows how we five brothers defend ourselves. Everything we did was in self-defense. But the court didn't accept that, blamed us and sentenced my brother to 37 years and nine months in prison."
"A family wiped out"
Şenyaşar continued: "The perpetrators and the places where the massacre took place are clear, everything is clearly visible in the pictures. Still, the court blames our family. The court wrongly sentenced my brother Fadıl Senyaşar. No account was given for the murder [of my father] at Suruç State Hospital. This murder took place in front of everyone. One family was wiped out. The Urfa public prosecutor's office is still investigating this murder and has issued a confidentiality order."
"One of the perpetrators will be released in a few months"
Of the attackers, only Enver Yıldız was sentenced. Initially to a life sentence, but the sentence was then reduced to 18 years. The court considered a reason for reducing the sentence the fact that the events occurred as a result of an escalating dispute. In other words, it was not a planned attack. Ferit Şenyaşar said: "The trial for the attack to our shop is carried out in Malatya, while the attack in the hospital in Urfa. The Yıldız family took all of the video footage. I took part in the trial in Malatya and felt that there was political pressure on the court. So I have come to the conclusion that no fair decision will be made."
Şenyaşar compares the verdict against his brother Fadıl to the extensive impunity of the attackers and said: "Only my brother's murderer, Enver Yildiz, was sentenced to 18 years. He only has to serve a third of this sentence. In fact, he will be released from prison in a few months. My family's killer drives around Suruç in the most expensive cars, but the security forces turn against us and attack us."
"We will never accept this verdict"
Şenyaşar insists that he and his mother would never accept this verdict and that they would continue to call for justice. He appeals to civil society and human rights organizations as well as to the democratic forces to show solidarity with their vigil, which has been going on for 28 days.