'Femicide will not end until the occupation is over'
The Turkish state and its gangs carry out femicide in Afrin, Serêkaniyê and Girê Spî, where murder, torture and rape continue as a systematic policy. According to female activists, femicide will continue until the occupation is over.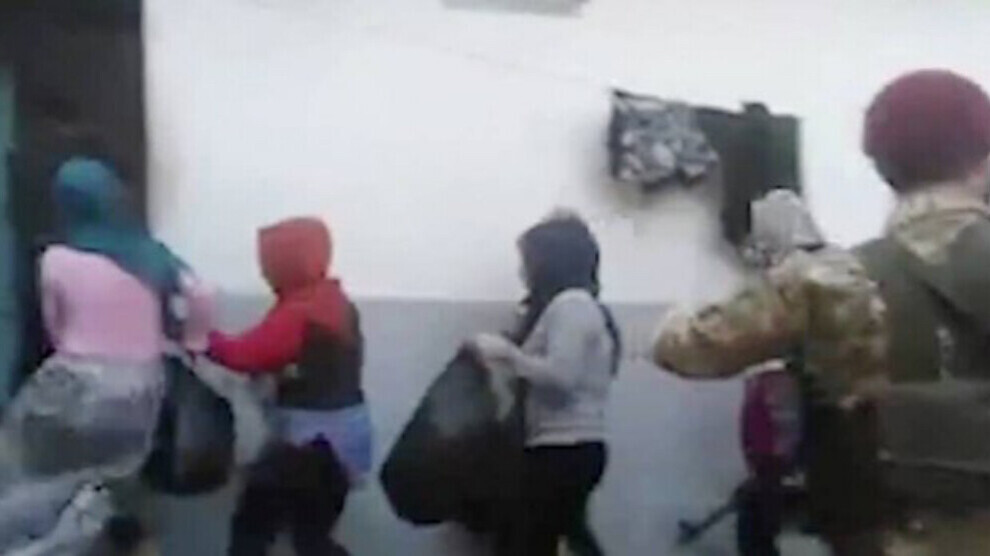 While women throughout the world celebrate the 25th November Day for the Elimination of Violence Against Women and International Solidarity with struggles and actions, the Turkish state has transformed Afrin, Serêkaniyê, and Girê Spi into femicide centres.
The Turkish state escalates femicide in these locations by enacting genocidal policies against Kurds as well as targeting women and their social liberties. According to the reports, at least 119 women were murdered, and over a thousand were kidnapped.
Syria- Afrin Human Rights Organization's Roşîn Hido and Syrian Women's Rights Protection and Research Center's Mîzgîn Hesen spoke to ANF about the murder of women in Turkish-occupied territories.
119 WOMEN'S MURDERS DOCUMENTED
According to Afrin Human Rights Organization data, at least 84 women have been killed by the invaders since January 20, 2018, and six of them committed suicide after being sexually abused. While the invading forces abducted over a thousand women in Afrin, the fate of hundreds of them remains unknown. According to the reports, at least 71 women have been sexually abused or raped in Afrin.
Cizîrê Human Rights Association, on the other hand, established that the Turkish state killed at least 35 women and injured 98 women in the Serêkaniyê and Girê Spi invasion attacks, as well as subsequent attacks in regions such as Til Temir, Ain Issa, Manbij, Kobanê, and Zirgan.
During the occupation attacks on Serêkaniyê and Girê Spi, 429 people were killed. There were 64 children and 14 women among them. During the brutal onslaught, 74 women were injured. Since the beginning of the invasion attacks in Serêkaniyê and Girê Spî, the invaders have abducted 24 women while they tortured and killed five women. The explosions killed at least four women. Six women were killed and two women and three children were injured in Turkish army bombardments in Zirgan, Til Temir, Eyn Îsa, Manbij, and Kobanê.
FEMICIDE IS MORE PREVALENT THAN IT'S DOCUMENTED
Roşîn Hido stated that the Turkish state and its mercenaries committed more crimes against humanity in Afrin than has been documented, and said, "As the Afrin Human Rights Organization, we cannot enter Afrin. There is no independent committee or human rights institution that can go to Afrin and undertake investigations. We simply listen and chronicle what happened by talking to people who have fled Afrin and arrived in our area, and by calling some people who live in Afrin. Most of them are too scared to tell what the invaders have done. They are afraid that the invaders will kill their families or relatives in Afrin. When we first encounter them, they are unable to express themselves. Their mental states are terrible, yet they only talk about their experiences gradually over time. Some women are still unable to articulate their feelings and the torment they have endured at the hands of the invaders."
THEY WANT TO DISHONOUR PEOPLE
According to Roşîn Hido, the invaders kidnapped a large number of people in Afrin, including over a thousand women. She stated that there are multiple torture centres owned by the invaders in Afrin and that the stories of the women kept in these facilities are horrible.
"Women and children don't matter to gangs," claimed Roşîn Hido, and continued, "In addition, they kidnap and torture young girls. So far, numerous women have told us about their experiences in these torturous places. One of them claimed that the torture centre where she was imprisoned by gangs after being kidnapped housed 24 women and 25 children. Women are exposed to physical and psychological torture in these torture facilities. Almost all of the women abducted by the invaders are sexually assaulted."
A woman from Afrin who stayed in these torture facilities claimed that the invading forces brought the Kurdish men they had kidnapped and tortured them in front of their eyes. She claimed that the invaders wouldn't even let them close their eyes to watch what was being done. 'The invaders told me to beat a Kurdish man,' said another woman. They want to humiliate and weaken women and Kurdish people by torture."
"Women who went through these torture practices tell us that Turkish intelligence also interviewed them," Roşîn Hido stated, drawing attention to the fact that crimes against humanity against Kurds and women in Afrin were methodically committed under the directives of Turkish intelligence.
FORCED UNDERAGE MARRIAGE
According to Roşîn Hido, gangs associated with the Turkish state in Afrin forced the families of underage girls to give their daughters as wives, and continued, "When the families do not accept these, they are tyrannised and tortured.  Girls are compelled to marry by gang members in some cases. Marriages at a young age became more common as a result of the gangs' impositions in Afrin. Child marriage was extremely uncommon in Afrin even prior to the revolution. Due to the imposition of gangs, many families now marry their children to relatives before they reach the age of consent. They unwillingly marry off their children with the intention of marrying our people rather than gangs. Child marriage is illegal practically everywhere in the world, but the Turkish regime enforces it on our culture in Afrin as a way of harming women."
SOME WOMEN LOST THEIR MENTAL BALANCE
Hido stated that two women in Afrin lost their mental balance as a result of torture, saying, "This year, a Kurdish woman named Zeliha lost her mental health as a result of the trauma she went through. We discovered that she had been living alone on a house's roof for three months. Last year, an elderly woman named Xazalê Selmo was kidnapped in the village of Basufanê because she refused to accept her young daughter's marriage to a gang member. She lost her mental balance as a result of the torture she endured in a gang-owned location in Iska. They transported her from here to Turkey. According to the information we have, she is now being held in the Marate prison."
THEY FEAR WOMEN'S LIBERATION
Pointing to the existence of all kinds of physical, sexual and psychological torture against women in Afrin, Hido said: "In Afrin, women had already achieved a high level of freedom before the occupation. They were active in all aspects of social life, institutions, politics, and administration. With the torment they have developed against women in Afrin, the occupiers now want to deprive women of their essence and strength. The annihilation of women is the annihilation of society. They are well aware of this, and they concentrate their efforts on women. The Turkish regime is terrified of women's liberation. Erdogan is terrified of the free woman. As a result, they target Kurdish women in order to restore their prior willpower.
GENOCIDE AND FEMICIDE ARE INTERWOVEN
We cannot consider women separated from society. Due to the occupation, 300,000 people were forced to leave Afrin in March 2018. Women lost their lives, their children, their families, and their land as a result of the invasion and migration. Today, more than 100,000 Afrin residents live in Shehba, yet our neighbourhoods are bombarded on a daily basis. Women are being killed. They hit the front of Veger Camp, where Afrin residents live, with howitzers a few days ago in Shehba. I went to the location targeted by the attack."
INSUFFICIENT INTERNATIONAL REACTION
According to Mîzgîn Hesen of the Syrian Women's Rights Protection and Research Center, they are working on the situation of women in Syria, particularly in the areas held by the Turkish state. "We participated in the conference centrally developed in Europe on this topic," Hesen said, noting that they are trying to relay the voices of women living in this region who are subjected to various forms of torture to the globe and associated organs. "We will also attend a workshop, which will be held later. We have once again prepared a report on human rights breaches and violence against women in occupied territories," she added.
Hesen stated that there is a very serious situation in the areas under Turkish occupation, particularly in Afrin, and that other human rights organizations working on this issue in North-East Syria have also shared the information and documents they have obtained with world public opinion, states, and the UN. She emphasized that the international response was inadequate.
HEVRIN XELEF'S MURDERER IS STILL FREE
Hesen recalled the case of Hevrîn Xelef, Secretary General of the Syrian Future Party, who was assassinated between Til Temir and Girê Spî on October 12, 2019. She noted that even in such an open and violent killing, the world's powers did not fulfil their responsibilities and did not hold the perpetrators accountable. "The US punished the Ahrar Sharqiya Commander Hatam Abu Shakra, but this is not enough. Hatam Abu Shakra is now free and continues to do the same work," she noted.
INTERNATIONAL CRIMINAL COURT DID NOT ACCEPT OUR APPEAL
Mîzgîn Hesen recalled that they applied to the International Court of Justice in Geneva for a case with a file for the trial of those who murdered Hevrîn Xelef, but their petitions were denied. "The legal initiative Truth and Justice for Syrians contained the names of two people in the report it prepared as a result of its inquiry. They discovered that Haris Rabah, one of these people, was part of the party that murdered Hevrîn Xelef and the nine civilians who were with her and that he had recorded the video. Hatem al-Shakra was the mastermind behind the atrocity. We included the names of these individuals in the report we were preparing to deliver to the International Court of Justice. We applied to the international court, but our application was not accepted. 'Yes, you are a legal centre, but the state rule must apply,' we were told. All of this encourages the invaders to commit massacres and femicide. We will keep fighting for their prosecution," she said.
GENOCIDE CANNOT BE STOPPED UNTIL THE OCCUPATION ENDS
Hesen drew attention once more to the fact that the Turkish state has escalated its violence against women to the level of femicide in Afrin and the regions of Syria that it has occupied. She stated that the Turkish state's crimes against humanity and femicide in Afrin can only be stopped by ending the occupation.
"The Turkish state is a murderous and anti-Kurdish state. Even an independent committee is barred from entering Afrin to conduct an investigation. The entire world is aware of Turkey's reality and what it has done in Afrin. If world states and international organizations do not want to be associated with the Turkish state's crimes against humanity and femicide, they should force them to leave Syria and end the occupation," Hido concluded.