"Erdoğan will be challenged wherever he goes"
Turkish President Recep Tayyip Erdoğan's supporters and security detail attacked six peaceful protesters who disrupted Erdogan's speech in New York City on September 21st, 2017.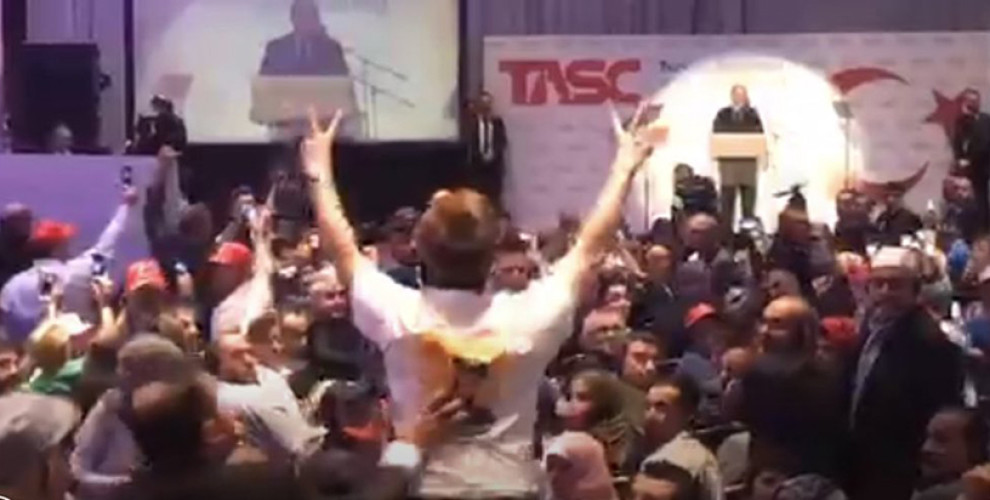 Turkish President Recep Tayyip Erdoğan's supporters and security detail attacked six peaceful protesters who disrupted Erdogan's speech in New York City on September 21st, 2017.
The demonstrators included American former YPG volunteers, Kurdish activists, and their American allies.
"We gathered in solidarity to challenge Erdoğan's unquestioned presence in the United States, and to expose his war crimes against the Kurdish people to the American public. Each demonstrator stood up during the speech and chanted slogans until they were forcibly removed from the venue", said the protesters.
Former YPG volunteer Lucas Chapman interrupted Erdoğan's speech because he believes that someone must stand up to tyranny wherever it may show itself. "The genocidal criminal Erdoğan may think that he is beloved because he has silenced the voices of dissent in his own country, but those who disrupted his speech wanted to let him know that much of the world reviles him and sees through the image he has carefully crafted of himself," Lucas said.
"Our tactic was a resounding success, as very few people seem to even remember the content of Erdoğan's speech itself - they were able only to think of the truth that these protesters were attempting to expose."
Lucas was beaten by Erdoğan's supporters as security removed him from the room, with people jumping over rows of chairs and moving into the aisles to attack him.
Another protester, Meghan Bodette, stated that: "After Lucas was removed, I stood on my chair as he did and waved a YPJ flag. Knowing that the fascism of Erdoğan's dictatorship is based in part on the repression of women, and honoring the bravery of the women of Bakur and Rojava who resist Turkish and DAESH (ISIS) aggression while building a new, equal society, I decided that bringing this symbol was an effective and necessary protest against Erdoğan's speech. As Öcalan wrote, "women's revolution is a revolution within a revolution." We must honor and promote the resistance of women whenever we protest fascism-- because women's struggle for autonomy and freedom will transform societies and remove the conditions that allow for dictatorship and repression to take root."
Azad Kurd, who filmed the demonstrations in order to spread their message to the world, said the following concerning their protest: "As the youth of the Kurds, we wanted to make sure that everyone is aware of Turkish government's support for DAESH. Turkish bombardments on SDF positions killed an American named Michael Israel-- but most of the Americans do not know this. Mr. Erdoğan shouldn't have been allowed in the United States, let alone to give a speech at an event. As youth, we had to take action and challenge Erdoğan to show him that his actions will not go unpunished, which we did in New York when we interrupted his speech," Azad explains.
"Wherever he goes, especially when he comes to the United States, he will always be challenged by the Kurdish youth because, unlike in Turkey, here in the United States we have a democracy that protects the people's right to free speech."
Azad makes it clear that Erdoğan does not understand how democratic society functions. "He orders his bodyguards to attack the protesters every time. At the Marriott Protest in New York, we tried show the American people that Turkey is no different than DAESH, their ideology does not differ. We were attacked by Erdogan's bodyguards and dragged out. I personally heard Erdoğan calling us protesters "terrorists", because we simply protested like any normal citizen would. This action was necessary because Americans and the rest of the world must see Turkey's true face, which sponsors terrorist groups like DAESH. I would like to notify the AKP government that no matter where we are, as the supporters of the Kurdish movement, we will always stand up for what's right and we will never bow down to the dictatorship of the Erdoğan-ruled Turkish government."
The demonstrators and organizers consider the action to have been a success, explaining: "We were able to limit Erdoğan's speaking time by more than half, and distract the focus of the crowd, the media, and public opinion from the empty words of his speech to the truth of his crimes. We hope the people of the world saw the truth of the attacks-- that they are barely a fraction of the violence that the Turkish state commits against the Kurdish people every day in Rojava and Bakur."
The protesters called on all people to understand and support the Kurdish resistance, and to disrupt fascism in all its forms, wherever it may appear.