Erdoğan's "national" gang: Two-part plan
Of the groups Turkey let loose on Afrin with promises of "taking Afrin, joining Idlib and the Euphrates Shield area and take them under their control", the ones MİT founded are kept at the back while those posing "problems" are pushed to the front lines.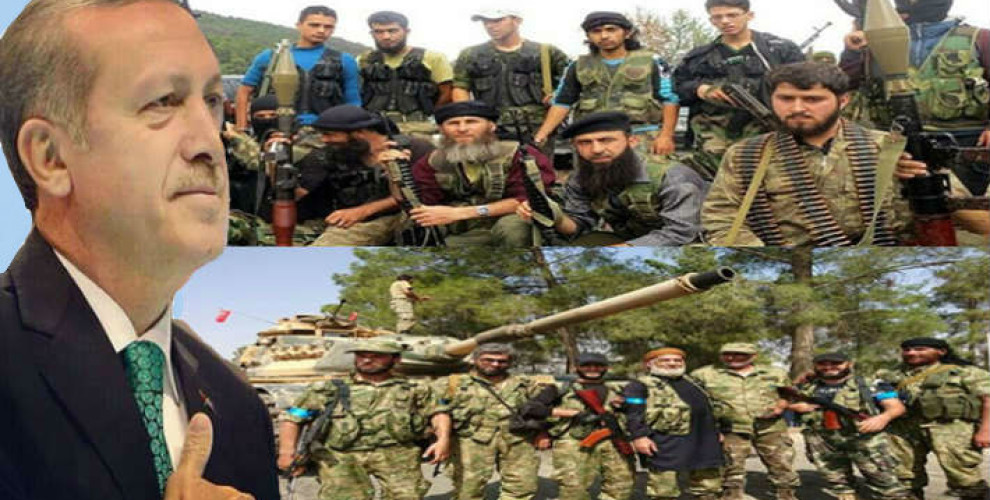 The gang groups that the Turkish state uses in the invasion operation against Afrin and Turkish President Tayyip Erdoğan calls "the National Army of Syria", and the makeup of these groups continue to be the hot topic. ANF has obtained important information on the numbers, members and salaries of gang groups derived from Al Qaeda offshoots ISIS, Al Nusra and Ahrar Al Sham.
The plan the Turkish state launched for the invasion of Afrin that they say has 3 phases uses mostly gangs from the previous joint "train-equip" program by the US and Turkey, while the Grad and Tow missiles the gangs use are mostly US-made.
The Turkish state has promised the armed groups an independent Sunni state in the future after uniting Idlib and the Azaz-Jarablus-Bab region through the invasion of Afrin to form an autonomous structure first. These groups are made up of four main constituents: The train-equip groups, the groups under Turkish-backed Sultan Murad Brigades, local groups and groups Turkey formed.
The groups posing "problems" for the Turkish state are pushed forward in the operation to invade Afrin while groups like the Sultan Murad Brigades, Semerkant, Nuxbe, Fatih Sultan Mehmet and Jaysh al Ahfad are positioned in the back or places without intense clashes to preserve their strength.
The numbers, the makeup and the salaries of these groups that the Turkish state brought into Azaz, Jarablus and Bab with the invasion operation they called the Euphrates Shield are as follows:
TRAIN-EQUIP GROUPS
These are groups that were included in the train and equip programme by the Turkish state and the US to topple Assad in Syria. There are 3 main groups:
1- Liva 51
They have 320 members and 3 main camps in Shemarin, the Sico village and on the Azaz road.
2- Liva Muttasim:
The group has 300 members and 3 main camps in Shemarin, Sico and Mare.
3- Liva El Hemzet:
The largest among Pentagon-backed groups, this group is also favored by Turkey. They have 750 members and 3 days ago they sent 500 gang members to Afrin for the invasion operation.
The group has camps in Hawar Kilis, Kendura, Bizea and Cheraya Yashe regions and has Grad missiles and many other heavy weapons. They continue to receive $250 salaries from the Pentagon still.
GROUPS UNDER SULTAN MURAT BRIGADES
Sultan Murad Brigades, led by Turkish MİT Member Fehim Isa, are comprised of 5 main groups. These groups sent and ran by the Turkish MİT are positioned around the Hawar Kilis village and its surroundings.
1- Sultan Murad Brigade:
This group was organized by the Turkish MİT by the beginning of the Syrian civil war, and is reported to have 1500 members and large amounts of heavy weapons. They are the dominant force in the Euphrates Shield invaded areas. They have a huge support from Turkey and they finance themselves by extorsion on the Afrin and Manbij road. Each member receives a $100 salary.
2- Suleyman Shah Battalions
This group has 250 members and is led by a gang leader named Ebû Emshe. They have large amounts of weapons and ammunition and are financed through stealing and pillaging.
3- Siqur Jabal
This group has 500 members who were previously in other groups.
4- Jaysh Al Nuxbe
This group has 350 members and mostly light weapons.
5- Ahrar Sherqiye
This group, also called the Shiheetat, is made up of gang members mostly from Deir Ez Zor. They left ISIS in Deir Ez Zor and came to Idlib and Aleppo, where they were included in the Euphrates Shield. Sultan Murad leader Fehim Isa also supports this group. They have 250 members within the Sultan Murad Brigades, as well as a separate 200 member group. They are more prominent in clashes than other groups.
LOCAL GROUPS
There are 6 prominent groups made up of local units in the region. They have been in occasional clashes with groups backed by the Turkish state before as they are local forces.
1- Jabhat Shamiyya
This is the largest among these groups. They have a military force of 200 members, but are in possession of US-made weapons like TOW missiles, mortars and 23 caliber DHSK guns. Their salary is $90 a month. There is a constant conflict between Sultan Murad and Jabhat Shamiyya for area control.
2- Ahrar al Sham
They have two branches, Azaz and Jarablus. The Azaz branch has 250 members, and the Jarablus branch 200. They have heavy weapons. Their main forces are in Idlib.
3- Assafa Islami:
This 150 person group is on the Afrin border.
4- Shimaliye Faction:
This group of 60 members led by a gang leader named Muqadem Ebû Mehmûd is positioned in Shemarin and is mostly financed through thievery.
5- Faction 23:
This group is participating in the Afrin attack and has 350 members. They have ordinary weapons.
6- Feylaq Al Sham:
This group is positioned mostly near Azaz and is known to have 1000 members. Each gang member receives a $100 salary.
GROUPS FORMED BY THE TURKISH STATE
There are 4 main groups that the Turkish state has derived from gangs:
1- Samarkand
There are 450 known members of this group and all their needs are met by the Turkish state.
2- Talayan Nesr
They have 500 members and are financed by the Turkish state.
3- Jaysh al Ahfad
This gang group has two branches. The first branch has 500 members and is led by Neher Nehimi. The second is led by a gang member named Heci Hisen Gaud. Their members are mostly from Manbij.
4- Fatih Sultan Mehmet Battalion:
This group has 500 members and each member has a $300 salary. They have light weapons, but can also use the heavy weapons of the Turkish state. This group is made up of people who previously served in the Syrian regime army. They are commanded by two former Syrian army officials, and they have a leader from the Turkish MİT.