Dr. Azzellini: Isolation on Imrali is aimed at silencing the society
According to political scientist and writer Dr. Dario Azzellini, Turkey isolates Abdullah Öcalan to show that it is futile to oppose the power.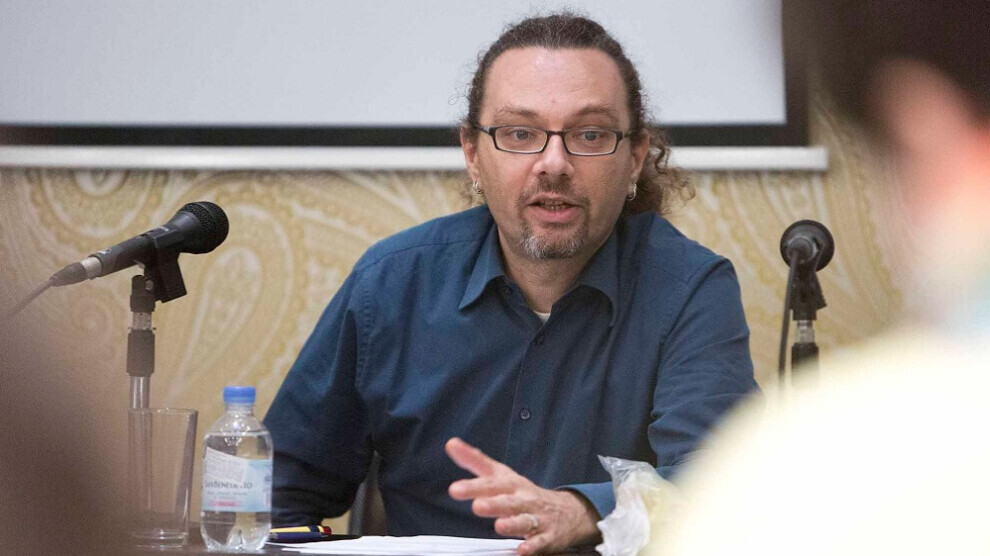 Being of Italian origin, born and raised in Germany, Dr. Dario Azzellini published numerous books and scientific articles on self-government, social movements and the working class.
His books such as "Football and Latin America", "Alternative History of Labor" and "They Cannot Represent Us" have been translated into Turkish as well. Dario Azzellini has been dubbed "the most important contemporary analyst of labor self-management". Dr. Azzelini, who is currently working at Cornell University in the USA, has supported the campaign launched for Kurdish People's Leader Abdullah Öcalan in 2019 together with internationally renowned writers.
'ECONOMIC INTERESTS HAVE ALWAYS BEEN MORE IMPORTANT'
Dr. Azzelini spoke to ANF about why the Turkish state insists on the isolation system in Imrali and the silence of western countries on this issue. For Azzelini Europe has always considered trade relations with Turkey more important than human rights. "Currently Turkey is also given the task to keep refugees away from Europe."
Azzelini argued that Öcalan plays an important role in bringing peace to Turkey and Kurdistan and the liberation of the Kurdish People's Leader is important on that score. "But it seems that Turkey is not in favor of a peaceful solution."
THE STRUGGLE OF THE KURDS
Dr. Dario Azzelini made remarks over the intensification of the isolation on Öcalan and the state of incommunicado with the Kurdish leader for almost a year:
"Öcalan is a prisoner of the Turkish state and he is wanted to be buried alive and silenced in order to show that it is futile to oppose the power. However, we see that Turkey misunderstands the struggle of the Kurdish people seeking their rights. They thought the Kurdish movement would finish off once Öcalan was taken prisoner and jailed. But the opposite happened. Now Turkey does not release Öcalan since it does not want a political solution. Because it is feared that the physical liberation of Öcalan will trigger a political solution."