British-based Kurdish rights campaigners demands end to arms sales to Turkey
Shocking evidence has revealed the extent of Britain's complicity in Turkey's dirty war and attempted genocide of Kurds – including potential war crimes, said Peace in Kurdistan Campaign.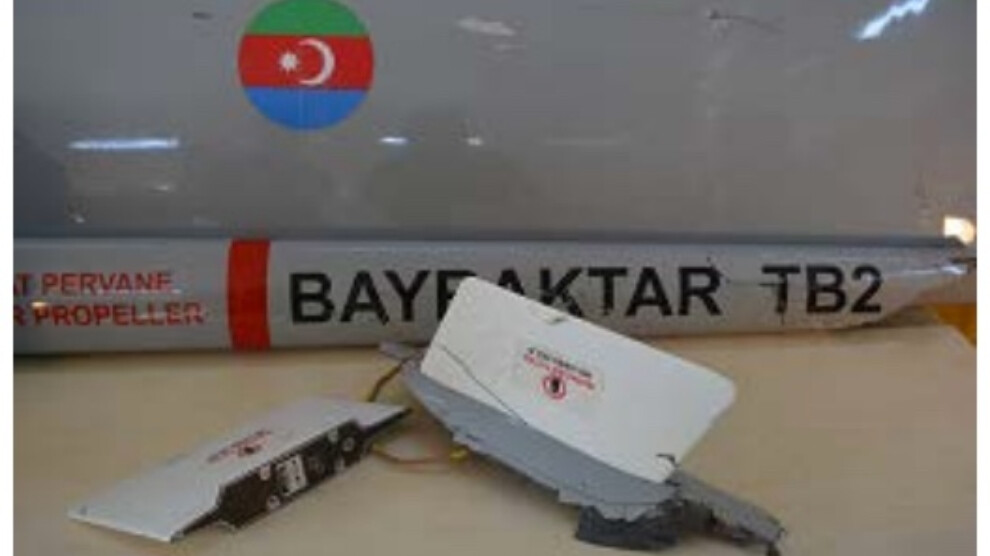 BRITISH-based Kurdish rights campaigners have demanded an immediate end to arms sales to Turkey, accusing the government of complicity in war crimes after allegations it knowingly licensed components used in drone strikes.
Peace in Kurdistan (PIK) issued the call after photographs linked the British-based company EDO MBM to drone strikes in the recent war between Azerbaijan and Armenia over the disputed Nagorno-Karabakh territory.
"Kurds have long-warned of Britain's is complicity in deadly drone strikes waged on civilian populations as part of Turkey's ethnic cleansing campaign.
"Now shocking evidence has revealed the extent of Britain's complicity in Turkey's dirty war and attempted genocide of Kurds – including potential war crimes," a PIK statement said.
Photographs reportedly from the Nagorno-Karabakh battlefield showed Bayraktar TB-2 drones equipped with two fuel pumps supplied by Andair precision aircraft components, and a bomb rack marked Bayraktar TB-2 bearing an Azeri flag made by Edo MBM Technologies.
"This implies that the components are…being used to enable the firing of missiles from Turkey's growing unmanned aerial vehicle fleet which is responsible for thousands of civilian deaths and the destruction of schools, hospitals and other infrastructure," the campaign group stated,
The Bayraktar TB2 drone has become a symbol of national pride for Turkey. Developed by President Recep Tayyip Erdogan's son-in-law Selcuk Bayrak, it has helped Turkey position itself as a global power in drone warfare with the technology used in Libya, Syria, Iraq and Nagorno-Karabakh causing thousands of deaths.
It could not however have increased its capabilities without the crucial Hornet bomb-rack system developed in Britain which has been described as "the intelligent hand" that ensures that missiles strike the intended target.
Britain has licensed some £1.6 billion of arms sales since 2008, a period which has seen Turkey escalating internal oppression as well as wage wars outside its borders in part of an ethnic cleansing campaign against Kurds.
Over the same period, the government has approved some 183 unlimited-value open licenses – a secretive system that allows deadly weapons to make their way to repressive regimes with limited scrutiny.
PIK warned that Turkey is the only country that regularly uses drones in the suppression of its own population with at least 400, mainly Kurdish people killed in the country's southeast since 2016 in strikes in 11 of the country's provinces.
Drones are a constant threat hovering over Kurdish towns and villages with everyone becoming a potential target in a bid to intimidate civilians.
Ankara insists that the drones are essential in its war against the Kurdistan Workers Party (PKK) and uses the technology to restrict the movements of guerrilla fighters, revolutionising its genocidal war on Kurds.
According to the Turkish military, the use of drones helps it to wage war quickly and effectively. Its air force claimed that drone strikes killed some 1,129 people directly and indirectly in the first few months of Operation Olive Branch - Turkey's illegal invasion of northern Syria, which started in January 2018.
While Turkey insists that those killed were "terrorists" it applies this term loosely to cover all Kurds, including civilians.
But PIK warned that drone strikes were also being used to take out political opponents and leaders of the Kurdish resistance, including the targeted execution of Zehra Berkel, Hebun Mele Xelil and Amina Waysi, three Kurdish women from the Kongreya Star women's organisation in June last year.
"This is a war crime under international law and Britain is complicit through knowingly licensing the technology that allowed this to happen," PIK said.
"As an immediate and urgent measure PIK calls on the British government to suspend all arms licenses and weapons sales to Turkey until it ends the occupation of Afrin, withdrawing all its troops from the region and ending its bombing raids," the statement continued.
PIK demanded transparency and called on the British government to make public the details of all arms licenses to Turkey, including the secretive unlimited open-value licenses without delay.
"War is not the answer to Turkey's so-called Kurdish question," the PIK statement said. "Jailed Kurdistan Workers Party (PKK) leader Abdullah Ocalan has laid out a detailed roadmap to peace and a possible solution to the cycle of never ending wars in the Middle East.
"PIK believes that Britain has a responsibility to use its influence to bring about peace instead of inflaming tensions and perpetuating devastating wars, of which there are no winner.
"It must demand a peaceful solution to the so-called Kurdish question and press for negotiations with the Kurdish leader Abdullah Ocalan and bring about an end to Turkey's war on Kurds."