Behind us our people, in front of us the shaky feet of the enemy
A message from the heroes of the Resistance of the Age, watched by conscientious people worldwide with curiosity, hope and excitement: "When we look back, we see our people behind us. When we look ahead, we see the shaky feet of the enemy."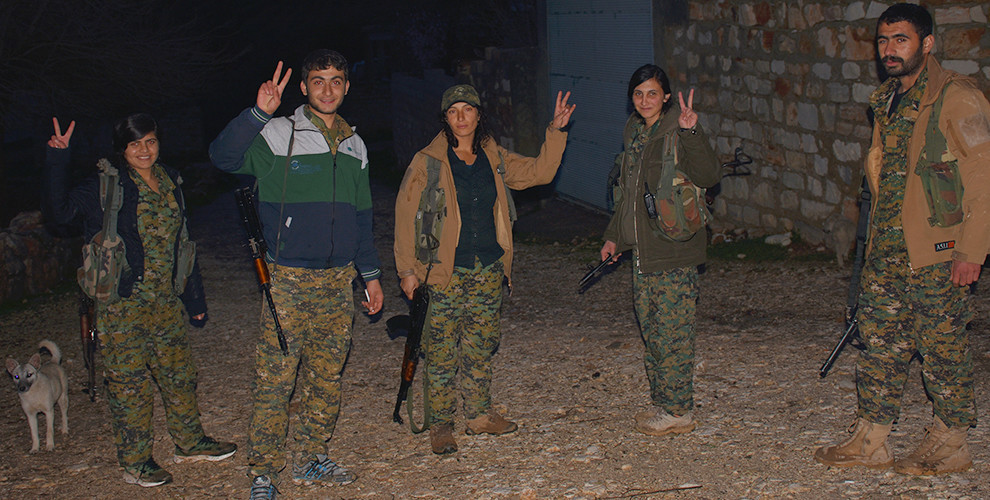 The Resistance of the Age in Afrin, where the Turkish army and their allied Al Qaeda, ISIS and Al-Nusra gangs are attempting an invasion, is on day 39. The invading Turkish army is using fighter jets, tanks, artilleries, Howitzers and all kinds of heavy weapons on Afrin, where a great resistance continues in all fronts and new epic of resistance is written every day. One of the fronts with the most intense clashes in Afrin is the Shera-Meydankê-Bilbilê line. The Resistance of the Age fighters carrying the flag in the foremost fronts spoke to the ANF.

The fighters in the Resistance of the Age against the Turkish state invasion state that they have a great will,and they will not bow down to fighter jets and latest technology weapons. Fighters still have a smile on, even under the bombs, and say: "When we look back, we see our people behind us. When we look ahead, we see the shaky feet of the enemy. We will continue to resist under any circumstances. If our enemies believe in themselves, they can come and we can fight chest to chest."
THE KOBANÊ SPIRIT IS IN AFRIN
The YPG fighter named Welat Efrîn is fighting in the foremost positions in the Bilbilê-Shera front. Welat Efrîn said they are defending their lands and their peoples, and added: "For 38 days, they have been attacking with all the advantage in technology and numbers, but they haven't achieved anything yet. Their media constantly pumps fake news of victory, claiming they have taken Afrin. They say they have taken a thousand villages. There is no such thing. We are here, and we continue to defend our lands. The whole world, and the Turkish state, saw our resistance. We fight against tanks with Kalashnikovs. This is a spirit. The spirit of Kobanê is repeated in Afrin."

"WE SEE THE SHAKY FEET"
Welat Efrîn pointed out that they have great morale and continued: "Our morale is at a maximum. We are fighting for our people. When we look back, we see our people behind us. When we look ahead, we see the shaky feet of the enemy. We see terrified invaders when we look across. We know what we are fighting for. That is why we trust in ourselves. We will prevail."
"WE ARE PREPARED TO RESIST ALL ATTACKS"
Another YPG fighter named Çekdar Efrîn stressed that they will continue to defend their lands despite all the heavy weapons of the Turkish state, and added that they are prepared to do whatever it takes. Çekdar Efrîn said: "I have been stationed in this position for a month. The Turkish state and their gangs constantly attack us with heavy weapons, and we resist with the weapons we have to defend our lands. We take precautions, and we are prepared to resist any and all attacks."

"AFRIN WILL REMAIN A DREAM FOR THEM"
"Here we resist on our own lands. We are in a great resistance against the Turkish state and their gangs, who are attempting to invade our lands, leaning on their technical prowess," said YPG fighter Merwan Aras, and continued: "This resistance is truly historic. We will resist until the end. If they want to enter Afrin, they can do so over our dead bodies. Afrin will remain a dream for them. Them resorting to such heavy weapons shows how afraid they are.
"WE DON'T DOUBT VICTORY"
YPJ fighter Fidan Garzan stated that the Turkish state trusts in its technical prowess and numerical advantage and added that they have no doubt in their resistance, and that they don't doubt the outcome: "We have a will, we fight with this will. We do have martyrs, there are injuries, but there is no day without resistance, and there is no stepping back. There is a great resistance. This resistance gives us morale every day. We always have a smile on our faces. Because we know that laughter is an ideological act. We resist with great morale. We don't doubt our resistance, we don't doubt victory. We fight with this awareness."
"IF YOU TRUST IN YOURSELVES, LET'S FIGHT CHEST TO CHEST"
YPJ fighter Sozda Kobanê also stated that the Turkish state is attempting to achieve results through heavy weapons and added: "Here we defend our lands and our peoples against the Turkish army and their gangs. To date there has been a great resistance. Yes they have taken some villages, but those villages will never truly be theirs. They are trying to achieve results mostly through fighter jets and heavy weapons. So we call on them, if you truly trust in yourselves, you are welcome, come let's fight chest to chest."