AKP: 16 years of terror – PART I
Since Recep Tayyip Erdoğan and the AKP came to power a story of war and murders unfolded.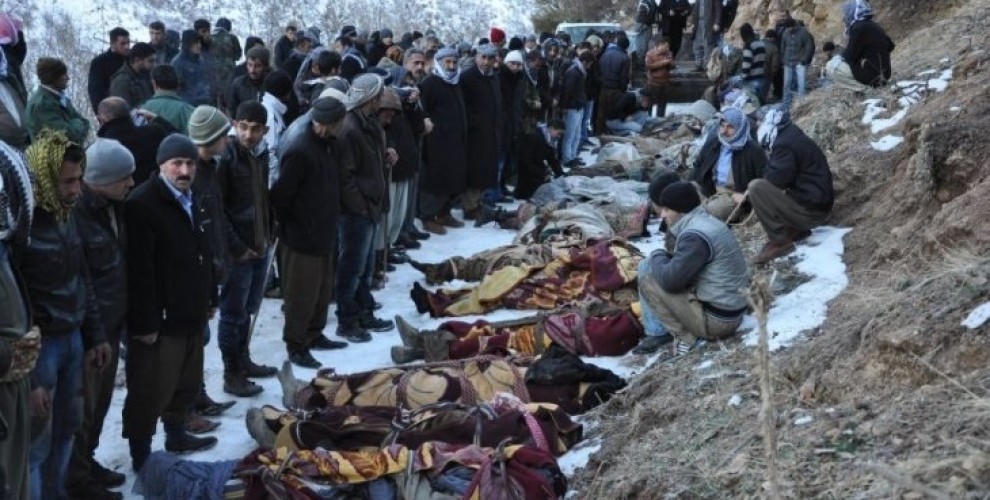 Current Turkish president, Recep Tayyip Erdoğan and its AKP came in power in 2002 promising great things. In fact, the AKP elections manifesto promised a "vision for a new Turkey". A vision imagined by a self-proclaimed "moderate Islam", the kind of Islam Europe and generally the West like. The choice of the label proved to be successful in cheating both Europe and the West. The peoples of Turkey, though, knew better. Erdoğan called on intellectuals and civil society to join him in his efforts to "enhance democracy". As it turned out, soon enough, the promises disappeared and instead the contrary of what was envisaged happened.
Yet the failure and hypocrisy of the AKP cannot be measured only by taking the promises it made and showing that indeed the exact opposite was implemented.
What distinguishes the AKP from other governments is that it has been responsible for the worst massacres and deaths ever.
The AKP more than a party resembles a death machine. That's because it decided that in order to remain in power it would know no limits in the amount of violence and death it could resort to.
The list of crimes committed by the AKP is endless and unfortunately, ongoing: death in police custody, death in prison, torture both in and outside prisons and police stations…
Civil society organizations and human rights institutions confirmed that in the last 16 years nearly 3,500 civilians have been killed by government forces. More than 700 of these victims were children. 1,532 people were executed during house raids or in the middle of the street while 69 people were executed while under custody awaiting trial.
Azadiya Welat employee Kadri Bagdu, Azadiya Welat Writing Director Rohat Aktaş and Agos Editor-in-Chief Hrant Dink were among the 14 journalists murdered during the 16 years AKP era.
With the 24 June snap elections approaching it is worth it to remember the AKP crimes:
High speed train accident
* 2004: Pamukova train accident. While the infrastructure work for the high-speed train between Ankara and Istanbul was not completed the train derailed, killing 41 people. The Transport Minister at the time was current Prime Minister Binali Yıldırım.
Armenian genocide did not end
* January 10, 2007: Agos Newspaper Editor-in-Chief Hrant Dink was shot and killed in the middle of the street, in Istanbul. Before his assassination, Dink had been warned by the governor of Istanbul Muammer Güler of threats coming by MIT (Turkish intelligence service).
* In the same period, murders were committed by Ergenekon, a Gladio-type organisation which targeted all opposed to the AKP, such as the Council of State raid, Murat Santoro murder, and the murder of Christian missionaries in Malatya by torture.
From Ceylan to Berkin
* Ceylan Önkol (12) was killed by the mortar shell fired from the police station while she was grazing her animals on September 28, 2009 in the village of Şenlik in the Lice province of Amed (Diyarbakır).
On June 16, 2013, Berkin Elvan (14), stayed in a coma for months after being hit by a police tear gas capsule. He lost his life on March 11, 2014.
On June 28, 2013, soldiers opened fire against people protesting against the construction of a police station in Lice, killing Medeni Yildirim (18).
Aydin and then Cengiz
* Dicle University student Aydin Erdem was shot dead in the back by police during an action in Amed protesting the closure of the Democratic Society Party (DTP) on December 6th, 2009.
Erdem's older brother, DBP (Democratic Regions Party) Kızıltepe District Manager Cengiz Erdem, was killed when the vehicle he was travelling in was hit by special teams on January 12, 2016.
Şerzan Kurt
The police, having been granted unlimited use of force by Erdoğan, killed 21-year-old Şerzan Kurt, a student at Sıtkı Koçman University in Muğla, on May 12, 2010. The court lowered the accusation of killing to "aggravated wounding".
First the earthquake then the government
On 23 October and 9 November 2011, 644 people lost their lives as a result of an earthquake with epicentre in Van. After the first earthquake, the Minister of Environment and Urbanisation, told the people to return to their homes as there was no danger of new earthquakes. After the second earthquake the minister was not forced to resign.
6 months old baby and war
* The military operations ordered by Erdoğan against the Kurdish people were not limited to north Kurdistan. Fighting planes bombarding civilian settlements in Qandil, South Kurdistan, targeted a vehicle on Kortek road on 21 August 2011. A family of seven was brutally murdered, included 6 months old baby Solin.
Roboski Massacre
* On 28 December 2011, 34 Kurdish civilians, most of them children, were killed in Roboski (Ortasu) village of Uludere (Qilaban) when they were hit by Turkish warplanes. The villagers were cross border traders. Justice for Roboski is still sought and in May 2018 the European Court of Human Rights added shame to outrage when it rejected the families' appeal.
Mass killing: Reyhanlı
* May 11, 2013: 54 people living in Reyhanlı, on the border with Syria, under the threat of jihadist gangs were killed. It was the heaviest civilian loss in Turkey. Erdoğan went to Reyhanlı only two weeks after the massacre and prevented the press from going to the area.
Death on the border
During the Erdoğan era, border executions became systematic. The state forces, which secured access into Rojava to DAESH (ISIS) mercenaries through the VIP crossing, murdered 165 civilians who were trying to cross the border, saying they were illegally crossing the border.
* On November 16, 2013, special operations police killed Amir Ehmed Abdullah and his brother Yasir Ehmed Abdullah, who were crossing into Nusaybin from Qamishlo (Rojava) together with Mihemed Zahicir Amir, also from Rojava.
* On May 18, 2014, a family from Derik in Rojava tried to cross into Cizre. Saada Darwich, a 28-year-old woman who had tried to cross the border with her two children aged 6 and 7 and her father, Medhat Derviş, were killed.
Endless attacks
* During the June Revolt on 31 May 2013, eight revolutionaries were killed by police. They were: Mehmet, Abdullah, Ethem, Civil, Berkin, Ali İsmail, Hasan Ferit and Ahmet. Over 10,000 insurgents were injured. Tayyip Erdoğan said: "I gave the order" for police to strike.
Soma mine massacre
* May 13, 2014, 301 miners were killed in the Soma mine disaster. After the massacre Erdoğan said: "In this accident there is the hand of nature".
Kobanê Heroic Resistance
* 6-7 October 2014: Police and mercenaries acted together and killed 54 people in the attack on the Kobanê Serhildan (Resistance).
More miners' death
* On 28 October 2014, another 18 miners were killed in the Ermenek Massacre.