Peace in Kurdistan pays tribute to Sarah Parker
Peace in Kurdistan pays tribute to activist and internationalist Sarah Parker who passed away in London.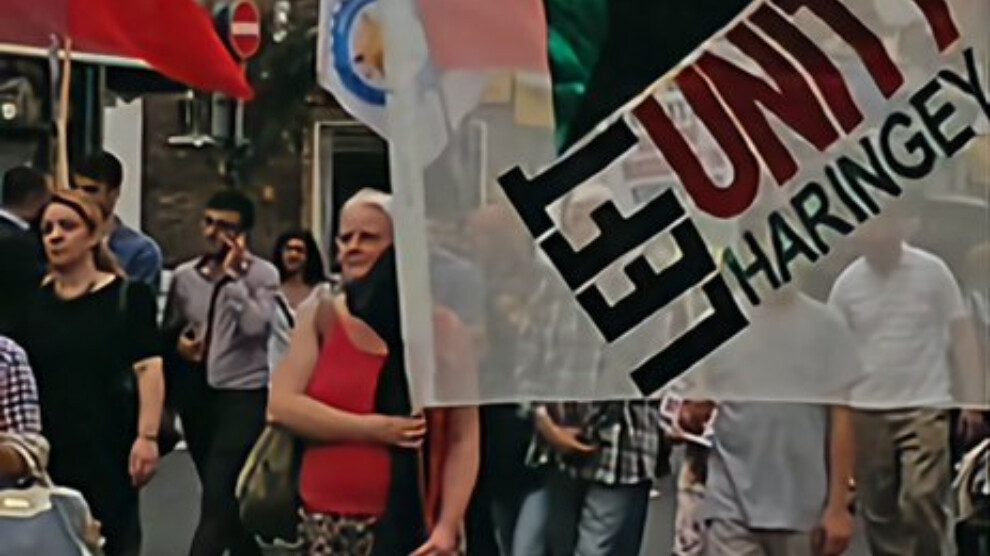 Peace in Kurdistan pays tribute to activist and internationalist Sarah Parker who passed away in London.
The statement reads as follows:
"It is with immense sadness that we learn of her death, and we extend our heartfelt condolences to Sarah's loved ones, family, and friends. Sarah will live on in the memories of all those who were fortunate to have known her. 
Sarah was an exceptional individual who was a great friend of the Kurds and her solidarity activities were a lifelong involvement. Sarah's strength of commitment to the Kurdish cause was undiminished to the end. 
Sarah joined the first Kurdistan Solidarity Committee formed in the UK, and became an active supporter of the Kurdish Information Centre in 1989, a Kurdish community based organisation, where she regularly volunteered her services as editor, writer, translator and interpreter. She was also a founding member of the Peace in Kurdistan Campaign in 1994 and remained an active member of the steering committee until her death. 
As all who knew her will testify, Sarah was a generous, caring, sensitive, brave and intelligent person. She was fired by a passionate internationalism and intense comprehension of the power of human collective action to achieve social change and create a better world. 
Sarah recognised in the Kurdish movement that same power and developed a deep knowledge and attachment to their cause. She understood their history and their contemporary political struggle in Turkey and across the Middle East. 
She devoted her analytical mind and talents with language to raising awareness of Kurdish issues in the UK and became a strong advocate for a political solution to the Kurdish question. She respected and fully understood the role of Abdullah Ocalan and the PKK in providing leadership, coherence of vision and organising the Kurdish people into a formidable political movement. 
Sarah lived among the Kurdish community of North London and developed close ties of friendship with many Kurdish individuals who came to admire her solidarity and commitment. 
Sarah drew her own inspiration from the struggle of the Kurds and inspired others by her activism. 
She joined rallies and protests organised by the Kurdish community; she supported Kurdish refugees and asylum cases; she helped with translations and interpreted at meetings. She shared her insights in numerous articles about Kurdish issues and her last writing was published only a few days before she passed away. 
Equally, Sarah celebrated with the Kurds at Newroz in Finsbury Park and in Kurdistan itself. Sarah also enjoyed Kurdish cuisine and was fond of visiting the Kurdish restaurants that opened in Green Lanes and elsewhere. 
Sarah took part in a delegation to Diyarbakir headed by Lord Hylton in the late 1990s during Newroz when social tensions were very acute in the country. The members of the delegation including Sarah were escorted by Turkish police to the airport and put on a plane for Istanbul. Sarah was undeterred. 
Sarah Parker made an outstanding contribution to all our campaign work and will be greatly missed. 
But most of all, Sarah will be hugely missed as a true friend and as a genuinely lovely person who spent her life fighting for a better future for everyone."