Call to join the "big dip" for Hasankeyf on 14 July
On the second Sunday of July each year, people in Europe and beyond join the "big dip" into rivers and lakes as part of a campaign for the conservation and renaturation of our freshwater ecosystems.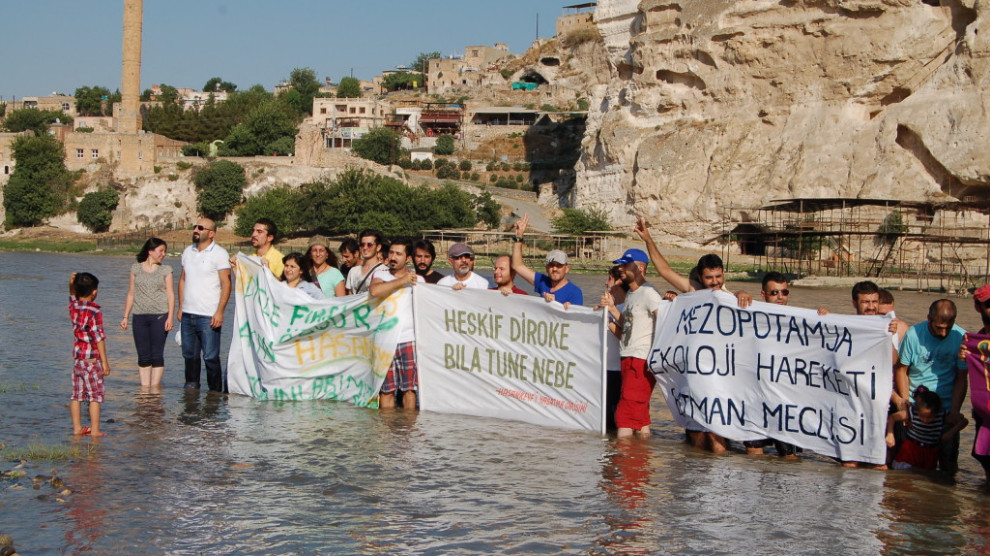 This year the Initiative to Keep Hasankeyf Alive and Mesopotamia Ecology Movement are calling on all activists to go to Hasankeyf  on 14 July. "The magnificient 12,000 year old town Hasankeyf and the whole Tigris River are threatened by the Ilisu Dam and Hydroelectric Power Plant Project in the Kurdish southeast of Turkey", recalled the statement. 
Ilisu is one of the most controversial dams in the world for many reasons, each of which should be enough on its own to halt this project of destruction, exploitation and political hegemony.
The 'open-air museum' Hasankeyf, with its 5,500 caves, 550 monuments and traces of 24 cultures, is of so much of universal value that its flooding would be a kind of 'cultural genocide'. This region is Upper Mesopotamia, where at least 400 other archaeological sites are under threat by the dam, as well as its unique culture.
If completed, said the statement "the Ilisu Project would degrade significantly the rich biodiversity of the Tigris River ecosystem – still mainly natural. The dam reservoir would exacerbate the effects of the climate crisis. Up to 80,000 people would loose their livelihoods and end up in poverty. It would intensify internal and external political conflicts. The Ilisu Project would also gravely affect further downstream the water supply of major Iraqi towns and Iraqi agriculture, in particular the UNESCO site of the Mesopotamian Marshes in southern Iraq. In summary, the dam would have no socio-economic or any other benefit for the vast majority of the society in the affected region."
The Turkish government wanted to start filling the Ilisu Dam on 10 June 2019. But, mainly due to widespread protests in the framework of the 3rd Global Action Days for Hasankeyf on 7 and 8 June, this has been postponed for a short time.
"That is why - said the statement - it is crucial to gather in Hasankeyf on 14 July. 
Arrive by 1 pm at the banks of the Tigris River in Hasankeyf, where we will dip and/or enter slowly into this holy and still mainly free-flowing river. 
We will hold our banners and call, along with many people all around Turkey, for the Ilisu Project to be stopped immediately. We strongly believe that we will succeed if there is strong solidarity!
Electricity always has an alternative, but there are no other Hasankeyf and Tigris."