AKP no different than ISIS, destroying ancient sites in Hasankeyf
The Initiative to Keep Hasankeyf Alive condemned the AKP's policies against Hasankeyf, stating that attacks damage the 12,000 years old history of the ancient town.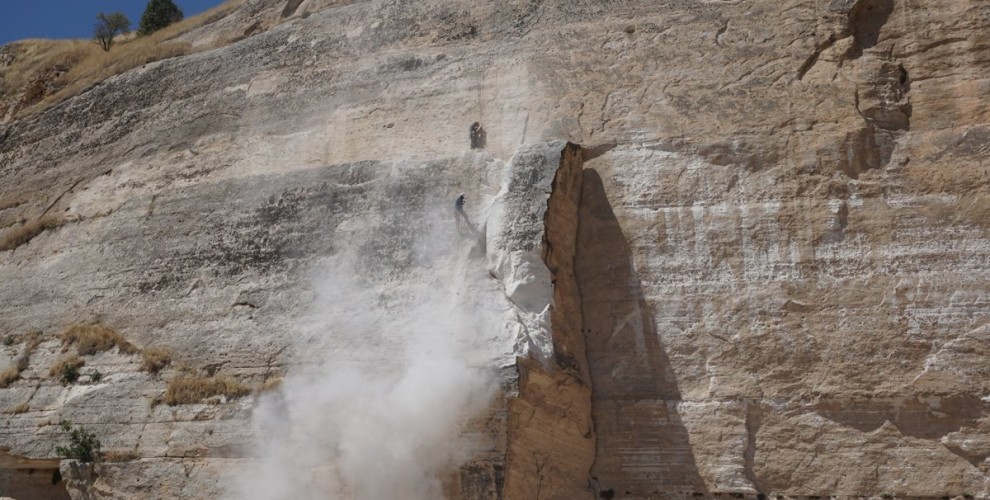 The Initiative to Keep Hasankeyf Alive stated that cave-filling and bringing down of rocks 'constituting danger' is underway in the valleys on two sides of the castle at the moment. As Turkish officials stated that as many as 210 caves will be filled, several other caves in canyons and valleys- apart from those to be filled- will also get flooded.
The demolition efforts in Hasankeyf began following the visit of Turkish Minister of Forestry and Water Affairs Veysel Eroğlu's visit to the town on 21 June, as part of "geological-geotechnical research and reinforcing of the antique harbor in Hasankeyf".
The nearly 6 thousand caves around the antique town are one of the first sites of human settlement. Civilized life in the antique town of Hasankeyf dates back to 8th century B.C. and the drawings inside the caves scattered around the town shed light on different periods, cultures and architectures of humanity.
The Initiative to Keep Hasankeyf Alive pointed out that the antique harbor to be built with concrete through an isolation of the natural history will not enliven tourism, but will only obliterate a history of thousands of years of human life with a project that is neither scientific nor abiding any laws for the protection of historical sights.
Hasankeyf is one of the unique towns where history is preserved, and has been home to civilizations such as Hurrians, Mitannis, Assyrians, Urartians, Medes, Persians, Romans, Byzantines, Umayyads, Abbasids, Seljuks, Artuqids and Ayyubids. With its history and nature, Hasankeyf fulfills 9 of the 10 UNESCO criteria but is being destroyed due to the anti-Kurdish policies governments in Turkey have been implementing in Kurdistan. The state purposefully does not apply to UNESCO for Hasankeyf's addition to the World Heritage List, and is now destroying the town by flooding it. Hasankeyf, the town where stones smell like history, is now being sacrificed for Ilısu Dam as a result of Turkey's anti-Kurdish policies.