Zehra Doğan's art exhibited in Geneva
Arrested journalist and artist Zehra Doğan's paintings are being exhibited in Geneva.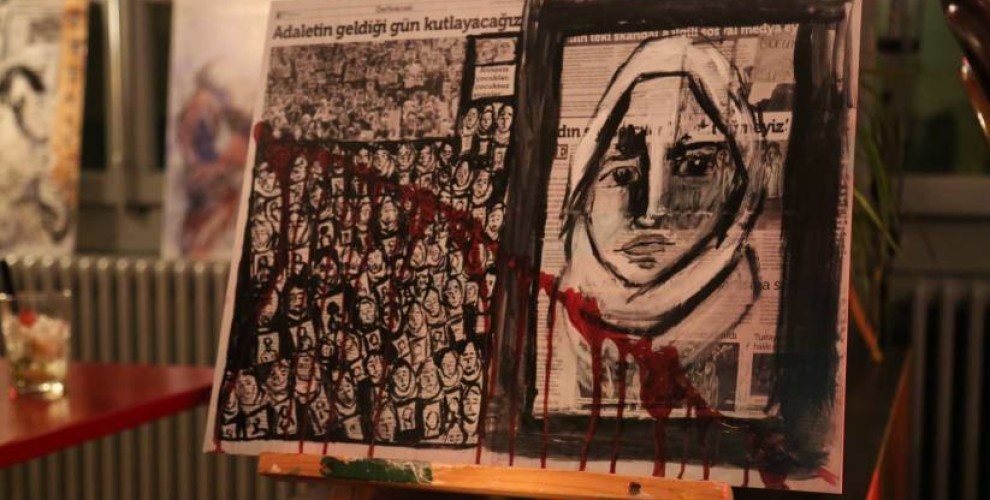 The paintings arrested journalist and artist Zehra Doğan made on newspaper pages while in prison are being exhibited in Geneva, Switzerland. The exhibition organized by Amnesty International can be visited in Alhambra until December 10 Human Rights Week. Genova Mayor Remy Pagani, former Sur Co-mayor Fatma Şık and Amnesty International Genova Representative Emily Baud were present in the opening ceremony.
Geneva Mayor Remy Pagani shared his observations from previous visits to Amed and stated that the human rights situation in Turkey is concerning. Pagani added that solidarity with an arrested journalist is especially important at this time. Kedistan reporter Rosida Koyuncu, who had reported on the events in Cizre, Nusaybin and Sur, stated that the witnesses were burned alive and journalists were either jailed or killed reporting on the issue. Kedistan editor Naz Öke talked about their meetings with Zehra Doğan. She pointed out the conditions Zehra Doğan makes her paintings under and stated that journalists who have been imprisoned just for relaying what they witnessed should be released.
Amnesty International Geneva Representative Emily Baud said it is no longer possible to speak of a democracy in Turkey and added that there are many human rights defenders, journalists and opposition members are in prison, including AI personnel.
Former Sur Co-Mayor Fatma Şık called the events in Sur a "genocide" and called on all to increase solidarity. The exhibition includes paintings that depict the death and destruction in Kurdistan and can be visited until December 10.