First comic children's magazine begins publication
GOG, the first Kurdish comic children's magazine, began publication. The magazine will contain the adventures of many entertaining characters and educational content and is aimed at the 7-14 age group.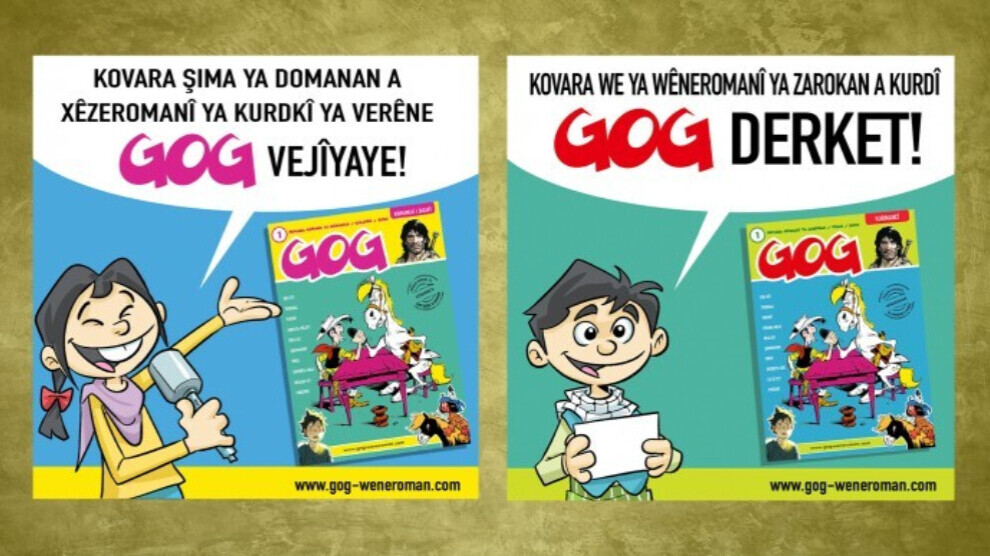 The first Kurdish comic children's magazine GOG is published in Kurmanci and Kirmancki and has educational content for children in the 7-14 age group.
The comic digital children's magazine GOG takes its name from an old Kurdish children's play.
In GOG, there are famous characters like Wild West's famous cowboy Red Kit, the brave little Indian Yakari who can talk to animals, Thorgal, who finds himself in the world of the Vikings while he wants to live in peace at home and has to fight to protect his family. There is Milo, who discovers that the opposite shore of the lake is a magical world where war between good and evil continues.
The famous Mesopotamian legend Şahmaran, written and drawn by Evdal Can, appeared in the first issue of GOG, which also features Doğan Güzel with the character 'Qirix', Ender Özkahraman with 'Orası Öyküleri' and Imam Cici with the series 'Kim Bu'.
The cute girl Porsor, who discovers that she can have anything she wants when she is bursting with boredom at home, is among the fun characters of GOG.
The 48-page magazine, in which a story of the world-famous Israeli artist Asaf Hanukkah will be featured in the first issue, will include the life stories of scientists and artists who changed the history of humanity, cartoon character analysis, books, science and art news.
The Editor-in-Chief of the magazine Imam Cici said that they aim to create an alternative and original medium for children who cannot receive education in their mother tongue to help them develop their language, while at the same time offering an independent platform for Kurdish writers and illustrators to produce in their own language.
Stating that they are planning to publish GOG in paper, Cici stated that they will also publish Kurmanci and Zaza comic book albums by local and foreign artists in order to contribute to the formation of Kurdish comic book culture.
The e-magazine GOG, which will be prepared monthly, can be accessed at www.gog-weneroman.com.