Workshop promotes Kurdish theatre
A workshop in Kurdish theater began in Istanbul on 16 February. "If Kurdish is not turning into a culture, everyone has a responsibility in this," said Berfin Zenderlioğlu, the theater teacher of the workshop.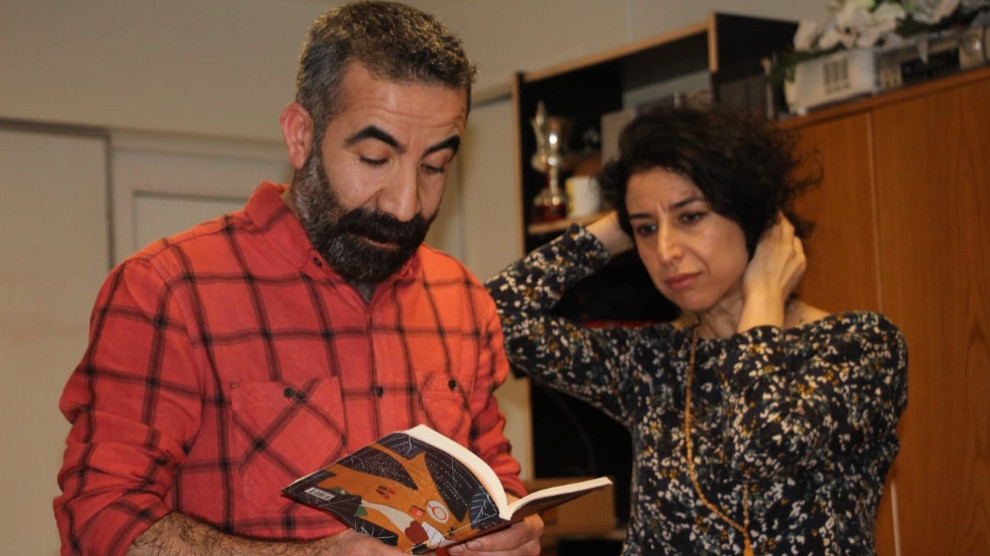 Theater artist Berfin Zenderlioğlu aims to teach theater in the mother tongue by organizing a Kurdish theater workshop and tries to create actors and staff for the Kurdish theater of the future.
Theater lessons have been given at Kay-Der in Kadıköy since 16 February. At least thirty people have applied to the courses led by Chalak Events so far. Zenderlioğlu, who has been a theater artist since 2004, is one of the founders of Şermola Performance, which was established a few years ago and then closed. Zenderlioğlu, who is currently working as a theatre director, writes plays in Kurdish.
Kurdish is still an 'unknown tongue' said Zenderlioğl adding that it is very important insist on Kurdish theatre to actually spread Kurdish culture Turkey. 
How did the idea of ​​the theater workshop in Kurdish develop?
I wanted to organised work for actors for a long time. We wanted to organise workshops in provinces such as Diyarbakır, Van, Bitlis and Mardin. We talked to the people there, but the funding was important. I have been doing theater in my mother tongue for many years. On the other hand, I want to support Kurdish theater in this sense. We could not create an infrastructure in such support seeking. I wanted to move these workshops out of Istanbul. However, without support, we started thinking about why not start from Istanbul.
Can you tell us a little bit about how does the workshop work?
A four-month process will happen every Sunday. The language of the workshop is Kurdish. 30 people applied quickly to the theater in Kurdish workshop. We started on 16 February. This number is very important. There are many young people interested in Kurdish theater. The number of people who are passionate about this field and want to work is high, but unfortunately such work is not carried out here. Since there are no such workshops in Istanbul, which has a very large population, these young people stay away from this activity.
What is your purpose?
My goal is to contribute to the Kurdish theater and to make it visible again. On the other hand, training actors in my own language is very valuable. There is a gap in this area. Who will fill these gaps if we are not going to do that? I proceed in this direction.
What kind of difficulties do Kurdish theater artists generally experience?
Training an actor in the Kurdish theater is an issue present in our agenda for years, but unfortunately, we are also experiencing the difficulties of all private theaters. It is much more convenient to create a profile when there is a corporate theater, but there is no space. We have no economic space. We have been worrying about it for years and established the Şermola Performance. But we are in such a system where it is very difficult to maintain such a group.
There are not only economic concerns, of course, but also political concerns. People can no longer afford certain things in a light way. Law finds itself always in a problematic place in this country. This, of course, affects many areas such as theater. We went through a nightmare process. While we were able to play in almost every theatre before, we were also exposed to an unspoken self-censorship. We have performed an international play with Kurdish, Turkish and English subtitles, but then we did not find a place were to show our play in Turkey. On the other hand, people are attacked because they are singing in Kurdish. There is a policy of fear being created. 
Kurdish music, cinema, literature are more popular for Northern Kurds. How is theater compared to these?
According to other branches of art, theater is a remote area for Kurds, but a culture of theatre must also be fomented. It is not something that can be promoted easily. Kurdish is still a language considered "unknown" and has not constitutional guarantee, we have no right to education. I would like to have a Kurdish literature workshop together with the Kurdish theater one. Because I received the training for this job in Turkish. I do not know what is the Kurdish poor theater, the Kurdish equivalent of epic theater. I actually want to test and try myself with this workshop. I want to do this in Kurdish even if I have a little difficulty.
We talked about state repression, but what do you think we should do?
We, as the people, have serious handicaps. On the one hand, we are talking about education in the mother tongue and not doing good work in arts and culture on the other hand is a serious problem for local governments. If theater does not turn into a culture, everyone has a responsibility in this. We, the volunteers, create opportunities within the impossible. Support should come. Work should be done for this culture.