Workshop organised by Intellectuals Union in Kobanê
The Intellectuals Union is holding a two-day workshop in Kobanê.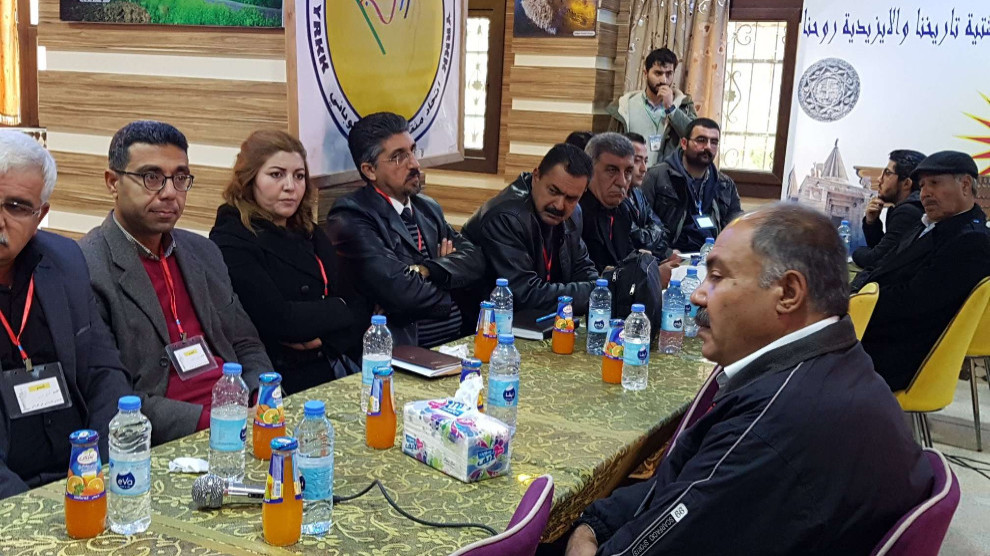 Some 100 delegates participated to the first day of the workshop organized with the slogan 'We only gain freedom and our future with unity'. The main agendas of the workshop are Turkish occupation and national unity among Kurds.
Political parties and civil society organizations also joined the workshop, where the topics of religion, education, pre-revolutionary and post-revolutionary North-East Syria, social psychology and Kurdish existence are being discussed.
The Intellectuals Union Workshop had previously called on political party and civil society representatives to discuss what to do against the occupation and in favour of national unity.
The Syrian Kurds Left Party (PÇKS), the PYD, the Syrian Kurds Democratic Union Party (PYDKS), the Syrian Kurds Democratic Party (PDKS) and the Syrian Kurds Progressive Democratic Party (PDPKS) joined the workshop. In addition, representatives of Star and North-East Syria Autonomous Administration and many other association executives joined the workshop.
In his opening speech political researcher Masood Mihemed recalled how Syria and Turkey together or sometimes separatedly waged wars against the Kurds.
Speaking about the education system in the first session of the workshop Zozan Bozi said that first of all children needs to be tought science, philosophy, language and culture. Bozi, stressed that a proper schooling is not provided due to ongoing conflicts in the region and underlined that even in difficult conditions schooling should not be abandoned.
Eyşe Efendi underlined that war had a negative effect on the psychology of society and in particular children. Efendi said: "As intellectuals in Kobanê, we are obliged to educate the society and find solutions to their problems."
The workshop will continue today.