Women's struggle in Rojava wins over the heart of the world
Visitors to a cultural exhibition in Raqqa stressed that women in Northern and Eastern Syria achieved significant gains in a short time and expressed that this experience deserves to be praised.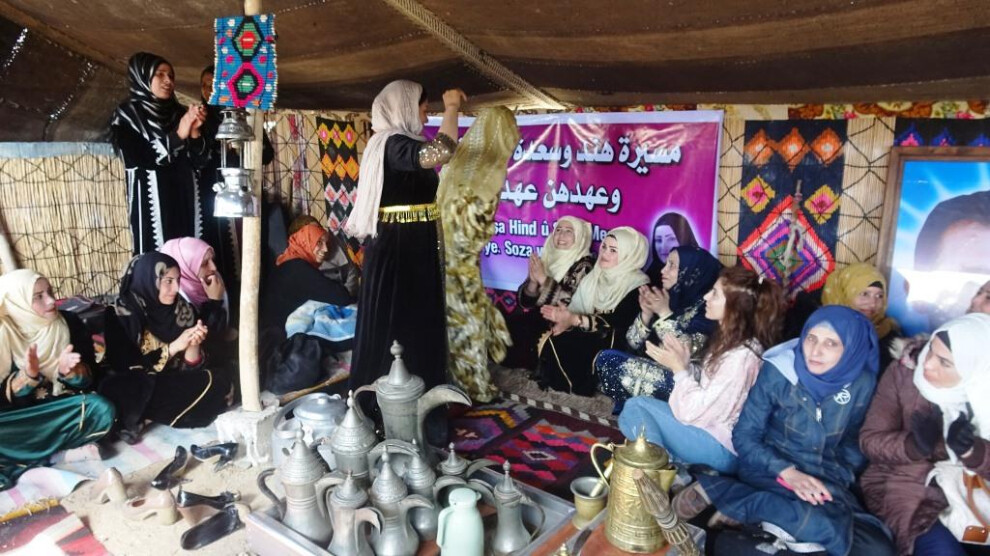 An exhibition tent was set up in Raqqa as part of the 8 March International Women's Day activities with the slogan "Hind and Seda's way is our way, their struggle is our struggle". The women attended the event with their traditional clothes.
A local woman Ruqeya El-Nimir told ANHA: "All days should be women's day, not just one day a year. The women should make a lasting impact on society. We are now able to come together thanks to the martyred women. Martyr Hevrîn Xelef, every woman, especially Hind and Seda are a shining star".
"They deserve to be praised"
Stating that the success of women in Northern and Eastern Syria is obvious, Abdullxefûr El-Dêf said: "Although the Autonomous Administration has just been established, it deserves to be praised for its practice. No matter how much we talk about the prices paid by women, it remains incomplete to praise them. We should consider the International Women's Day as the day when women's freedom is achieved."
Emphasizing that women look impressive with their local clothes, Buseyna Ebdo said: "Northern and Eastern Syrian women have worked hard to succeed. The Rojava revolution is known as the women's revolution. Women protect the gains of the revolution".
Women take important steps
Noting that the resistance of the women of the Euphrates region is an inspiring example, Xewla El-Îsa said: "We have been celebrating 8 March, International Working Women's Day for the last 3 years. Women took important steps towards the liberation of the region in a short time. Their resistance against terrorism inspired the whole world. I congratulate all women and hope the occupation of Afrin will come to an end."