Theater group from Makhmur on Rojava tour
Koma Hêviyekda, a theater company from the southern Kurdistan refugee camp in Makhmur, is on tour in Rojava with its play "Seeking the Truth".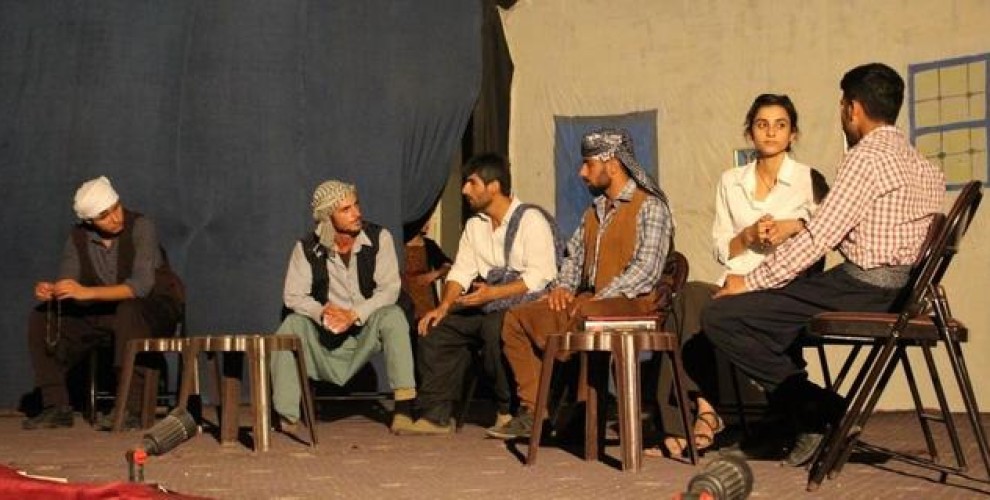 The theater group Hêviyekda from the Makhmur refugee camp has been touring Rojava since 6th July with their play "Seeking the Truth". After Kobanê and Dirbesiyê, the piece was performed at the Mihemed Şexo Cultural Center in Qamishlo.
The play is about a village in northern Kurdistan, where the Turkish state uses religion for its assimilation policy. Young Xwezan, whose Alevi family had to leave the village, returns and reveals the intrigues of the agent Mele Qasim, who is finally driven out of the village.
The enthusiastic audience applauded for a few minutes at the end of the piece, shouting the slogans "Bijî Serok Apo" and "Down with Betrayal".
Nûdem Yeman, one of the actresses, told the ANHA news agency that the theater group wanted to combine the culture lived in Makhmur with the culture of Rojava: "We met many young revolutionary people on our tour and had a very good exchange with them. We may not have a professional acting education, but our love of the theater has brought us to Rojava. Rojava is a place where many young people gave their lives for the revolution. To see that, touched us emotionally. The revolution of Rojava gives us strength. The people have suffered a lot and in particular we want to make the mothers happy for at least an hour."
What impressed them most was the role of education in Rojava and how firmly the principles of a democratic society are anchored, Nûdem Yeman said. Some members of the theater group even want to stay in Rojava and do an actor education.