The Small Palace in Hasankeyf in danger of decay
With its 12,000-year-old history, Hasankeyf not only had cultural and historical significance, but was also one of the most beautiful places in northern Kurdistan. The Turkish state flooded the place with a dam, and the buildings are decaying.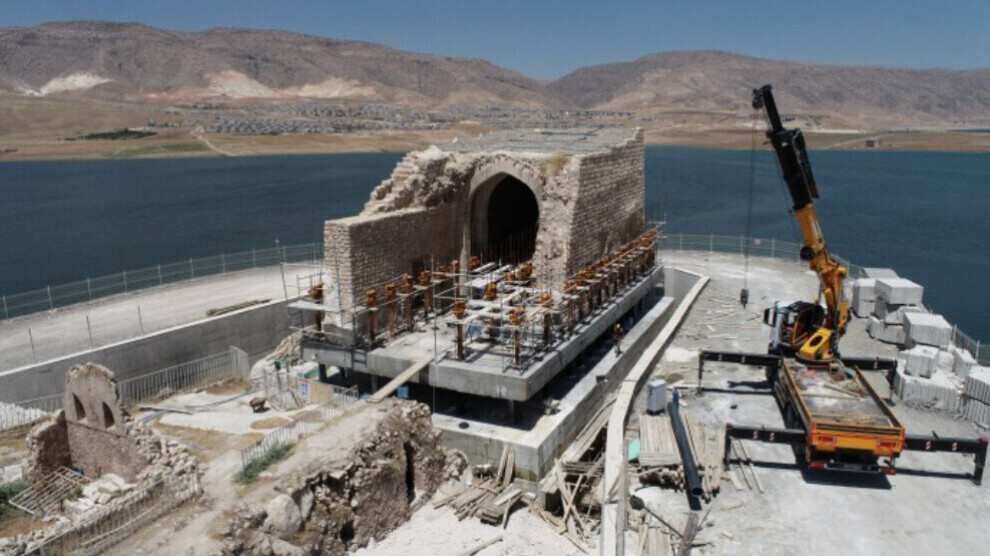 The historic town of Hasankeyf in the province of Batman was flooded by the Ilisu dam last year. Some of the structures from the 12,000-year-old settlement have been concreted in, including the Small Palace built about 900 years ago. Because the encasement contains limestone and is therefore permeable to water, the palace is in danger of decay. The covered area of the structure is 216 square meters, has three windows and an inlaid lion relief. Not much is left of the former splendor.
Numerous other historic buildings in Hasankeyf have been moved to an area on the banks of the Tigris called a "cultural park". The dam built by the state water authority DSI has since been renamed "Veysel Eroğlu" after the AKP politician and former minister. In addition to Hasankeyf, 198 settlements have been flooded by the gigantic project.
Background
For 12.000 years, Hasankeyf has been a site of uninterrupted human settlement. With the labour of dozen cultures this outstanding universal site with its 5500 caves and hundreds of monuments has been created with an unique embedding into the Tigris valley.
Recent excavations show that Hasankeyf lays atop of a deep, uncovered cultural heritage and is the twin of Göbeklitepe, a sanctuary site 225 km to the west with a past of 12.000 years. Independent researchers state that Hasankeyf and the surrounding Tigris Valley fulfill 9 out of the 10 UNESCO criteria for a World Heritage Site.
The Ilisu Project was and is a completely wrong and destructive investment. That is why since the beginning the project was strongly opposed not only at the local level in Turkey, but also in Iraq, Syria and globally. Contrary to official claims, the dam would have no socio-economic or any other benefit for the vast majority of the mainly Kurdish society in the affected region. Up to 80.000 people would loose their livelihoods and end up in poverty.
The dam would contribute to the deepening of the assimilation of affected Kurds in the 199 villages and also Arabs from Hasankeyf town. The rich biodiversity of the Tigris River ecosystem – still mainly natural – would be degraded significantly.
The Ilisu Project would also gravely affect the downstream stretches of the Tigris, seriously jeopardizing the water supply of major Iraqi towns, and Iraqi agriculture would be put under serious risk, in particular the UNESCO site of Mesopotamian Marshes in southern Iraq would face reduced downstream flows.