The old Haj Church in Van is nothing more than stones
The Armenian church suffered attacks by Turkish state throughout history.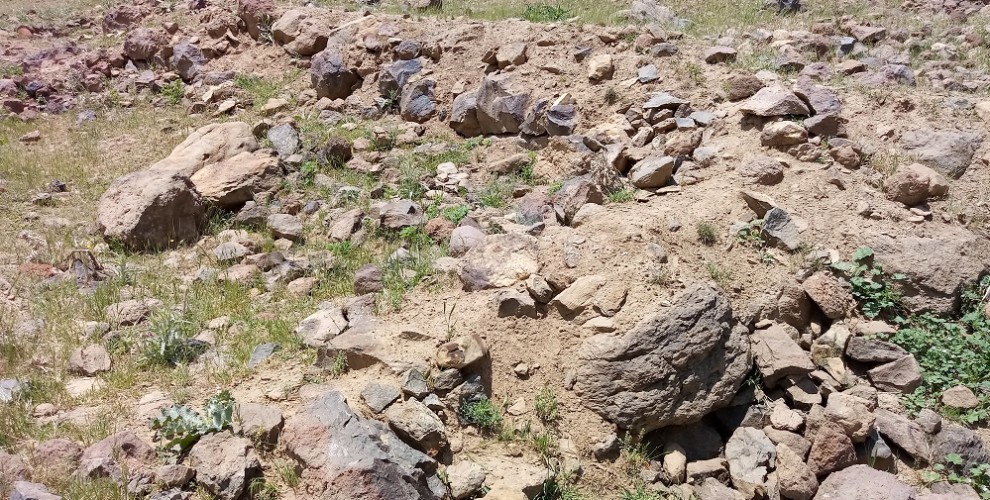 The Haj Church (church of the Cross) in Erciş district of Van, which suffered the destruction of the Turkish state, was definitively destroyed by the excavation and plunder of the treasure hunters.
Throughout history, ​​Kurds and Armenians lived together in the village of Hacıkaş. The village was burnt down three times by the Turkish state. The Turkish state slaughtered a high number of Hacıkaş villagers in the 1930's, while many people were exiled in the massacre of Zilan.  
After the massacre, the village was completely vacated. Together with the massacre of people İT carried out, the Turkish state also burned the buildings belonging to the Kurdish and Armenian people.
One of these buildings was the Haj Church, the historic Armenian Church.
The Haj Church was lately completely destroyed by the excavation of the treasure hunters.
Today only a few stones remain of the old Haj Church. The church was a place of pilgrimage. Hacıkaş villagers tell that "long ago, the Armenians came to Hacıkaş to become pilgrims. At that time the name of the village was Kaş. The Armenians who came here became pilgrims after visiting the church. Therefore, the name of the village became Hacıkaş". 
According to some villagers, this church was built on the site of a 3 thousand years old temple of the Urartu period.