The bard of the Middle East: Aram Tigran
Aram Tigran, who gave life to famous songs like Ey "Dilberê and Bilbilo", kept on singing his songs until his last breath. His lifework comprises 500 songs in Armenian, Kurdish, Syriac, Arabic, Turkish languages. He was literally a ceremony of languages.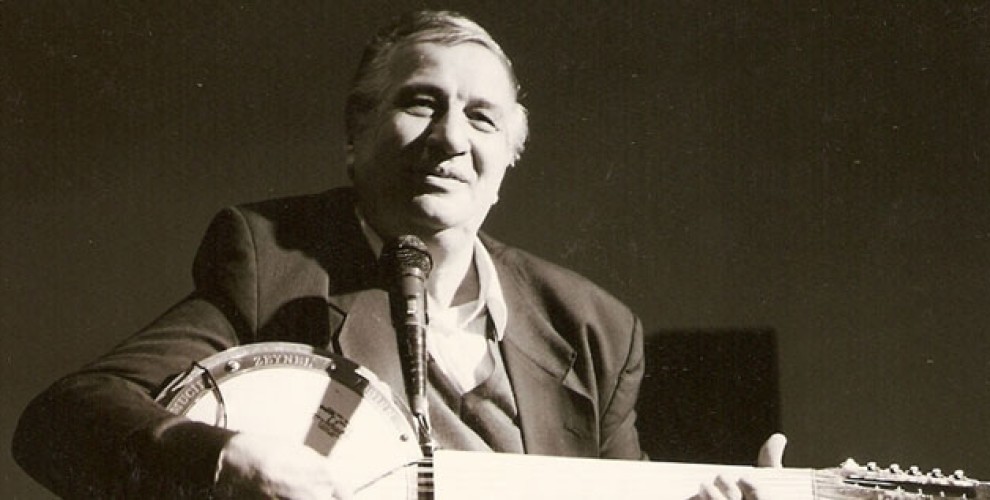 "If I was reborn and I had enough power, I would melt all the weapons, tanks and missiles in this world. And from the mass I would form tambours, cumbus and zurnas and distribute them to the people. Why should humans ever kill each other? Why!? Instead, they shall live with art, and be mirthful."
ARAM TİGRAN
The Armenian musician, who sang in Kurdish. With his voice and his works for Kurdish music he earned a grand place in the heart of the Kurdish community. Born in exile, grew up in exile and passed away in exile. On 6 August he became brain-dead, and on 8 August 2009 he deceased. On the 8th anniversary of his death, his wife and partner of 50 years Sirvat Melikiyan told about Aram Tigran.
Sirvat Melikiyan commemorated him with the words: "Aram Tigran was a famous musician and beloved among the Kurds, he was my husband for 50 years. Persons like him are born very seldom, his heart was of such beauty."
Melikiyan stated that the Kurdish identity, music and culture meant everything to her husband and said: "He deemed the freedom of the Kurdish people his own freedom. Until his death he stood with the Kurds. He always desired to contribute to the Kurdish culture. Therefore the Kurdish people have love for him."
WITH HIS MUSIC HE BROUGHT THE PEOPLES TOGETHER
During the Armenian genocide, no one of his family could escape apart from both his parents. A Kurdish family took in his father and protected him. For this reason his father advised him: "Sing in the Kurdish". Aram Tigran remained faithful to his father's will and until his last moment he used to put great importance to the fraternity of the Kurdish and Armenian people.
His wife Melikiyan continued as follows: "With his music Aram wanted to show that peoples are no enemies of each other. He used to say: "Through my music I will prove that Kurds and Armenians are brother peoples. I will rebut the enmity between people through my music".
He used to say: "I can also do my contribution with my cumbus ". In my view he succeeded in that. There used to be some distance between the Kurds and Armenians, they kept themselves afar from each other. Aram Tigran tried hard to abolish this distance through his music. He only listened to the voice in his heart and marched on the path of humanity."
LIKE LEAVES WE FELL AND WERE CARRIED AWAY BY THE WIND
Aram Tigran's parents fled to the city Qamishlo in Rojava during the genocide in 1915. Aram was born in Qamishlo in 1934. His father was an Armenian from Batman's Sason district, and his mother an Armenian from Amed's Silvan. Sirvat Melikiyan was born in Qamishlo as well. She is an Armenian from Dersim's Xozat. Their families knew each other well and they married on their wish.
Melikiyan said the following about Aram Tigran: "From the day on we married until his death, he never saddened me. He shall rest in paradise. He never uttered even a word that would hurt me. We both lived in exile. What welded us together was the fact that we carried the burden of exile together. We were like leaves that fell down and were carried away by the wind. Every day we went to another place."
A LIFE IN MUSIC FOR 56 YEARS
Aram Tigran grow ties with music yet as a child. His wife tells:
"According to Aram's parents, he started to beat on the pail when he was 4 years old". Aram's uncle then bought him once an oud which he started to play when he was only 6 years old. His first lessons he got from his father. At the age of 18 Aram had developed to a famous musician in Qamishlo. At the age of 20 he was known to everyone."
Aram Tigran gave his first professional concert when he was only 19 years old (in 1953) at the night of Newroz. After mastering the oud, he started to learn to play the cumbus and played mainly Kurdish folk music.
In 1966 Aram Tigran moved with his family to Armenia. There he worked in the Kurdish session of Radio Yerevan. It was also during that time when he underwent professional music training. He worked at the radio station until 1984. In 1995 he left his homeland and headed to Europe. After some time he finally settled in Athens.
HIS CENTURY-OLD DREAM: AMED
The first time Aram Tigran headed to Amed, which he used to call "my century-old dream", was in the year 2006 to perform in a festival. There he visited the birthplace of his parents and wrote thereupon the following song:
"Not in the dreams at night I would believe
To see the city Amed with my own eyes
Good morning Amed, I missed you so much
You opened your door for me
and filled me with mirth"
Aram Tigran finished his 14th album at the age of 74. His life opus comprises of hundreds of songs in Armenian, Kurdish, Syriac, Arabic and Turkish language. Still now his songs are sung and covered by hundreds of Kurdish musicians. His works like "Bilbilo, Dîlberê, Te Ez Kalkirim bi Ciwanî, Dîlber, Şev Çû, Dîyarbekir, Zimanê Kurdî, Ax Lê Eman" are still some of the most heard and cherished songs in the Kurdish music repertoire.
Aram Tigran, father of three, fell ill on the 6th August and was taken to hospital. In the hospital he became brain-dead. Two days later on the 8th August he passed away. It was his last wish to be buried in Amed, but the Turkish state did not allow this. And therefore he was interred in Belgium's capital Brussels instead.
Melikiyan Tigran said: "I know that the comrades will not just leave it by that and will take him one day to Amed."
IF LEADER APO WERE FREE…
At the end Sirvart Melikiyan said: "I promised Aram to follow his path as long as I am", adding: "I am now praying day in and day out for the freedom of Leader Apo. If Leader Apo were free, we would be now in a totally different situation. He who brought us together as humans and in mindset is Leader Apo."