Screenings of Ji bo Azadiyê in the Arab world, Europe and Japan
Directed by Ersin Çelik, the film Ji bo Azadiyê (The End Will Be Spectacular), about the Sur resistance, will be released in the Arab world, Europe and Japan.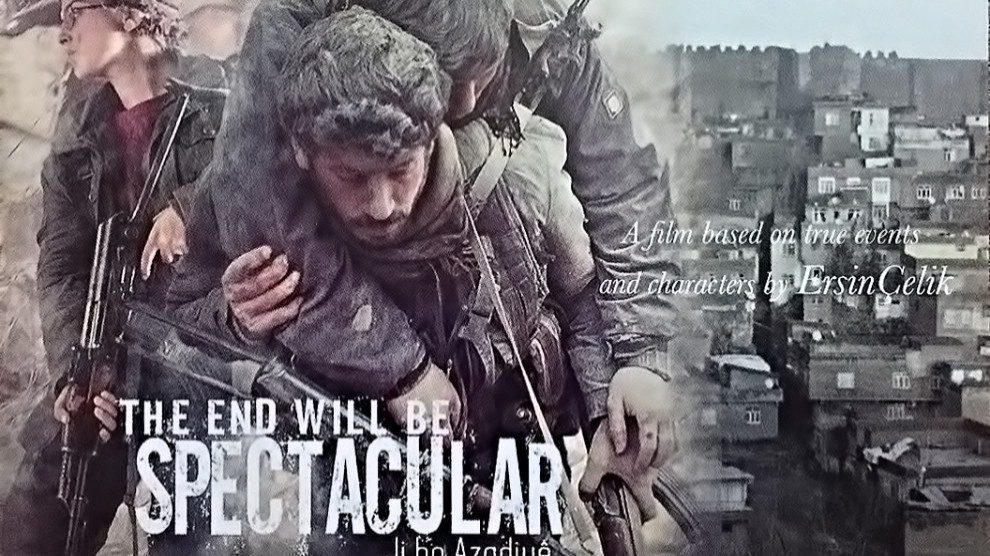 The film Ji bo Azadiyê (The End Will Be Spectacular) continues to be shown in festivals and movie theatres.
The screenings, which were delayed due to the coronavirus epidemic, have resumed in August.
The film will be screened in Jordan as part of the Amman International Film Festival (Amman IFF) and will be a special event in the London Kurdish Film Festival. There are also scheduled screenings in Japan, Switzerland and Germany.
FIRST SCREENING IN THE ARAB WORLD IN AMMAN
Ji bo Azadiyê has been selected in the non-Arab International Film section of the IFF and will make its premiere in the Arab world in Amman. The film will be screened with Arabic and English subtitles in an open air cinema, however none from the crew will be able to join the screening. Director Ersin Çelik will send a video message on behalf of the entire crew.
SCREENING IN LONDON
The first screening of Ji Bo Azadiyê in the UK will take place in London on 5 and 6 September as a special event of the London Kurdish Film Festival, which is currently being held online in its 11th edition.
This year, the festival has decided to show only short films, due to the impossibility of screening in cinemas.
The UK screenings of the film will continue in September and October. Tickets for the film, which will be presented in open air venues in London, can be bought online at the following link: https://www.eventbrite.com/e/the-end-will-be-spectacular-ji-bo-azadiye-uk-premier-tickets-116719670677
JAPANESE SUB-TITLES READY FOR SCREENING IN TOKYO
The film will be also shown for a week at Human Trust Cinema Shibuya in Tokyo. The film will later be screened in many other Japanese cities. Both a new poster and trailer have been prepared for distribution in Japan.
GERMANY DATES
The film made its German premiere in Berlin on 13 March and now it is resuming the tour of the country. The film was last shown in Attendorn.
The film will be screened in the cities of Dortmund, Munich and Düsseldorf in August, September and October. The first screening in Dortmund will be shown today, August 22 at Schauburg Kino, and the second screening will be on August 29 in the same hall and at the same time.
SWISS SCREENINGS
The film, which started to be screened in Switzerland in July, will be now shown in Zurich and Lausanne in September. In Basel, the film will be shown again due to popular demand.
Also, in September, there will be screenings of the film both in Rojava and Maxmur camp.
The calendar of screenings is as follows:
JAPAN
TOKYO
Human Trust Cinema Shibuya (Subtitle Japony)
14-21.08.2020
For a week
JORDAN
Amman International Film Festival (Official Selection)
The Arab Word Premiere
27.08.2020
20.00
https://aiff.jo/international-section/
GERMANY
DORDMUND
Schauburg Kino
22.08.2020
29.08.2020
18.00 Uhr
Brücktasse 66, 44135 Dordmund
KASSEL
Bali Kinos
02.09.2020
16:00 Uhr
Rainer-Dierichs-Platz 1, 34117 Kassel
DUSSELDORF
Filmkunstkino Metropol
05.09.2020
06.09.2020
16:00
Brunnenstraße 20, 40223 Düsseldorf
MUNCHEN
Monopole Kino
07.09.2020
08.09.2020
20.00
Schleißheimer Str. 127, 80797 Munich
ESSEN
Astra Luna Theater (Teichstraße 2)
09.09.2020
20:00
Astra Luna Theater Teichstraße 2, 45127 Essen
BRAUNSCHWEIG
Universum Kinobetriebs
30.09.2020
04.10.2020
19.30
Neue Strasesse 8, D-38100
BERLIN
Babylon Berlin
02.10.2020
20.00
Rosa Luxemburg Str 30, 10178 Berlin
UNITED KINGDOM
LONDON
UK PREMIERE
05.09.2020
06.09.2020
19:30
Great Cambridge Road, London, England, N9 9LE
LIVERPOOL
13.09.2020
14.09.2020
19:30
SWITZERLAND
ZURIC
Arena Cinemas Saal 4
08.09.2020
20.00 Uhr
Kalanderplatz 8, Sihlicty 8045 Zürich
LAXAN
Pathe flon
10.09.2020
19.30 Uhr
Rue du Port-franc 16 1003
BASEL
Kult Kino Ag
13.09.2020
15:00 Uhr
Clarastrasse 48, 4005 Basel