Resisting invasion through art
Koma Çiyayê Kurmênc was founded in 1992 by the Kurds living in Aleppo under the name Koma Kalan. The members of the group said that they preserve the Kurdish culture and traditions and resist the invasion of the enemy through their arts.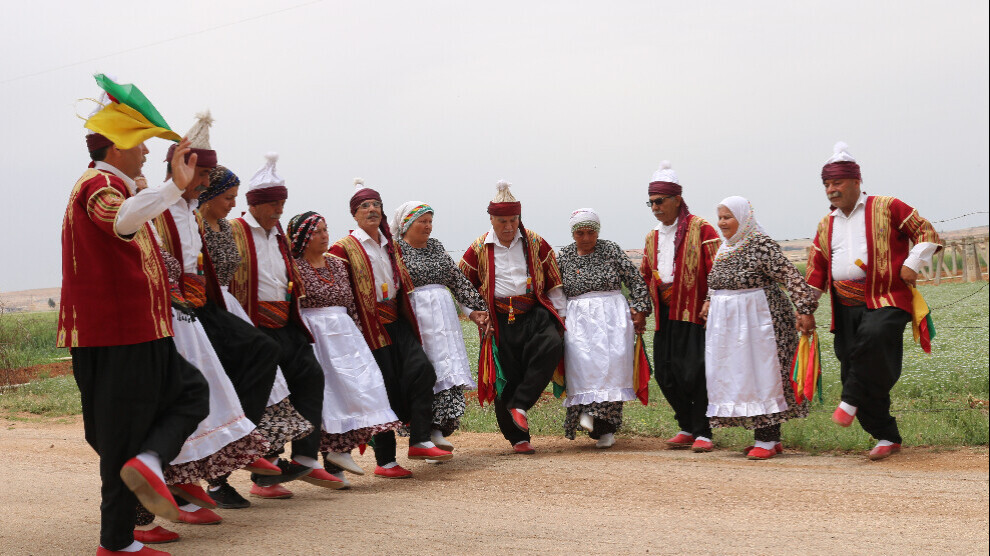 The group Koma Kalan was founded in 1992 by the Kurds living in Aleppo in order to preserve the art and culture of Afrin. Growing over time with the participation of more members, the group has taken part in all national organizations and improved the traditional dance 'govend' which is a part of the Kurdish culture.

Mustafa Süleyman Weqas, 64, from the Kaxre village in Afrin, spoke about the foundation of the group, noting that they founded the group secretly in Aleppo in 1992. "We established Koma Kalan under difficult conditions, but over time it has gained popularity among the people. Later on, we had to change the name of the group to Koma Martyr Serhat for security reasons. At that time, we were constantly going to Lebanon and promoting our dance. From time to time, we also attended Newroz festivals in the Cizire region and celebrated our holiday with our dance. Moreover, we went to Damascus many times and participated in the festival there," he said.
Following the outbreak of the civil war in Syria, most of the Kurds living in Aleppo resettled in Afrin. After the arrival of its members in Afrin, the group changed its name to Koma Çiyayê Kurmênc. Achieving a stronger organization in Afrin, the group took part in all national festivals and holidays.
Noting that the people of Afrin were forcibly displaced after the Turkish occupation, Weqas continued, "Following the displacement, serious drawbacks have emerged in the field of culture. Therefore, we immediately organized and expanded our group in order to eliminate the negative effects of the migration in Shehba. Now, we are struggling through art against the Turkish state and other sovereign states that seek to destroy us."
Mihemed Henîf, who joined the group in 2010, said that every form of govend has a story that goes back hundreds of years.
The members of Koma Çiyayên Kurmênc wear Kurdish national clothes. Emina Musa, 67, talked about the importance of national clothes, saying, "I joined the group in 1999. All our clothes are Kurdish national clothes. Our children should know what kind of culture, tradition and history we have. Our clothes are very important to us. We mostly use yellow, red and green colours because these are also the colours of spring and nature. I am also fighting the enemy by taking part in the group in order to protect our culture."