Lower attendance at Istanbul Book Fair
The fair, set up in a quite remote location in terms of transport in Istanbul, despite this difficulty, manages to keep its core followers.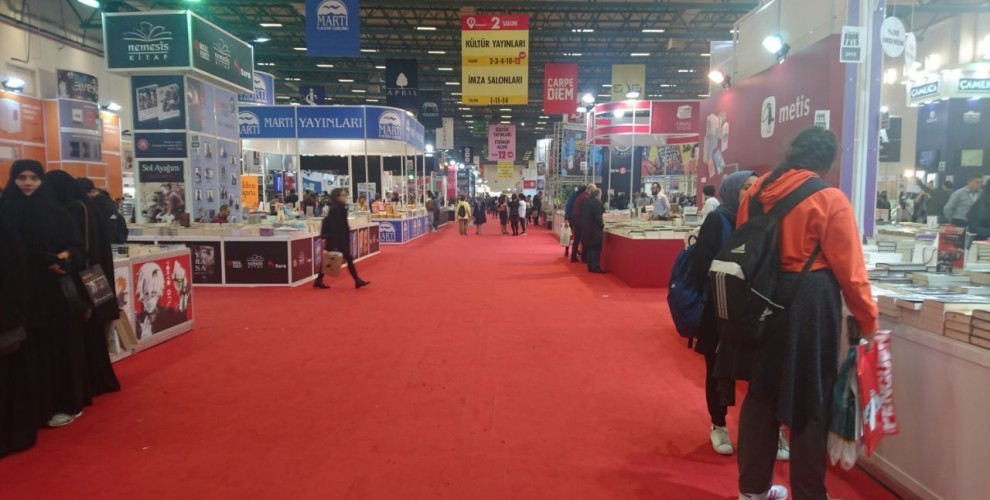 The Istanbul Book Fair runs every year between 10-18 November.
However, because of the deepening of the economic crisis, the world of books too began to experience a difficult time. And this, inevitably, also has repercussion on the fair.
Although the exchange rate fluctuates to a certain point in the currency, Onur Öztürk from the KOR Book points to another dimension of the issue: "Employees of the publishing house have almost nothing to do with the Turkish Lira, except from their salaries. On the other hand, the dollar rose rapidly, but not so much. Currency is still a problem for publishers like us. In the summer, we faced a big problem because of this issue. Now we can find paper, but we have to deal with a quota imposition. Even if you find money, only a certain amount of paper is sold to the country. The challenge is ongoing for us".
Attendance reduced
Öztürk added that clearly this increase in costs is reflected in the books. When we asked how this year's Fair is in terms of attendance, he said: "We are still on the third day of the Fair, but it has to bee said that the first weekend was below our expectations. We hope there will be an increase for the coming weekend, but so far attendance is lower than expected".
Another publisher confirmed that there is a very low turnout this year, so far. According to him, following the increase of paper cost, most people began to feel that "books prices have increased a lot". And this despite the fact that many books have the same price as last year. Nevertheless, all in all, the general feeling for this year's fair is that the first days have been quieter than previous editions.
Saving money for books
Publishers pay attention to the high printing costs, while those who visit the Fair complain about the high prices of books.
A retired teacher who did not want to give his name, said that he was able to allocate very little money to books buying. His basic needs were getting harder to meet, he said.
He agreed that it may be that the prices of books are the same after the rise in paper costs, and confirmed that he likes to keep the tradition of coming to the fair every year. Although there are not so many discounted book as there used to be, the retired teacher said it is important for the fair to be in direct contact with publishers and writers.
Book Fair location very far from city centre
Publishing houses in general agree that the Book Fair location is very far from the city centre, making it very complicated for people to reach it.
Aram Publishing House confirmed that Beylikdüzü is a very difficult location to reach in terms of transport.
Aram Publishing House also pointed out that the paper crisis has an impact on new projects which are put on a waiting list. For Aram, one of the main achievements of the fair is to be able to bring books to prisons.
At the Dipnot Publications stand, the same comments are made. Readers find especially heavy and bulky books "very expensive" and end up not buying them, said workers at the stand.
"Yes, the cost of books has increased. - said a Dipnot Publications worker - We were forced to increase books which previously cost 30 Turkish Lira to 50 Turkish Lira. On the other hand, - he said - we can't say we are witnessing a serious or total decline in books purchase. The crisis hasn't hit the middle class yet. When it would hit the middle class, it will greatly affect us".
Other problems
Similar statements are made at the stand of Aras Publishers, whose workers noted that the crisis is affecting their traditional readers.
Stand workers confirmed that it is hard to get ends to meet, yet, they added that "our readers find their way here".
When we tried to engage in a conversation with two young people who had taken a book about the Armenian Genocide in their hands, their reaction was: "Why do they print such book in our country? Turks did not killed Armenians. Those are lies!"
The conversation ended before it even started.
Apart from the economic crisis, clearly these two young people showed that there are other issues publishers like Aram and Aras face in this country.