Kurds and universities in Berlin hold symposium on language
A two-day symposium on language was held in Berlin to mark 21 February, International Mother Language Day. YEKMAL promoted the event with the city's universities.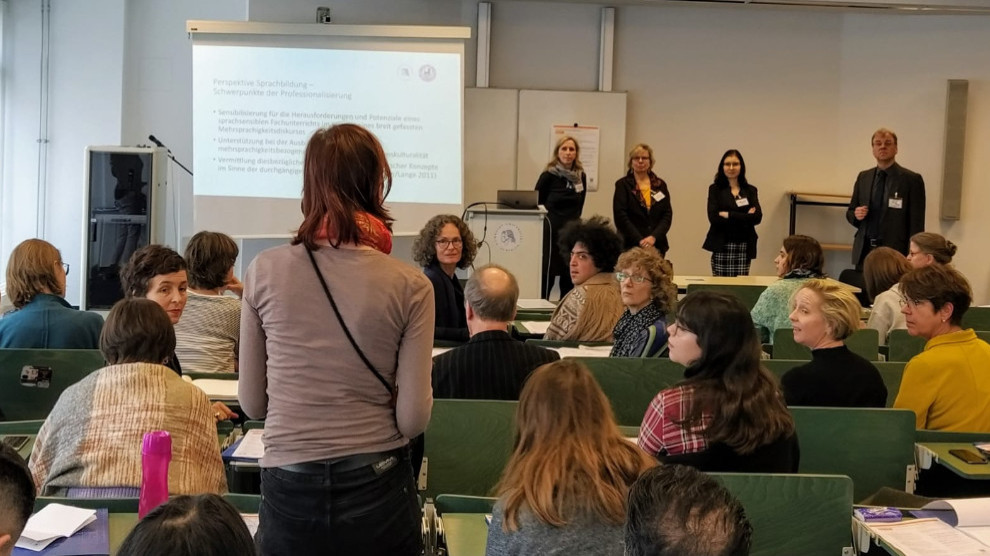 The Kurdistan Families Association (Yekitiya Malbatên Kurdistanê-YEKMAL) organized a symposium in cooperation with Humboldt University, Frei University, Arbeitz Kreiz Neuer Erziung and the Senate Education Department.
YEKMAL had organized various events in the past to mark International Mother Language Day.
This year saw the participation of many linguists and academics as well as professors, including Dr. Anka Bergmann, Prof. Dr. Stephan Breidbach, Prof. Dr. Daniela Caspari, Prof. Dr. Uwe Gellert, Dr. Maria Große, Prof. Dr. Beate Lütke. 
Prof. Dr. Gabriela Meyer and Prof. Dr. Katharina Brizić particularly focused on social cohesion and the role of languages.
Darıcı: Kurds want to study in their mother language
On behalf of the YEKMAL institution, coordinator Günay Darıcı referred to a research they made as an institution in his presentation on the first day of the symposium.
Stating that "90 percent of the Kurds speak their mother tongue", Darıcı added that they do not have the rights they should have when it comes to  education and training.
"More than a hundred thousand Kurds live in Berlin, most of them want to study in their mother tongue, but they face similar obstacles to those in the countries they come from," said Darici. 
YEKMAL: Symposium opened way to future projects
Mehmet Şerif Derince, a coordinator of YEKMAL's Academy and organizer of the symposium, spoke to ANF about the importance of the event.
He pointed out that 6 universities, which train teachers in different fields, made presentations on multilingualism, education and the approach of families, in Romanian, Russian, German, English and Iranian languages.
The status of German, English, Russian, Arabic, Turkish and Kurdish in schools was also discussed at the symposium. Problems and solutions were discussed. Representatives from seven schools and education centers exchange views on different issues.
Derince evaluated the symposium as a first step for future collaboration and projects. Underlining that an activity organized by the Kurds themselves in a scientific field where the Kurds are hardly invited and remembered or little talked about is important, Derince added that they will focus on such work from now on as an institution.