Kurdish musicians perform for national unity in Stockholm
A joint concert of numerous Kurdish musicians took place in Stockholm. The artists want to contribute to Kurdish national unity on a cultural level.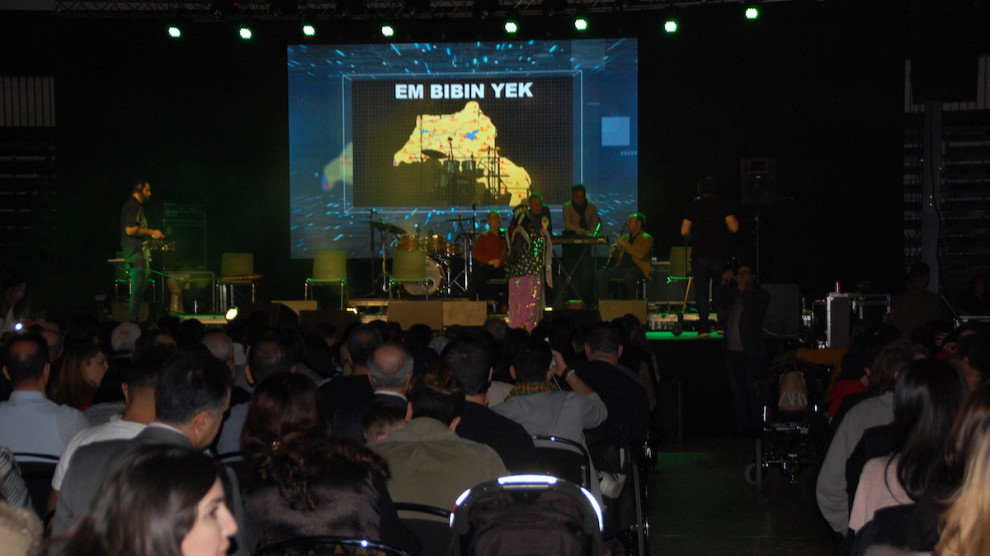 A big concert with numerous Kurdish musicians took place on Sunday in the Solna Hallen in Stockholm, Sweden. The event was opened with a minute's silence in memory of the martyrs of Kurdistan.
Before his performance, musician Xelil Xemgin explained the reason for the concert: "After the Turkish invasion of Northeast Syria last October, Kurdish artists decided to contribute to the creation of a Kurdish unity on a cultural level. This initiative was met with great interest among cultural workers from all four parts of Kurdistan. We want to hold concerts of this kind everywhere from Halabja to Kobanê. We want to involve all organizations and parties in this work". Xemgin called for support for the initiative of the artists.
Afterwards, Mîhamed Taha Akreyi, Nasir Rezzazi, Narin Feqe, Nejmeddin Xulami, Hesen Şerif, Ayfer Düzdaş, Diyar Dersimi, Kejal Ademi, Hoshyar Hama Farag and Marîwan Safadin performed two Kurdish pieces of music each.
Finally, musician Şivan Perver took to the stage and said that the colonialist countries reject a political status for the Kurdish people in the Middle East. In order that Rojava does not get a status like South Kurdistan, the attacks have been increased, he noted.
Perver said he himself is a musician and not a politician, but he still has something to say to the Turkish state and the AKP government: "You have to respect the rights of the Kurds. They must respect the people who love their language, their culture, their values and their country. All peoples are brothers and sisters, but these states and governments are insidious. They have given us nothing, neither culture nor humanity, always only oppression and torture. The Kurdish people should know this, the Turkish people should know this."