Kurdish artists promote concert for National Unity in Stockholm
Kurdish artists organize concerts for national unity in Stockholm.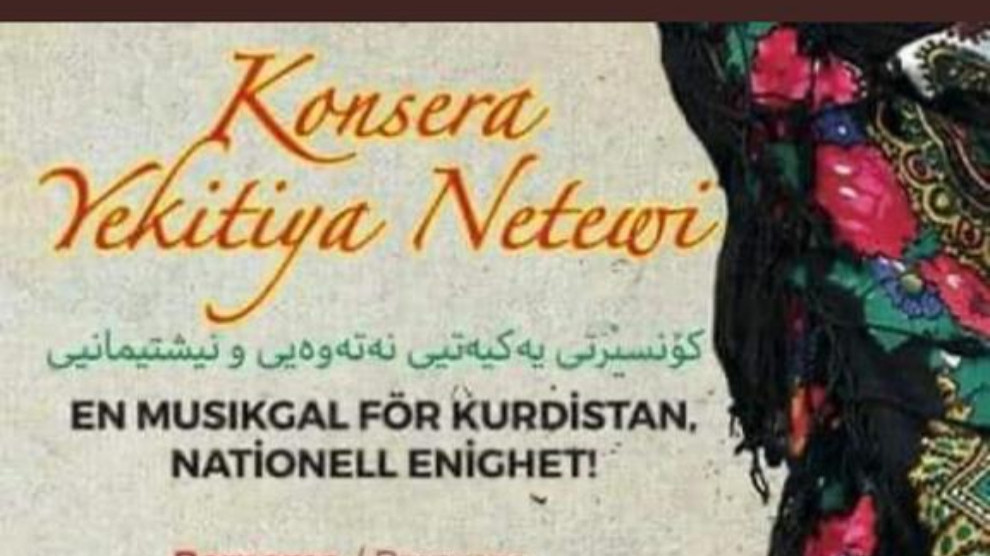 Kurdish artists will organise a concert in Stockholm to contribute to the establishment of national unity.
Artists from four parts of Kurdistan will join the concert organized with the slogan "Konsera Yekitiye Netewi".
Among the artists who will perform are Şivan Perwer, Mîhamed Taha Akreyi, Nasir Rezzazi, Narin Feqe, Xelil Xemgin, Nejmeddin Xulami, Hesen Şerif, Ayfer Düzdaş, Diyar Dersimi, Kejal Ademi, Hoshyar Hama Farag and Marîwan Safadin.
Speaking to ANF about the event, artist Armanç said that in the past months, Kurdish artists have promoted a series of events to contribute to the establishment of national unity.
In this context, he said that the first concert was held in Sweden and the second was held in Germany, and a third, which saw great participation, was held in Hewlêr.
Armanç stressed that the views and thoughts of Kurdish artists can be different but that the common denominator is to achieve the national unity of the Kurds.
Call to attend the concert
Armanç called on all Kurds and their friends to support the artists' efforts to achieve national unity and to attend the concert in Stockholm.
The concert will start at 2 pm on Sunday, 23 February in Solna Hallen.