Koma Botan releases new song and video about guerrilla resistance
The song and the video tell of the guerrilla's resistance against the Turkish army's attacks in Zap, Avashin and Metina in southern Kurdistan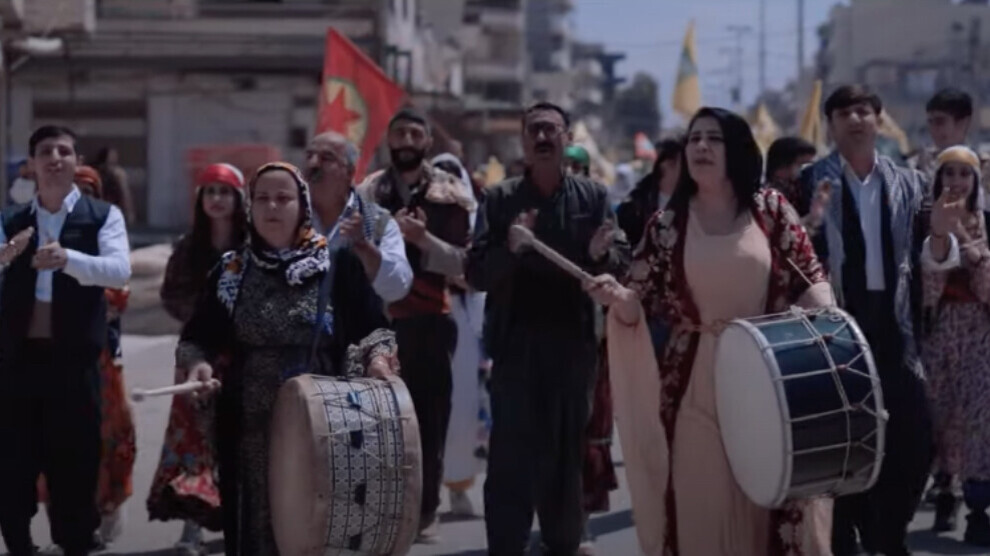 Video of a new song about the guerrilla's resistance against the Turkish state's attacks on Medya Defense Zones has been released.
The new song "Lêxin lêxin" (Hit hit) was performed by the artists of Koma Botan, a musical group in Rojava, linked to the Kurdish cultural movement TEV-ÇAND.
The video of the song was also released on Sunday, May 9. Performed by Danîş Botan, Nisrîn Botan, Gulîstan, Mizgîn, Silêman, Çîmen and Delîl Mîrsaz, the song was composed by Delîl Mirsaz.
The song and the video tell of the guerrilla's resistance against the Turkish army's attacks in Zap, Avashin and Metina in southern Kurdistan (northern Iraq). The Turkish state has been attacking the Medya Defense Zones since 23 April. The guerrilla launched the "Bazên Zagrosê Campaign" against the Turkish troops.
Koma Botan artists stated that they want to respond to the attacks with their new song and video.
Artists Danîş Botan said, "We respond to the invasion attacks of the enemy through our art. The enemy is even afraid of the art we perform. It seeks to weaken the power of the people and the guerrilla. However, they should know that no matter what they do, they will not be successful since the heroic resistance against it continues."
Botan added that they would release a new video called "Hêrsa Apoçiyan" (Apoist's anger) and shoot the video in the village of Dêrûna Axê.