Koma Çiçek Botan releases new song: "Battle of Women"
A new music video called "Cenga Jinê" about the "Cenga Heftanin" [Battle of Heftanin] resistance in Heftanin has been released.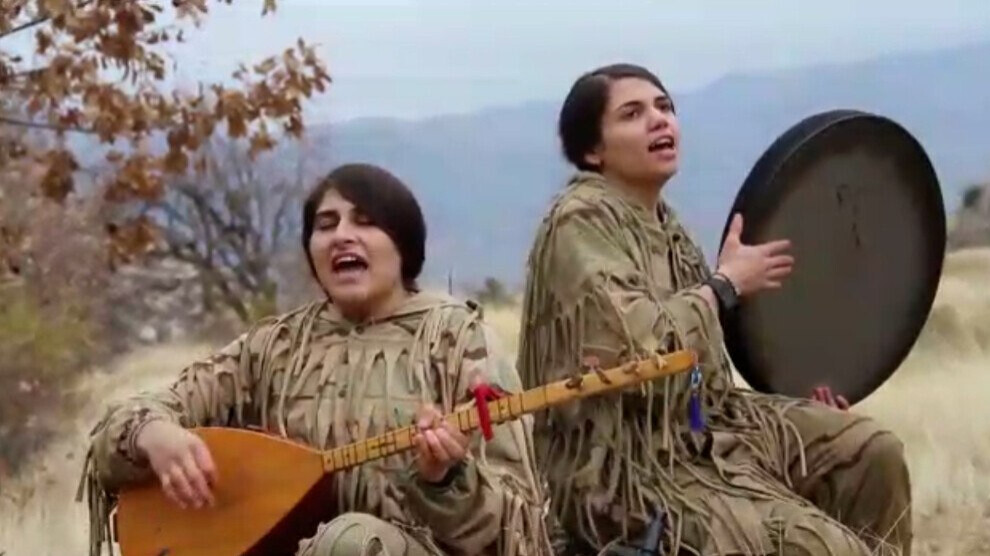 The music group Koma Çiçek Botan, consisting of Azê Viyan and Cûdî Çekdar, two fighters of the women's guerrilla troop YJA-Star (Yekîtiya Jinên Azad), continues its artistic activities undeterred even in times of war. Their new track "Cenga Jinê" [Battle of Women] was released on Thursday along with its accompanying video.
The song was written in Kurdish and penned by Viyan and Çekdar, who named their band after the nom de guerre of guerrilla commander Hacer Kaya. It deals with the resistance of female fighters against the Turkish occupation attacks in the guerrilla area of Heftanin. Azê Viyan and Cûdî Çekdar are themselves among the many women defenders of the region and took part in many operations in the course of the "Cenga Heftanîn" guerrilla offensive, most recently in Keşan.
Azê Viyan joined the guerrilla from Germany in 2017. Her twin brother Navdar Serhat had joined the Kurdish freedom movement in 2013. After a while in the Medya Defense Zones in Southern Kurdistan, he went to Rojava. On March 18, 2018, he fell martyr defending Afrin in the ranks of the YPG (People's Defense Units).
The Turkish army has been trying to occupy the Heftanin area in Southern Kurdistan, Northern Iraq since August last year. In response, the local area commandant of the People's Defense Forces (HPG) declared the offensive "Cenga Heftanînê" [Battle of Heftanin] against the occupation operation.