HPG releases 10-day balance sheet of battle in guerrilla areas
HPG released balance sheet of battle for 10 days. Accordingly, guerrillas carried out 116 actions, 147 invaders were killed, 6 helicopters and 2 drones were hit, dozens of positions were destroyed. Six guerrillas were martyred during the clashes.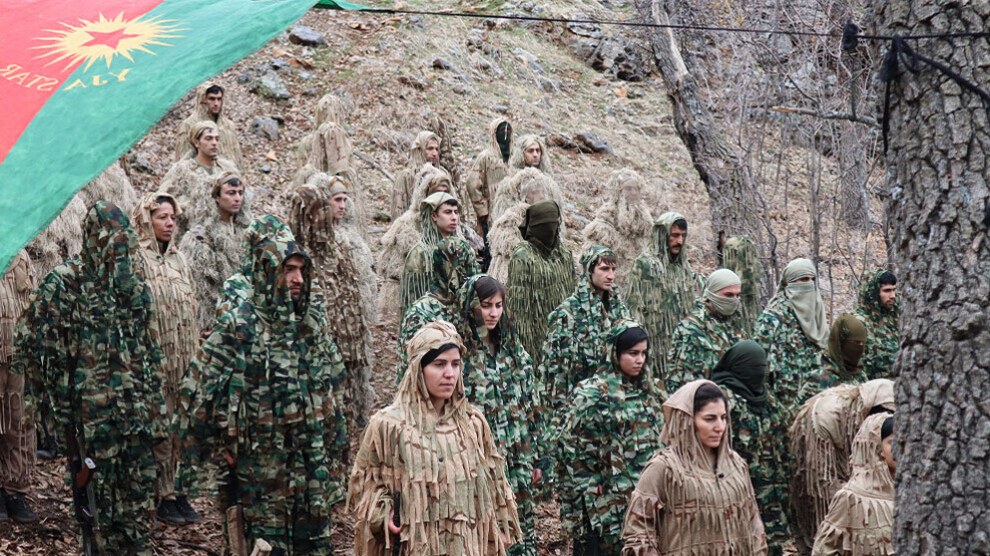 The Press Office of HPG (People's Defense Forces) has released the balance sheet of armed conflicts with the Turkish army that took place between April 23 and May 3 in southern Kurdistan (northern Iraq).
The following details were included in the HPG statement:
"The colonialist genocidal Turkish state and its ruling AKP - MHP - Ergenekon fascist alliance do not give up their purpose of occupying and establishing its hegemony over the Middle East and Kurdistan. It seeks to eliminate the Free Kurd by invading Kurdistan step by step, to purge the PKK, to subjugate all the Kurdish people and to realize the Kurdish genocide completely.
The Turkish army launched a comprehensive invasion attack on the night of April 23 against Metina, Avashin and Zap regions of the Medya Defense Zones in order to take one more step in its plan to commit genocide against our people and to invade the lands of South Kurdistan (Iraqi Kurdistan). However, this invasion attack was defeated by the heroic resistance of the HPG and the YJA Star (Free Women's Troops) guerrillas with the invaders having received the heaviest blows as a result of continuous and effective actions. The Kurdistan Freedom Guerrilla did not only remain in a defensive position, but also actively attacked and developed revolutionary offensives dubbed "Cenga Xabur" and "Bazên Zagrosê" in order to lead the "Dem Dema Azadiyê Ye" (Time for Freedom) campaign to victory. In this context, the war performance of our forces during the 10-day period from April 23 to May 3, great courage and determination to resist, actions carried out with sophisticated tactics are a striking and historical example in terms of level of development of the Democratic Modernity Guerrilla.
The invading Turkish state could not achieve any results despite its brutal use of chemical and poisonous gases as well as trained soldiers, dogs, and intensive bombardments during the course of the invasion operation. Those who remain silent and do not react will be remembered as partners in this crime before history as the genocidal Turkish army used chemical weapons and committed war crimes in front of the whole world.
On the basis of its new guerrilla line, perspective and tactics, the Kurdistan Freedom Guerrilla demonstrated a sharp practice rich in tactics, fast in pace and in the form of strike; from mobile team warfare to war tunnels, from actions by Air Defense Forces to assaults, infiltration, sabotage, sniper attacks, from thermal weapons to simultaneous and coordinated guerrilla actions during the 10-day fighting.
The Turkish army, which boasted of bringing states to heel with its existing force and war facilities, got stuck in Metina, Avashin and Zap, and could not make any progress. The Turkish army which conceals its losses from the public, carried away the dead and wounded by dozens of helicopters every night, and reinforced its forces by replacing the soldiers who were unable to fight. The correctness and decisiveness of the new era guerrilla line, which reached an important level in the Cenga Heftanin and Garê Victory, have been proven once again in the Revolutionary Operations of Cenga Xabur and Bazên Zagrosê.
During this 10-day clashes, our comrades Ekin, Asya, Çiyager, Dilşêr, Delal and Viyan led actions that dealt huge blows to the invading enemy by fighting their forces for days in a legendary bravery. In particular, these actions and the assaults, in which our pioneering YJA Star forces participated, demonstrate the unrestrained will of the free Kurdish woman, her passion for freedom and her determination to achieve victory. This resistance displayed by our forces with great effort, the sacrifice and the Apoist spirit will not only prevent the invasion of South Kurdistan, but also yield a great result in the "Free Leader, Free Kurdistan" march by increasing and expanding the resistance.
On the basis of the Revolutionary People's War, the youth and women of Kurdistan should embrace this heroic resistance of the guerrilla, and lead the "Time for Freedom" campaign to victory by promoting the Apoist spirit of the guerrilla, who inflicted deadly blows on the invaders in the mountains of Kurdistan, in the villages, streets, neighborhoods and cities of Kurdistan.
Because our forces fight in a semi-autonomous fashion, information about actions and conflicts may sometimes arrive late. However, the martyrdoms, guerrilla actions and the entire war process that has developed during the war will be documented within the bounds of possibility and shared with our people and the public as it has been done before.
10-DAY BALANCE SHEET OF WAR
The balance sheet of war that took place between April 23 and May 3 is as follows:
Actions carried out by our forces:
- 8 Actions by Martyr Delal Air Defense Forces
- 1 Thermal Weapon Action
- 2 Coordinated and Simultaneous Guerrilla Actions
- 3 Infiltration Actions
- 9 Strike Actions
- 11 Heavy Weapons (DShK, Mortar and Katyusha) Actions
- 12 Sniper Actions
- 33 Sabotage Actions
- 37 Assault Actions
- A total of 116 guerrilla actions were carried out, six of our comrades fell as martyrs.
Attacks carried out by the occupant Turkish army:
- Medya Defense Zones were bombarded hundreds of times every day without interruption by howitzers, helicopters and fighter jets.
- 34 attempts were made to enter the war tunnels of the guerrilla with no results, each time being pushed back and hit.
- Chemical and toxic gases were used 9 times.
As a result of the actions carried out by our forces;
- 2 Drones were hit
- 6 Helicopters were hit
- A total of 147 Turkish soldiers were killed, one of them a senior Hill Commander and the other a dog watchman called 'Veterinarian Specialist Corporal'.
- 15 soldiers were injured.
Military equipment destroyed by our forces;
- 1 Radar
- 3 Surveillance Cameras
- 1 A4 Gun
- Tens of positions were destroyed.
Military equipment seized from the enemy by our forces;
- 1 MPT gun
- 1 Grenade Launcher
- 1 BKC Gun
- 1 B7 Weapon
- 1 Thermal Binoculars
- 1 Radio Device
- 2 Weapon Sights"