How did the story of education in Kurdish begin in Rojava?
Before the revolution, it was forbidden and the punishment was heavy. But the Kurdish language knights in Rojava defeated the ban. They gave a multi-lingual, multi-colored education to the new generations of the revolution...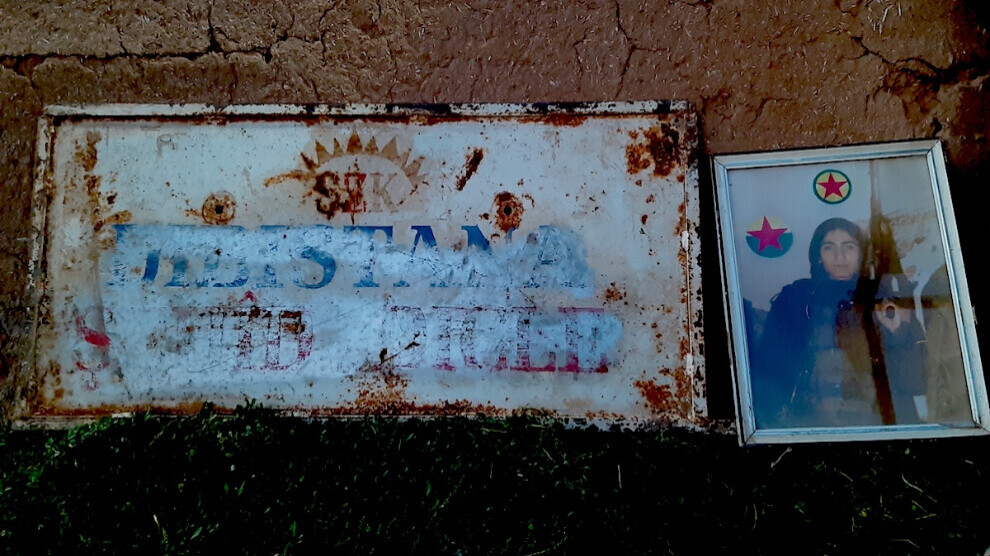 Menal Mihemed Emîn is one of the teachers who has struggled for education in Kurdish that was initiated with the revolution in Rojava. Menal, a native of Dêrik, struggled for his mother tongue, Kurdish, during his university years. While Menal was still a student at Aleppo University, he was tried by the regime for secretly teaching Kurdish.
Although he graduated from the university, the regime categorized him as "suspect" and did not issue his diploma.
Menal reminds us that he is not alone in this matter and that he is "lucky" only to be judged, and that many people stayed in prisons for years because they taught or received education in Kurdish.
With the footsteps of the revolution, Menal took part in Saziya Zimanê Kurdî (Kurdish Language Institution) that carried out educational activities in Rojava at that time, and is now the Spokesperson of the Education Committee of the Qamishlo Canton.
Menal Mihemed Emîn, whom we asked to tell about the adventure of education in Kurdish in Rojava, says "Let's go and start where we took the first steps" and then we head to Dêrik.
THERE WERE MORE WATCHMEN THAN STUDENTS
Menal said that in Rojava, people paid a great price for education in Kurdish and many people were thrown in prisons for teaching or receiving education in Kurdish, noting that the Syrian regime does not accept Kurdish education at all.
Menal reminded that during the regime rule, those who wanted to learn Kurdish used to come together secretly at home as three or five people at night and added, "For this reason, it was necessary to set up guards twice as many as those who were educated."
When we arrive in Tirbêspiyê, Menal says that they have a secret place where they taught Kurdish, and they call it the Martyr Nezir School.
WE WERE ONLY A HANDFUL OF PEOPLE
When we enter the courtyard of the two-room house, which is used as a school, Goran Şakir, one of the teachers of the time, tells how they were educated there and says "we were only a handful of people."
Recalling that the regime was in the region with all its forces at that time and that they gave education in Kurdish, even in small numbers, Goran Şakir says, "Those who were educated here became the first teachers of the revolution".
When we hit the road and arrive in Girkê Legê, Menal says that there is a house in this city that they used as a school for Kurdish education.
HOUSES OF MARTYRS' FAMILIES WERE SCHOOLS
The sign of the house with garden still remains and it says Navenda Çand û Ziman a Şehîd Kawa Dil ya Girkê Legê (Girkê Legê Martyr Kawa Language and Culture Center).
Reminding that Martyr Kawa, who gave his name to the school, was a young man who "took the road to the mountains for his language and culture" when he was a university student, Menal Teacher adds, "This house has been given to us by his family for educational studies."
STRUGGLE FOR KURDISH EDUCATION
Menal notes that many people received Kurdish language education in the two-room house, adding, "With the start of the civil war in Syria, we decided to put pressure on the regime to receive Kurdish mother tongue education in schools."
Then we go to a school in the city, with teacher Menal telling the following: "At the meeting we held at this school, we decided to switch to education in Kurdish. Even many of us opposed it. Many of them were also teaching in the regime schools and stated that the regime would never accept it."
DECISION TO GIVE KURDISH EDUCATION IN SCHOOLS
"As a matter of fact, that is indeed what did happen," says the teacher, adding; "In our meeting that night, we decided that we would no longer give Kurdish education secretly and we would bring Kurdish to schools. We determined the next morning as the time to implement."
THE DAY TO IMPLEMENT THE DECISION
Menal recalls that they first went to a school in Çilaxa for education in Kurdish and they went to the principal's room and took a seat, "The school principal asked," What do you want? We replied, "You will do your job, and we will do ours; we will provide education in Kurdish."
THE REGIME WAS NOT EVEN ACCEPTING AN ELECTIVE COURSE
Menal tells that the regime did not accept this and attacked them in some places, to which their self-defense forces responded.
"They definitely did not recognize it, nor even accepted an elective course. They detained some of our friends, threatened them, in some places they provoked students and parents against us. However, we didn't compromise."
MOTHERS BREAKING THE DOORS ...
Menal continues; "The regime resolved the issue by closing schools in many places. However, we were not helpless against this. We broke the doors of the schools one by one and started education in Kurdish. Mothers had the leading role in this door-breaking job. We used to break the doors of a few schools each day. Some mothers were coming with hammers in their hands. We thus started the regional mother tongue education in all schools."
THE REGIME RELIED ON EDUCATION ...
"The regime was losing cities and towns in Syria, but the breaking of a school's door was making them more upset" says Menal, and adds: "Because its existence relied on the education system and it saw its disappearance there."
FIRST KURDISH SCHOOL IN ROJAVA
We arrive at the village of Besta Sus in the Koçerat region of Dêrik, where the first school was opened.
Dibistana Şehîd Dicle, the first school in Rojava to teach in Kurdish, was opened in this village. The school is just a two-room adobe house. Now a family lives in it. We listen to the story of this school from teacher Ciwan İbrahim.
LIKE A DREAM ...
Teacher Ciwan said, "Actually, this school was opened to see the reaction of the regime to Kurdish education. It was opened with great enthusiasm. Thousands of people from the surrounding villages flocked here to see the first Kurdish school. It was opened like a festival. Mamoste Hemid, who lost his life recently, gave the first lesson. Kids and 70-year-old elders had come to the opening. It was like a dream… "
FROM PROHIBITION TO A MULTILINGUAL EDUCATION MODEL ...
On the way back, Menal tells; "In the mother tongue education that we started with a handful people, almost one hundred thousand teachers and more than 900 hundred thousand students engage in education in their mother tongue in North-East Syria today. Now we have a three-language education system, including Kurdish, Arabic and Syriac. We have never imposed our own language on anyone. However, we do whatever is necessary for education in our mother tongue."
I ask all three teachers of ENKS' demand during the negotiations for the Kurdish unity in Rojava that "Kurdish education system should be annulled and it should be returned to the regime system".
LANGUAGE IS THE HIGHEST VALUE OF A PEOPLE
Goran Şakir said, "Every nation in this world is known for its language, we want to be known with our language and our culture. Our language is our common ground."
Ciwan İbrahim answered; "If they ask me what I have gained from this revolution, I would say that I won my language without hesitation.  Because a language is the highest value of a people. The language that wants us to give up our language is the language of the enemy. Because if we do not have language, we are nothing."
LANGUAGE IS ABOVE POLITICS
Menal Mihemed Emîn gives the following answer to our question: "The step we have taken is not a step that could be taken back or compromised. It was our dream. We paid a great price for it. Therefore, no one should come up with such a demand for pleasing someone's heart or for their personal interests. Language is not a subject of political negotiations. Language is supra-political, and politicians have no right to decide on this issue."