'Freedom of Art and Expression' action in Germany
An event called 'Freedom of Art and Expression' was organised to respond to racist policies of the Turkish and German states.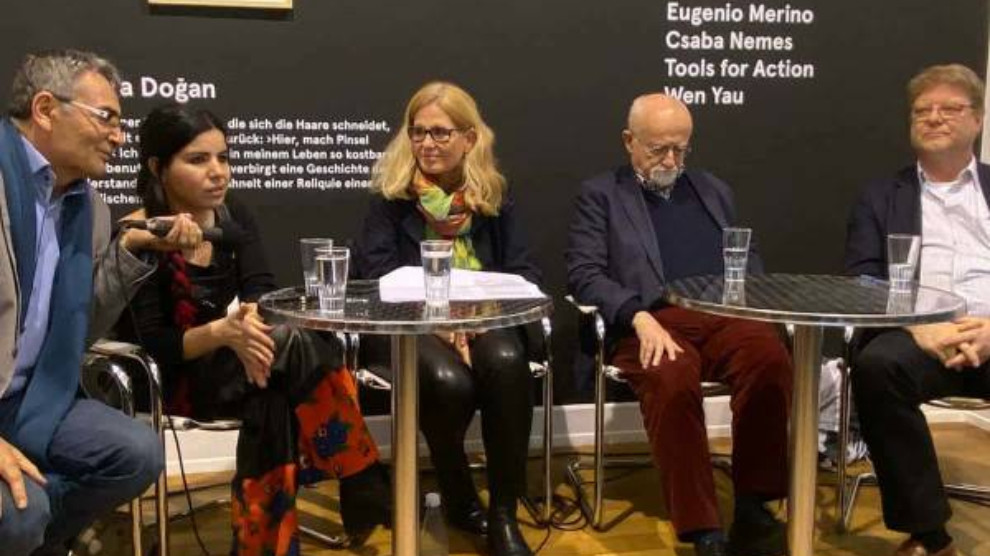 An event called "Freedom of Art and Expression" was organised in the Wiesbaden Künstlerische Leitung Nassauischer Kunstverein Wiesbaden Museum, which hosts an exhibition by Kurdish painter Zehra Doğan.
Zehra Doğan presented a performance consisting in laying a white cloth in the city square. She wrote the names of the women who were murdered in the genocidal attacks in 2015 and 2016.
Doğan, who cut and sewed the fabric with the names of the murdered women, then walked barefoot on the flag. "This flag is the flag of the resistance. - she said - The tanks that killed us are German-made. The German state must respond for this massacre, this flag is not only shaken against the Turkish state, but also against the German state. The German people should not remain silent about it."
The performance also condemned the racist attack in which 9 people died in Hanau and sent the following message: "The white flag of women is waving against the racists".
After the performance, a concert was given by Mikail Aslan and Cemil Koçgiri at the museum. The event was attended by artist Ferhat Tunç.
After the concert, a meeting on art and freedom of expression was held. The meeting was moderated by museum coordinator Elke Guruhn, and saw the participation of First President of the Journalists Association of Hessen, Knud Zilian, Northwest Westphalia State representative Bernhard von Grünberg, and journalist and artist Zehra Doğan.
Doğan said: "There were 5 Kurds among the dead of the Hanau massacre. They were killed by racist, fascist people of this country. Is this a free country?"