First graduation ceremony at Firaz Dağ School in London
The first graduation ceremony has taken place at the Firaz Dağ School for Children in London, named after the nom de guerre of the unforgettable Kurdish filmmaker Mehmet Aksoy.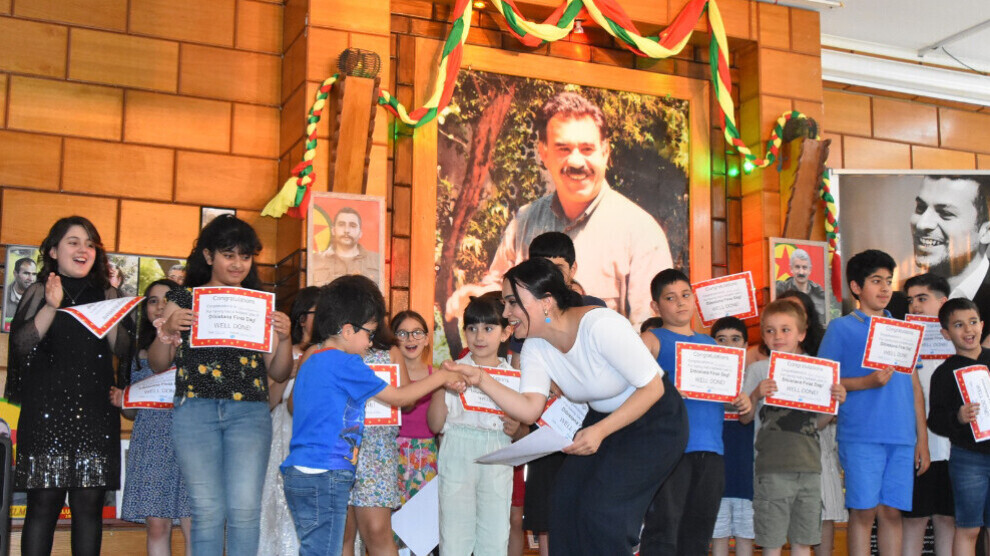 A graduation ceremony for the graduates of the course program at the Firaz Dağ School was held at the Kurdish Community Center in London. The school is named after the Kurdish journalist and filmmaker Mehmet Aksoy, who had taken the name Firaz Dağ in Rojava and died as a YPG media worker in an ISIS attack in Raqqa on September 26, 2018. Aksoy was from Elbistan in North Kurdistan, but grew up in London and engaged in many aspects of the Kurdish movement with great talent and unforgettable warmth. In his memory, educational courses in media have already taken place with the guerrillas in the Kurdish mountains and in Rojava. In London last year, on the anniversary of his death, a course program for children was set up, in which thirty children between the ages of five and twelve took part.
At the graduation ceremony before the summer break, certificates were ceremoniously presented to the children, and two children were awarded the "Hevaltî Prize" (ku. friendship). Educator Sultan Kığı, who is also co-chair of the Kurdish People's Council in London, said in a speech that the children's school was inspired by the life of Mehmet Aksoy and supports children's education. According to a study conducted in England on migrant communities, the performance of Kurdish children tends to be weak, she said. "We didn't want to accept that and we built on the fact that if you take a cue from someone like Mehmet Aksoy, it will be promising. Mehmet Aksoy, on the one hand, was deeply attached to the fundamental values of the Kurdish people, and on the other hand, he worked successfully in the fields of education, art, literature and film. With his internationalist attitude, he left deep traces in people's hearts," said Sultan Kığı.
The Firaz Dağ School, with eight teachers and a psychological counselor, offers tutoring in music, mathematics, literature and communication on weekends, and also teaches the children Kurdish culture and history. The school receives no state support and is based on the work of volunteers. In the meantime, the parents of the students have founded their own community within the Kurdish People's Council and organize social and political events.
RELATED NEWS: