Durham Miners Festival dedicated to Öcalan kicks off
Thousands have been reaching Durham for the big labour festival.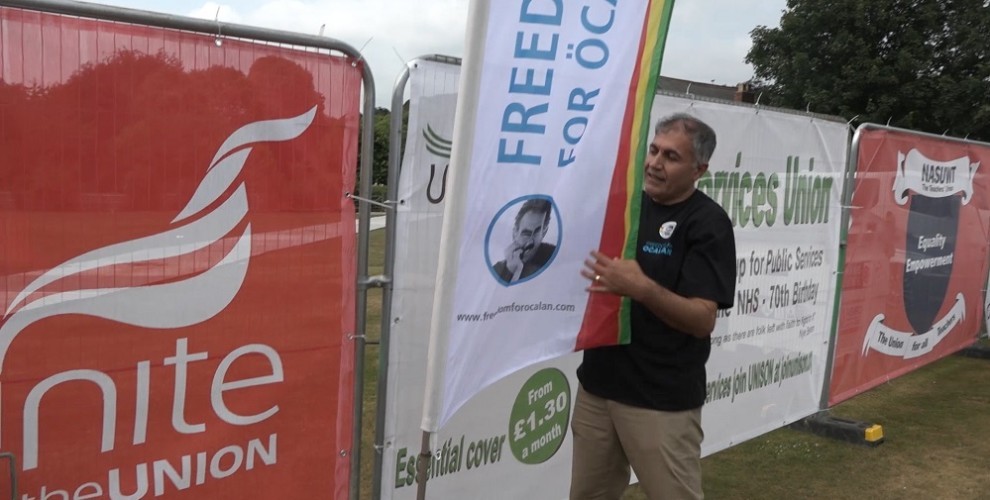 The Durham Miners Festival, the largest labor festival in the world, has been dedicated to the Kurdish People's Leader Abdullah Öcalan. 
People arrived in Durham to participate in the festival and attend the many events since Friday. Laborers working for the festival are wearing t-shirts saying "Now is the time, Freedom for Öcalan".
The Durham Festival opened on Friday its 134th edition. The twelve British trade unions organising the festival have dedicated this year's edition to Öcalan.
On July 14, the second day of the festival, some 200,000 people are expected to attend the big march.
Three marches will all be opened by Kurds and will melt into one single rally. Giant balloons writings 'Freedom for Ocalan' will open the rally.
There will be dozens of cultural and political activities and a video about the Kurdish People's Leader Abdullah Öcalan will also be shown several times.
Along with leading socialist union leaders of Britain, will be Kurdish representatives and representatives of the Freedom for Öcalan campaign. 
It is said that British Labor Party leader Jeremy Corbyn will also deliver a speech.
British Kurdish People's Council, London Kurdish People's Council and Freedom for Öcalan Campaign will be handing out information material on the Kurdish People's Leader as well as on Kurdish struggle for freedom.