Cultural heritage trying to survive: The Reşik shoes of Van
One of the most important traditions of Kurdish culture is shoemaking. The shoes called "Reşik" are produced in the small workshop of Mecit Emen in Van. Shoe manufacturer Emen said that their aim is to transfer a culture to the next generation.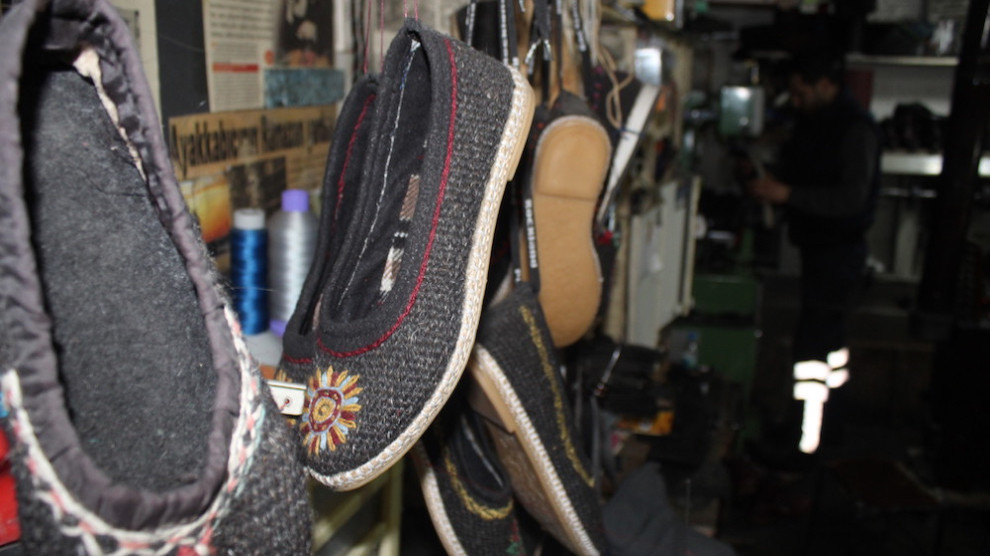 The shoes called 'reşik' have an important place in Kurdish culture. These shoes have already gone beyond the borders of Turkey, there is a market for these shoes made by goat wool. These 'old-age' shoes, which have a long history, are produced only in Van. The main product used in the making of Reşik is knitted goat wool. This wook is knitted by koçers in the villages of Doğubayazıt and Iğdır.
This knitted product is delivered to shoe artisan Mecit Emen in the form of a cone. Mecit Emen, who started a laborious job that could take up to 15 days, produces the so-called 'adult' shoes.
Mecit Emen, who repairs and makes shoes in his workshop named Yöre Kundura, is determined to keep the 'old' shoe culture alive. Mecit Emen, who also teaches his brothers to make shoes in his workshop, has been doing this for 32 years.
Providing information about the production of 'Reşik' shoes, Mecit Emen said: "We do not have a serial production. We produce these shoes one by one, they are handcrafted. As such, the production is extremely limited. "We are aiming at increasing the production of reşik shoes even more."
We are "culture carriers"
Emen said: "The previous generation in the region, that our fathers and grandfathers, were making and wearing these shoes. This is our cultural heritage, the heritage of Van. We sell shoes to our customers in Turkey and abroad. Because of the economic crisis, we are having difficulties, like all workers.
Emen added: "We are some sort of "culture carriers". We have a team we work with, now I teach my brothers and he will carry on the family tradition. The cost of living is higher and higher and therefore prices also increased. We want to pass on our culture to the next generation. Life standards and increase in material prices are challenging our business sector. Employing staff is really difficult. Although professional continuity and our insistence on this put us in trouble, we will continue to do this job."