Cinema program to begin in Serdem refugee camp
People of Afrin taking part in courses and seminars organised by the Culture and Arts Council.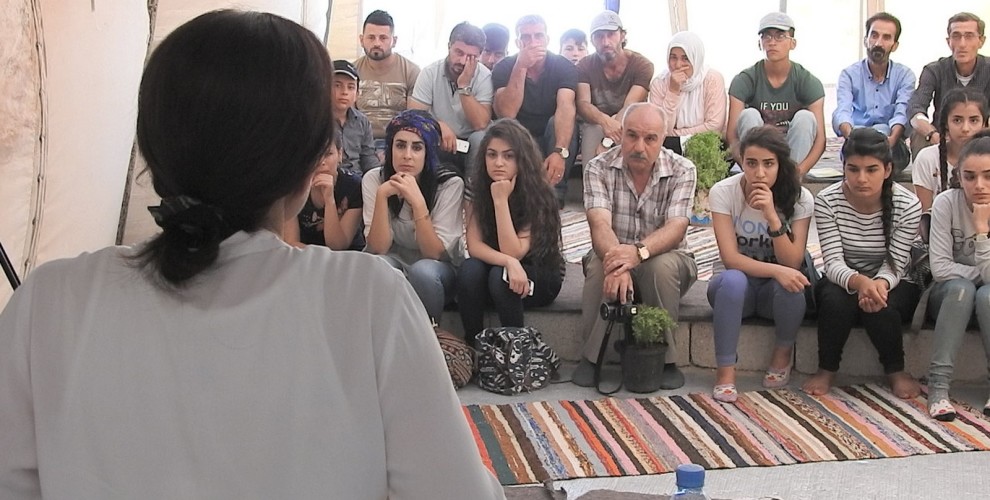 The people of the Afrin were forced to leave their houses and settle in the Shehba region as a consequence of the attacks and subsequent invasion of Afrin by the Turkish state and its mercenary allies. 
Many institutions and committees started to reorganize life in refugee camps and villages in which residents settled. 
One of these institutions is the Culture and Arts Council, which promotes and connect cultures.
On Sunday the Culture and Arts Council launched an education program which will be attended by 25 members at Serdem Camp.
All participants attended the opening seminar named after Sehit Rohinda. At the seminar,  Northern Syria Democratic Federation Constituent Council co-chair Hediye Yusif delivered the opening speech.
Yusif said that the Turkish army and mercenaries aimed at destroying the culture variety of the region which found its best expression in Afrin. 
"The people of Afrin will never be broken and will never allow the invading Turkish state to reach its goals. - said Yusif - Every society has a culture and this culture is the same as society. The people of Afrin are in addition linked to ideas, philosophy and culture of Kurdish People's Leader Abdullah Öcalan".
Berivan Dodag, director of the cinema department of the Culture and Arts Council of Afrin, told  ANHA about the opening of the education training. 
Dodag said that the first training named Sehit Rohinda has been set up in the Serdem Camp and saw the participation of 25 members. 
She added that the training includes ideological and theoretical education through photography and video shootings.
Berivan stated that the course will last a month and they will improve cinema despite all difficulties.