Cinema of a Stateless Nation, a book by Soner Sert
Soner Sert has published a book on Kurdish cinema titled "Cinema of a Stateless Nation".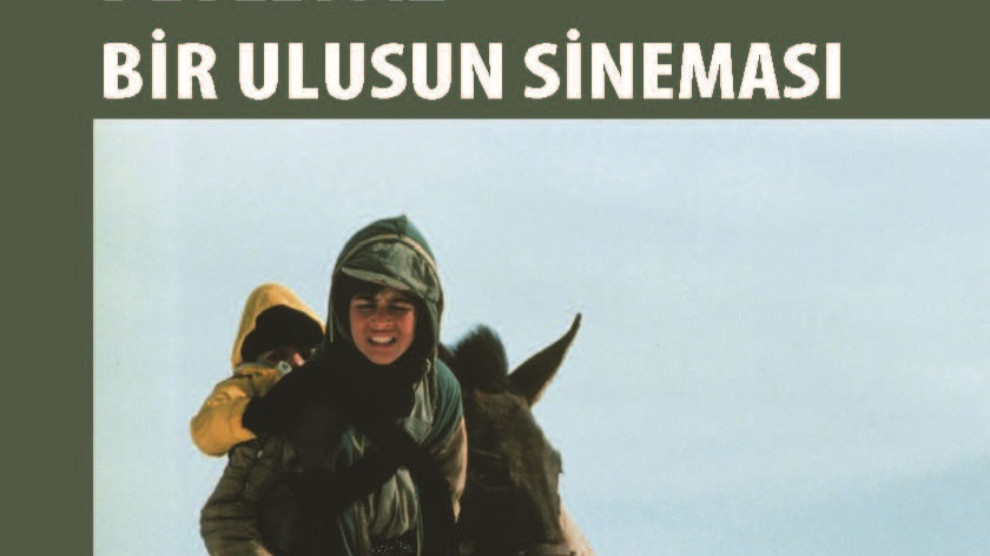 Director and writer Soner Sert has published a book called "Cinema of a Stateless Nation". Sert writes about the development of Kurdish cinema in the 4 parts of Kurdistan examining the films and directors through history. 
First of all, should we say Kurdish cinema or cinema made by Kurdish directors? Which are the differences and connections?
One of the reasons I wrote this work was because I used to ask ask myself this question from time to time. It has been about 15 years since I began a professional relationship with cinema and there is a debate on definitions when it comes to Kurdish cinema both in friends or industry meetings. I think if the subject is cinema, we can only give an answer in terms of aesthetics. Is there a similar aesthetic understanding, the use of a common indicator, the agreement of form in the films produced by Kurdish directors? This is what we should look at. I think there is, and we should be able to use the definition of Kurdish cinema. In the book, I tried to answer this question by gathering the productions of Kurdish directors living within the borders of different states under common codes. For this reason, I chose the films by Bahman Ghobadi, Hiner Saleem, Kazım Öz, Hüseyin Karabey, Shawkat Emin Korkî and I tried to define Kurdish cinema through those films. Clearly I make no claim that other directors are not making Kurdish cinema.
How can Kurds make not only themselves visible but also their cinema for example in Turkey?
There are two ways to make a film "visible" in the present era: the first is industry, the second is academy. Especially after Bahman Ghobadi's Time for a Drunken Horses (2000), it is possible to say that Kurdish filmmaking attracted attention. 
Subsequently, Hiner Saleem, Kazım Öz and Hüseyin Karabey started to produce films, as did Shawkat Emin Korkî, from the same area as Hiner Saleem, attracted the attention of the Western industry. With Ghobadi being awarded in various festivals, Kurdish authenticity has come out. In this regard, articles were written, and films became more visible through distributors. Today, a film shot by Kurdish directors is an issue of interest in the industry context. 
As to Turkey: anyone who wants to make a feature film in Turkey has to ask for the support of the ministry of culture. Whether you are from Turkish opposition or Kurdish... It seems that this won't change soon. For the Kurds, an alternative financial structure seemed to emerge in the last 10 years, but this situation has been hampered by recent political developments. Many Kurdish Film Festivals began to fund, associate and co-produce films. I know that more than one Kurdish filmmaker, who has a feature film project, cannot produce films for financial reasons, but this situation should eventually lead to an alternative filmmaking practice.
You mention that there are few academic studies in Kurdish cinema, what are the main reasons for this?
In fact, it would be wrong to say that this is only about Kurdish cinema. The Academic world did not take any steps. Kurdish cinema is only one of the issues or concepts that the Academy has been late in defining. Of course, this has to do with the political conjuncture, but it is not enough to explain it only with this. The most obvious evidence of this is that there is no study on "why there was no Kurdish cinema!". At the time when I was a student, the majority of academics said there was no Kurdish cinema, but none of them did a study on why there was no such cinema. They didn't even need to investigate it. If you say there is no Kurdish cinema, at least explain why you make such a statement! 
The impact of the political conjuncture on cinema made by Kurds is considerable. What impact does this have on the aesthetics of cinema?
The first Kurdish filmmaker aware of this was Yılmaz Güney. In "The herd" ("Sürü"), and especially in "Yol", he was able to portray the Kurds in the economic-political context with their sociological and cultural reality. I think that the next generation used cinema signs through the story of the character of border trader Ömer in "Yol". As we know, the entrante to the place where this character lives is announced with a sign.
Ömer, who we see living in the very heart of the city, witnesses the death of his brother. The visual codes presented through this character will be the essence of the films of Kurdish filmmakers in the following years. "Statelessness", "border" and "death" are used as visual codes in the work of Bahman Ghobadi, Hiner Saleem, Hüseyin Karabey, Kazım Öz and Shawkat Emin Korkî. Considering that the Kurds have been living the same political situation for nearly a hundred years, I think these codes - I mean the Yılmaz Güney period - remain valid today, as they did 40 years ago.
Müjde Mizgin Arslan, on the other hand, adds to Kurdish cinema the themes of death, exile and migration to those of statelessness . Your work is called "Cinema of a Stateless Nation". How did you frame the codes in Kurdish cinema in order to examine the period after that work?
I want to say that Mizgin Müjde Arslan compiled an important work. The fact that her book is made up of articles has similarities with my work in terms of definition, but it also has differences. As I mentioned before, I take the character Ömer in Yılmaz Güney's film "Yol" as a starting point and I think that the following Kurdish filmmakers use the same visual codes: statelessness, border and death. I think the Kurdish cinema is composed of films that combine these three codes. I tried to explain this in my book by selecting films through these visual codes. In addition, as I mentioned in many parts of the book, another researcher can come out and define Kurdish cinema through different codes. But I think these are the codes that explain the cinema made by Kurds living in a fragmented territory in a cultural, economic, political and social context.
Together with the Rojava Revolution, there were schools of cinema production. Have you been able to examine them?
In the book I only focused on feature films. For this reason, I tried to evaluate only the films that appeared in that format. I planned to put three interviews at the end of the book in the hope that Kurdish film institutions would share their views. One was with the Mesopotamian Cinema Collective, the other with the London Kurdish Film Festival and the other with the Rojava Film Commune. I had the chance to interview the first two, but we couldn't interview the Rojava Film Commune due to time problems. The aim was to examine the relevance between theory and practice, but unfortunately we did not talk to the Rojava Film Commune. I think that the Rojava Film Commune has done a considerable work since it first introduced a new form of filmmaking. Structurally, I hope that this filmmaking practice will make its name known in the long run.
Finally, what is the role of documentary cinema in Kurdish cinema, especially considering the relations of directors coming from the world of journalism?
I think that Kurdish documentary is a separate sea. Today in Turkey film festivals, most directors competing in the documentari section are Kurdish. It is possible to talk about numerous and qualified production, but in the book I only worked on fiction films.
My personal idea is that since the '90s Kurdish documentary filmmakers were dealing with human rights violations, the Kurdish issue in Turkey and how to show this to the West. In recent years, this understanding has changed slightly in terms of quality. Much better documentaries are being made. Nevertheless, the biggest problem of documentary production - and I am not talking only only about Kurdish documentary - is that it adheres to reality. I think the real change in people can be achieved not through facts but through emotions. War is a fact today, but what makes us watch it is our emotions.