Artists in Istanbul protest Covid measures and lack of proposals
Protesting the restrictions on art activities and events imposed because of the coronavirus pandemic, artists in Istanbul held a silent protest in Mis Street, in Taksim.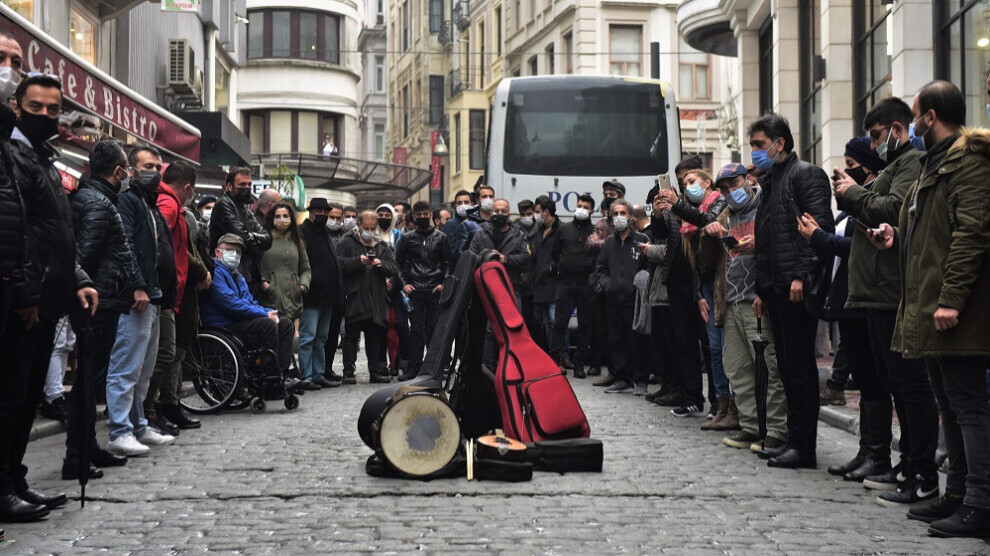 Artists are among the most affected by the coronavirus pandemic as they saw their performances and activities reduced drastically. One of the first activities to be cut in fact have been the cultural events. The restrictions have been imposed to try and avoid the coronavirus infection from spreading. Artists in Taksim organized a silent protest with the slogan "Art has no time".
HDP deputy Musa Piroğlu supported the action that took place under heavy police presence. The artists formed a chain along the street paying attention to respect social distancing and left their musical instruments in the middle.
Speaking on behalf of the artists, musician Ayhan Ak emphasized that they have been forced to stop performing due to the restrictions issued to contain the pandemic. "How are we going to get along?" Ak said, "There is a pandemic, let's take measures to avoid it spreading, that's fine, but we live on culture. We have no second job. How are we supposed to get along? How will we pay our rents and bills? We have been in a troubled situation since March."
Background
The International Labour Organisation (ILO) had already reported on the dramatic consequence for the culture sector after the first lockdown.
Globally, COVID-19 has increased the volatility of the media and culture industry, which has witnessed a fall in economic returns and job losses. It is estimated, for instance, that the music sector has lost US$10 billion in sponsorships due to the shutdown.
At the national level: in the United Kingdom, 75.9 per cent of the arts, entertainment and recreation workforce was furloughed at some time during lockdown; in the Philippines, the number of employees in arts, entertainment and recreation services fell by 55 per cent in April 2020, in comparison with April 2019; in Australia, employment in creative and performing arts activities fell to 29.5 per cent between 14 March and 18 April 2020; in Brazil, the revenues of the audiovisual, editing and news agency sector decreased by 14.8 per cent during March 2020; in the United States, employment in the motion picture and sound recording and broadcasting sectors fell by 52.8 per cent and 8.7 per cent, respectively, between February and May 2020.
Responses have varied in the field of music, said ILO, as musicians in some countries were still allowed to work in media, radio and TV despite containment measures, while recording and production ceased in others.
In most cases, all performers stopped working during lockdown. Within the music sector, there have been inconsistencies in the categories of workers covered by restrictive measures. Responses have also varied between companies, often as a result of labour law, and differing rules governing the contracts of workers in ballet, theatres, orchestras and opera companies. 
The unstable income of many performers and their lack of recognition as "workers" in some countries, particularly in developing countries, has impeded their coverage by government programmes.
For example, in Kenya and Côte d'Ivoire, musicians' unions and associations have created coalitions of artists to negotiate joint strategies with the government for relief measures.
While some labels are offering advances on royalty payments, in practice, with the exception of well-known artists and those with powerful unions, the vast majority of performers are not entitled to any payment when their fixed performances are downloaded or streamed by online platforms. 
In Europe, support for the live entertainment sector has included grants and loans, advances on copyright or neighbouring rights and the postponement of taxes (Netherlands), help-lines for economically vulnerable performers and consultations between stakeholders and governments on recovery plans (Spain). 
In the United States, the International Alliance of Theatrical Stage Employees (IATSE) and unions representing performers have called for COVID-19 relief packages to address the future needs of creative workers, while ensuring the protection of their pension plans and access to affordable, quality health care through subsidies for existing health plans.