Artists from Raqqa attend 3rd Hawar Festival in Shehba
Artists from Raqqa attended the 3rd Hawar Festival and drew attention to the resistance of the people of Afrin saying that they wanted to keep the Kurdish heritage alive despite all difficulties.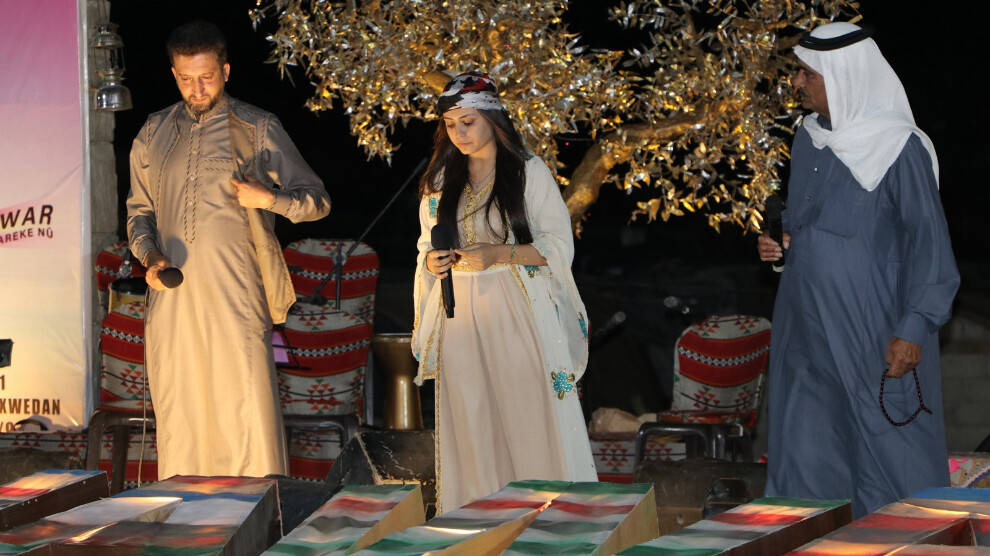 Songs representing the Arab tradition were presented at the 3rd Hawar Song Festival, attended by artists and members of the Raqqa Civil Assembly Culture and Art Movement.
Artists from Raqqa, who visited 5 camps in Shehba before the festival started, said that the people of Afrin living in the camps are symbols of resistance.
Speaking on the subject, Raqqa Civil Assembly Product and Culture Committee co-chair Firas Remedan told ANHA: "The 3rd Hawar Song Festival has a historical significance. After the occupation of Afrin by the invading Turkish state and its mercenaries, the people of Afrin did not give up their culture, defended it with great resistance and held the festival in Shehba. The people of Afrin sent a message of resistance to the invaders with this festival."
Commenting on their participation in the festival, Firas Remedan said: "We wanted to share our culture with the people of Afrin. The festival was instrumental in the further integration of Arab and Kurdish culture."
Stating that they encountered the determination, resistance and organization of the people of Afrin during their visit to the camps, Remezan added: "The bond between families and aesthetics in the camp cannot be explained. They are all like a big family. Afrin people's commitment to their history and culture against the Turkish invasion attacks is a resistance in itself."
Artist Nemetullah Teman from Raqqa said: "We present songs reflecting Arab culture and Raqqa folklore at the 3rd Hawar Festival. At the same time, Kurdish songs are performed for the Kurdish people and refugees from Afrin."
Stating that the primary purpose of their visit to Shehba is to enable the Kurdish and Arab peoples to get to know each other's culture, Nemetullah Teman sang a song in Kurdish in memory of Martyr Zilan.
Drawing attention to the project of the brotherhood of peoples and the cultural exchange between the peoples of the region, Artist Malik El Yetîm underlined that Kurds and Arabs have been half-brothers since history, and that no one can distinguish between them.