A play in Naples to tell about Kurds and their governance model
'The country that is not - Journey through the mountains people' opened in Italy.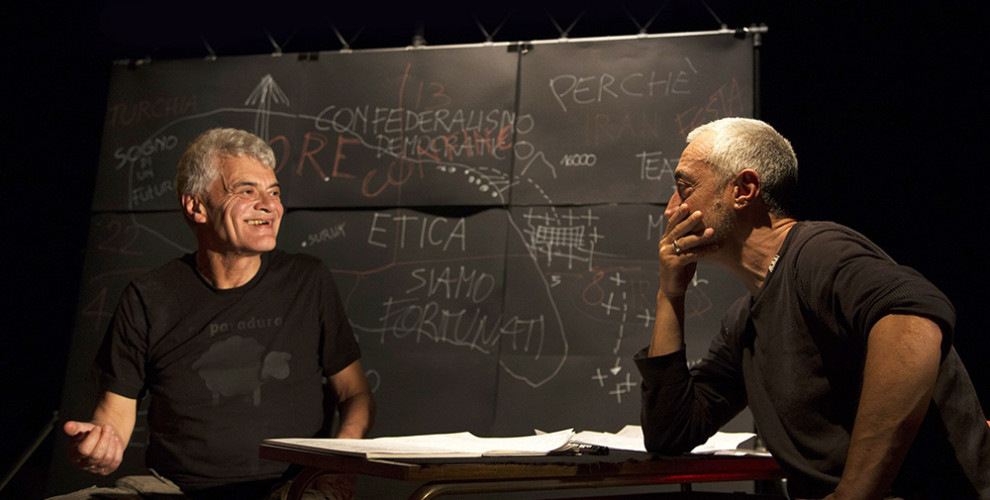 On Saturday night, the Naples Theatre Festival hosted the national premiere of the theatre play 'The country that is not - Journey through the mountains people'.
The play, directed and interpreted by Gianluigi Gherzi and Fabrizio Saccomanno starts from a migrant's landing on a rock of Salento to arrive to Kurdistan, the state impossible to find. A journey to discover that between worlds that seem so far from each other there is only the sea.
'The country that is not', is a production of Ura Teatro and a project by Gigi Gherzi and Fabrizio Saccomanno, for the first time together.
Two well-known and skilled narrators in the Italian theatrical scene, who - although from different approaches and narrative schemes - investigate the dramas of the present and discover poetry in the complexity of contemporary experiences.
A project born from the need both writers had to tell of a new political utopia in the world and of a people that risks total annihilation, the Kurds. 
The project counts with the collaboration of Giovanni Giacopuzzi, researcher and activist of the Kurdish cause and UIKI (Kurdistan Information Office in Italy).
On stage Gherzi and Saccomanno, let out the narration in different directions. Behind them a wall that becomes a blackboard and an emotional map.
Gherzi and Saccomanno tell of the Kurdish resistance through the stories of the people who lived it, emphasizing that there are stories that "one doesn't know how to tell" because even if "one knows them, he/she will never really understand them, because they are full of a mystery, a beauty and a horror that sometimes transcend leaving words stuttering."
The history of the Kurdish people today poses big questions about what democracy is, about how to react to the progressive emptying of democracy. In so doing, we realize that the Kurdish example affects us far more than it seems and that, in fact, the "country that is not", today, is perhaps also ours.
The play will be repeated tonight, Thursday at 7pm at the Galleria Toledo in Naples.