YJA Star guerrillas: Sara represents victory
An Arab guerrilla from Syria said that she was inspired by Abdullah Öcalan who said, "Women should never come down from the mountains, even if everyone does so," and Sakine Cansız who said, "My whole life was a struggle".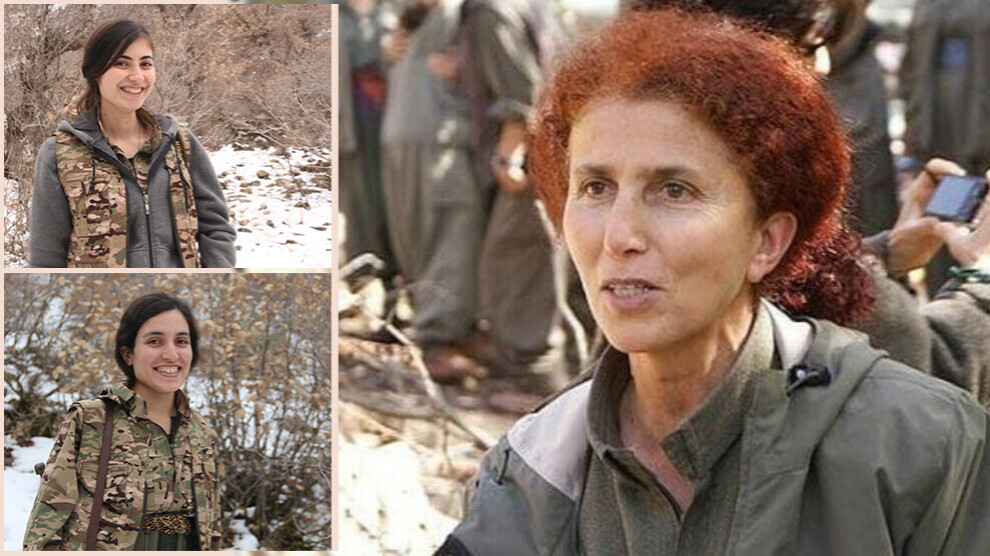 Guerrillas of the Free Women's Troops (YJA Star) stated that they were impressed by the life and struggle of PKK co-founder Sakine Cansız (Sara), who was murdered in Paris in 2013 along with KNK Paris Representative Fidan Doğan (Rojbin), Youth Movement Member Leyla Şaylemez (Ronahi).
HPG and YJA Star guerrillas who are carrying out successful actions against the Turkish occupation forces spoke to ANF on the anniversary of the conspiracy against female revolutionary Sara (Sakine Cansız). "We will secure women's freedom by adopting Comrade Sara's fight for victory."
The guerrillas remarked that the Turkish state would be defeated by the guerrilla resistance in 2022 as part of the Cenga Xabur campaign and that they were determined to avenge their martyred comrades.
Guerrilla Bêrîvan Cûdî said that she was very impressed by martyr Sara's opinions, which led her to choose to fight in the mountains of Kurdistan. Cûdî stated that she was inspired by Sara who once said "My whole life was a struggle."
Bêrîvan Cûdî talked about how she joined the freedom movement:
"I am an Arab woman from Shaddadi. I was introduced to new ideas after meeting friends. While deciding to fight in the mountains, I was inspired by Öcalan saying "women should never come down from the mountains, even if everyone does so", and Comrade Sara saying "my whole life was a struggle." I was very curious about how a human life could always be a struggle. Or was it just a phrase? So, I was always posing questions to my comrades, and my curiosity developed further over time.
When I read about Comrade Sara, I realized that she forged a resisting and fighting personality. That's why the book 'My whole life was a struggle' changed many things in my life. I started to question my entire existence. The more a person fights himself, the more successful he becomes and realizes his potential. Thus, he can become a force for those around him. In order to be free women, we must take Sara's life as an example and trust in the philosophy of free life. Sara represents the path to victory. We will liberate women in line with Sara's ideas. She may not be with us physically, but her ideas and spirit of resistance will always live with us."
WE WILL CARRY OUT A MORE MILITANT STRUGGLE
YJA Star guerrilla Rosida Botan, who fights the Turkish army as part of the Cenga Xabur campaign, said that Sara's firm stand against Turkish forces is a great example for them and society.
"This is actually a free woman's stance. We take Sara's stance and resistance as an example. Her devotion to Öcalan and her life story leave an indelible impression on people. She even impressed the Turkish forces with her resistance and stance. They could not eliminate her resistance and strong personality. Therefore, the Turkish state killed her in Paris," Rosida Botan said.
"Sara's efforts and commitment to the movement must be appreciated. She worked hard for the development of her colleagues. The books she wrote are the basis of our transformation. Every time we read about the life of Sara, we get one step closer to freedom, because she teaches a real war and a major struggle.
We are fighting for the survival of our people. The Turkish army is aware of the strength of the guerrillas. Unable to eliminate the guerrilla resistance, it resorts to immoral methods and uses chemical weapons. In the person of Sara, we promise to avenge all our comrades who were martyred during the resistance. Our struggle will be different, stronger than ever, and we will win," she concluded.