YJA STAR guerrillas celebrate March 8 in mountains of Kurdistan
YJA STAR commander Roza Tolhildan stated that 21st century will be the century of women's freedom.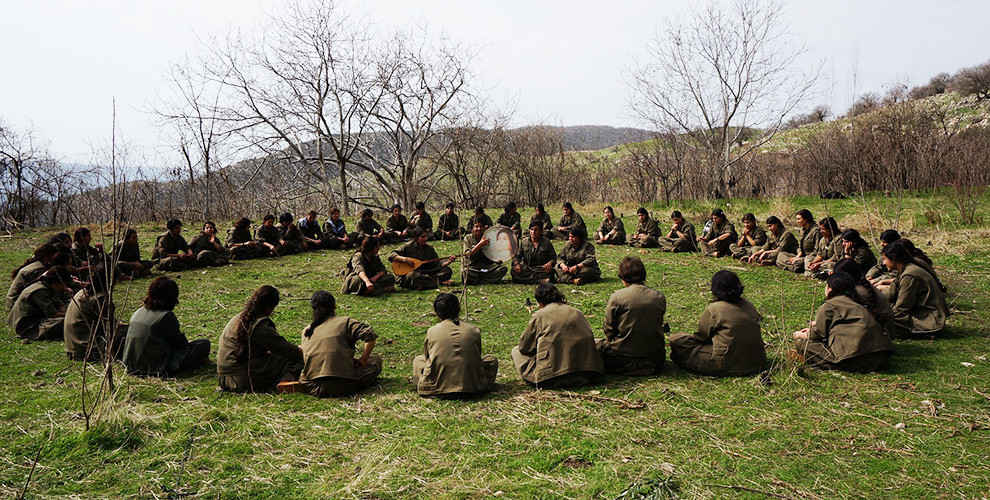 Free Women's Troops (YJA STAR) guerrillas have celebrate March 8 International Women's Day in the mountains of Kurdistan.
The celebration started with a military ceremony attended by YJA Star Central Headquarters Commander Emine Erciyes and YJA Star Commanders Tekoşîn Gever, Zelal Harûn and Roza Tolhıldan.
YJA Star Central Headquarters Commander Emine Erciyes held a speech and stated that they welcome this year's March 8 with the spirit of Afrin's resistance, dubbed "The Resistance of the Age".
Erciyes said the following; "We celebrate March 8 first of all for Leader Apo and we salute our Leader from free mountains. We celebrate March 8 for all the freedom fighters and YPG/YPJ combatants that are fighting on the frontlines with the spirit of Arins and Avesta Xaburs. We commemorate all the martyrs in the person of Avesta, Arin, Delal, Nalin. It is our martyrs that have enabled us to celebrate March 8.
2017 was a challenging year of war, the spirit of resistance and struggle of which was manifested by comrades Delal, Berçem, Azê, Gülnaz. We promise these comrades of ours to enhance their resistance and avenge them. These comrades gave a relentless struggle for 20-25 years. We can evaluate this hisory of struggle as a life that can be given credit for. Their legacy has created freedom for us. 129 women were massacred in America on March 8 but the massacre couldn't crush the resistance of women."
Remarking that capitalist forces couldn't destroy and stop the resistance of women, Erciyes continued; "On the contrary, women enhanced the struggle and united. They made March 8 into a day of resistance. Just like this massacre spread to the whole world, Afrin resistance has also spread to the entire world. Today, women from Latin America embrace this resistance and welcome March 8 as a day for Afrin. Resistance creates unity and community. We salute all the resisting women of the world and wish them a happy day of resistance."
Following the military ceremony, YJA Star guerrillas shared their views on March 8 which -they said- they welcomed with great enthusiasim and excitement.
YJA Star commander Roza Tolhildan celebrated March 8 for all the working and revolutionary women of the world and the combatants fighting on the frontlines in Afrin.
Roza Tolhildan said that; "Guerrilla creates revolutionary circumstances that know no bounds. There is a challenging period of war today. The AKP state based on advanced techonology claims to have finished off the Kurdish movement. However, this does not prevent us. Despite all the attacks and lack of circumstances, this day of resistance is celebrated with great enthusiasm everywhere in Kurdistan. 21st century will be the century of women's freedom."